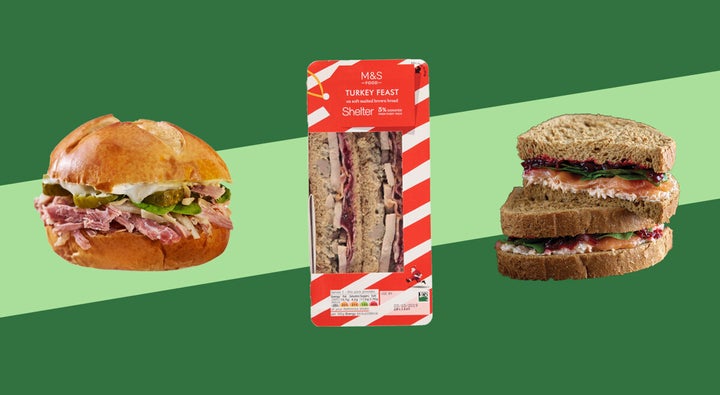 Every year at about this time, a new batch of Christmas sandwiches hit the shelves and every year, in what's become a HuffPost tradition, we make it our mission to try them all. Just call us Joey Tribbiani, minus the meat sweats.
Taking on the challenge in 2019 – hey, someone has to do it – the newsroom spent a week tasting every festive bun, baguette and double (or triple!) decker the UK's sandwich purveyors could offer, rating each one on taste, appearance and value for money. We then crunched the results to rank the best and worst in four categories; classic turkey dinner, meat, fish and veggie.
While there are plenty of classic Christmas filling and flavours to be found, we were suitably pleased at the level of innovation in this year's offerings. Christmas is about comfortable familiar things, of course, but there's room for new tastes. Without further ado, here are the final results.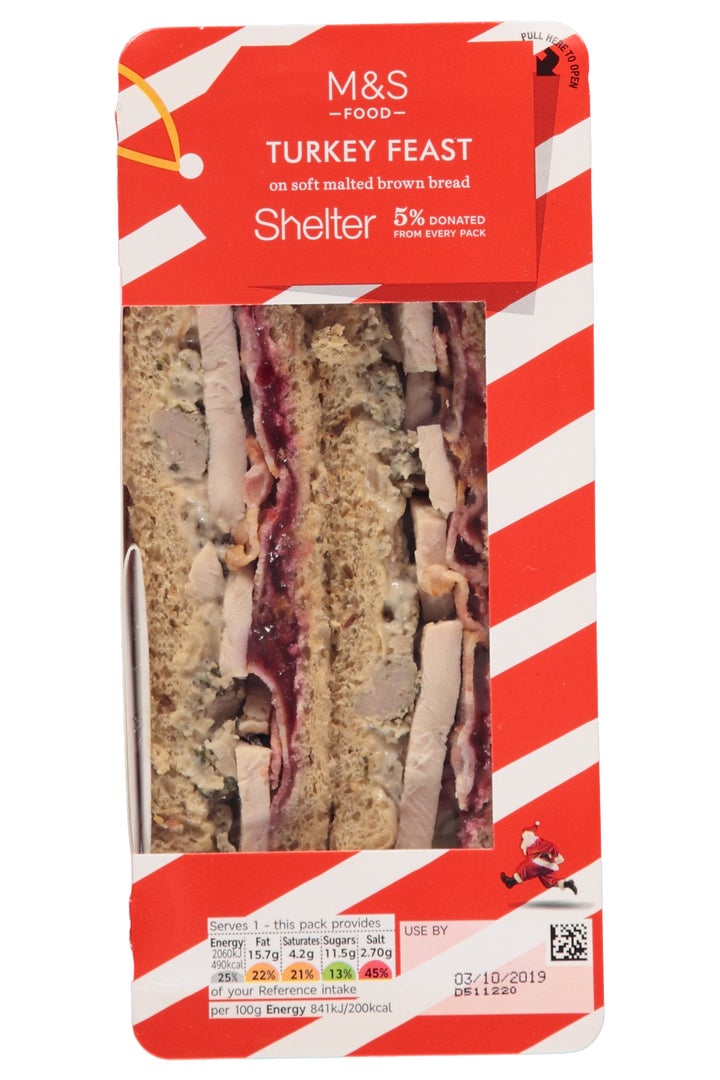 What is it? The Christmas classic combination of turkey, stuffing, bacon and red current chutney encased in seeded bread.
The verdict: Essentially your Christmas lunch in between two pieces of bread, this won top marks from our tough panel of judges. Someone went as far as to say they've found 'The One', describing the bread in particular as 'truly delicious', and the filling of turkey, sweet cranberry, stuffing (praise be!) and spinach as the perfect mix. "I want to make out with it," she said.
She shall remain anonymous.
Turkey – The Loser
What is it? Tender (they said) turkey leg and breast, juicy cranberries and stuffing on brown bread - a proper Christmas cracker apparently.
The verdict: Despite initial excitement – a triple sandwich is always welcome here in the HuffPost newsroom – enthusiasm dwindled after the first bite. "Dry turkey breast, disappointing cranberry sauce and mediocre stuffing have teamed up for the ultimate Christmas sandwich let-down," commented one person. Sorry Jamie, but it's a no from us.
Meat – The Winner
Sainsbury's On The Go Christmas Market Sandwich, Sainsbury's, £3 (Available in stores)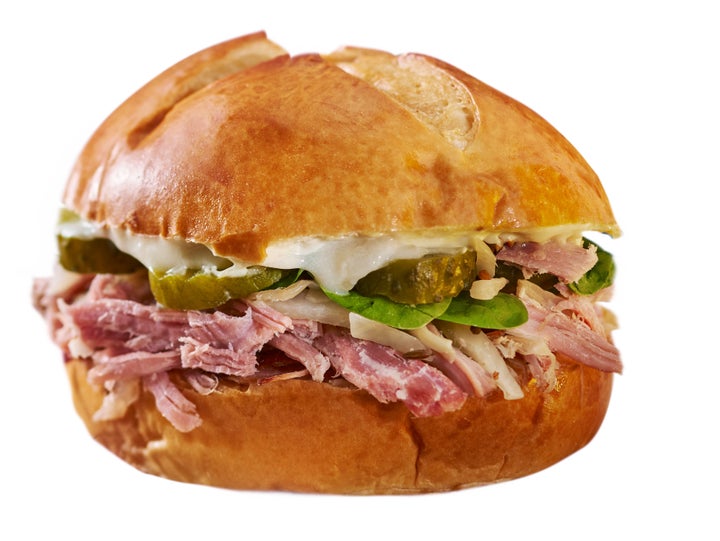 What is it? A Brioche style bun with ham hock, sauerkraut, gherkins, spinach and a beer mayo.
The verdict: This was one of the most original sandwiches we were sent this year and came as a welcome change to the usual format of half a slice of bread and filling. The ham hock was delicious, and paired with just the right amount of sauce so it wasn't dry. One person, who is not even a mustard fan, loved the slight hint, saying she'd happily eat it all year round. The pork and picked gherkin is more deli than ding dong, but it feels festive all the same.
Meat – The Loser
The Festive Pig Sandwich, Paul, £4.65 (Available in stores)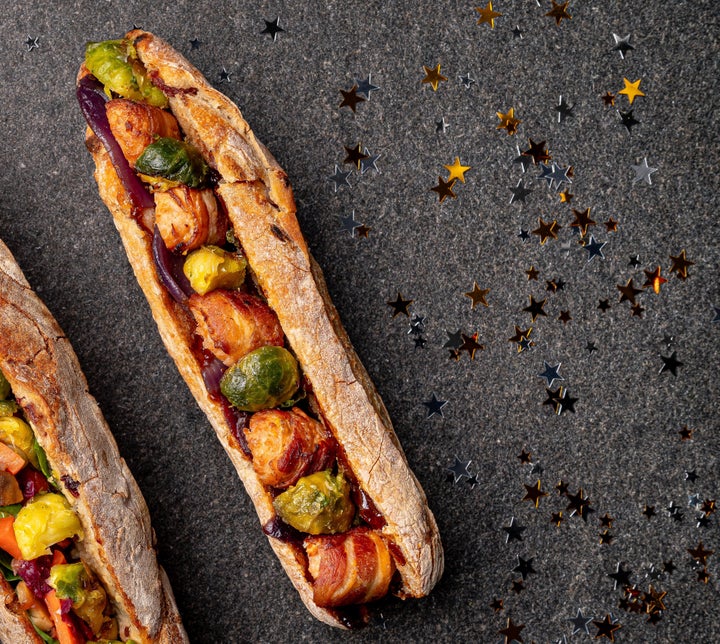 What is it? A crusty bacon and onion baguette with pigs in blankets, Brussels sprouts, chargrilled red onion, topped with a plum and balsamic chutney.
The verdict: Undoubtedly fancy to look at but ultimately not the show stopper its looks would suggest. Pigs and blankets are a must have for Christmas, just not in a baguette form. It's massively chunky and meaty, so if you have a healthy appetite, there is something to be said about the generous serving size, but for how much it costs, we're not keen enough to splash the cash on this again.
Fish – The Winner
Smoked Salmon, Beetroot & Horseradish on Dark Rye Bloomer, Eat, £4.50 (Available in stores)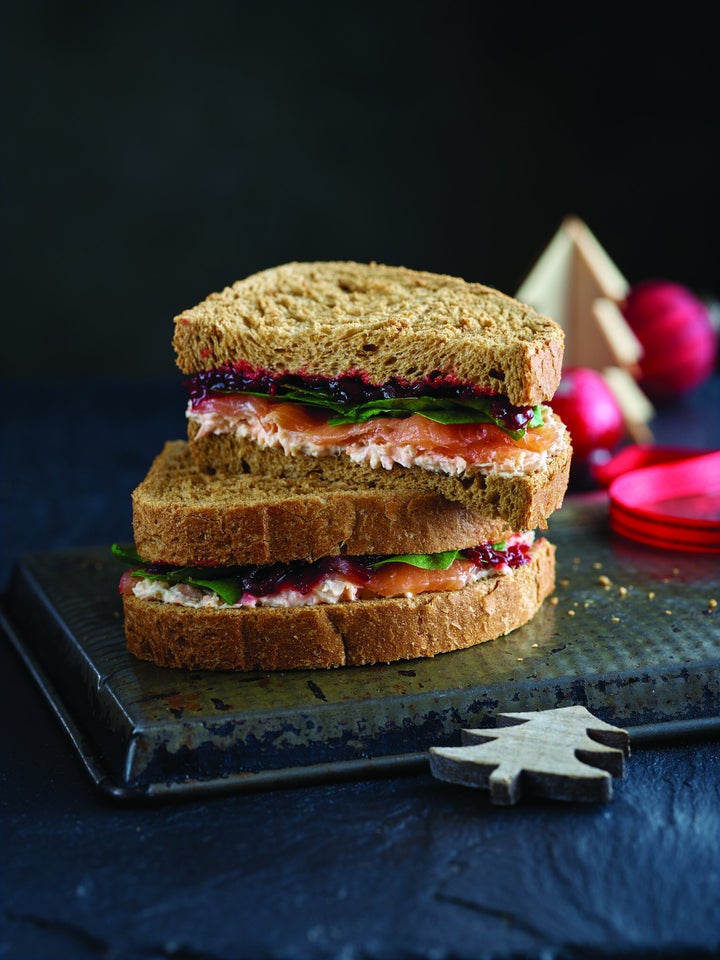 What is it? Smoked salmon pate with cold smoked salmon slices, sweet beetroot and horseradish relish and spinach sandwiched in a dark rye bloomer.
The verdict: This shouldn't work, but somehow does. While we're used to starting Christmas with some smoked salmon squares, seeing it nestled up to the pink of the beetroot felt wrong but tasted unusually delicious. Extra marks for the dark rye bloomer that's much better than the cardboard bread of other options. The sandwich shops are beating the supermarkets hands down.
Fish – The Loser
Pret's Lobster Roll, Pret A Manger, £5.99 / £11.99 (Available in stores)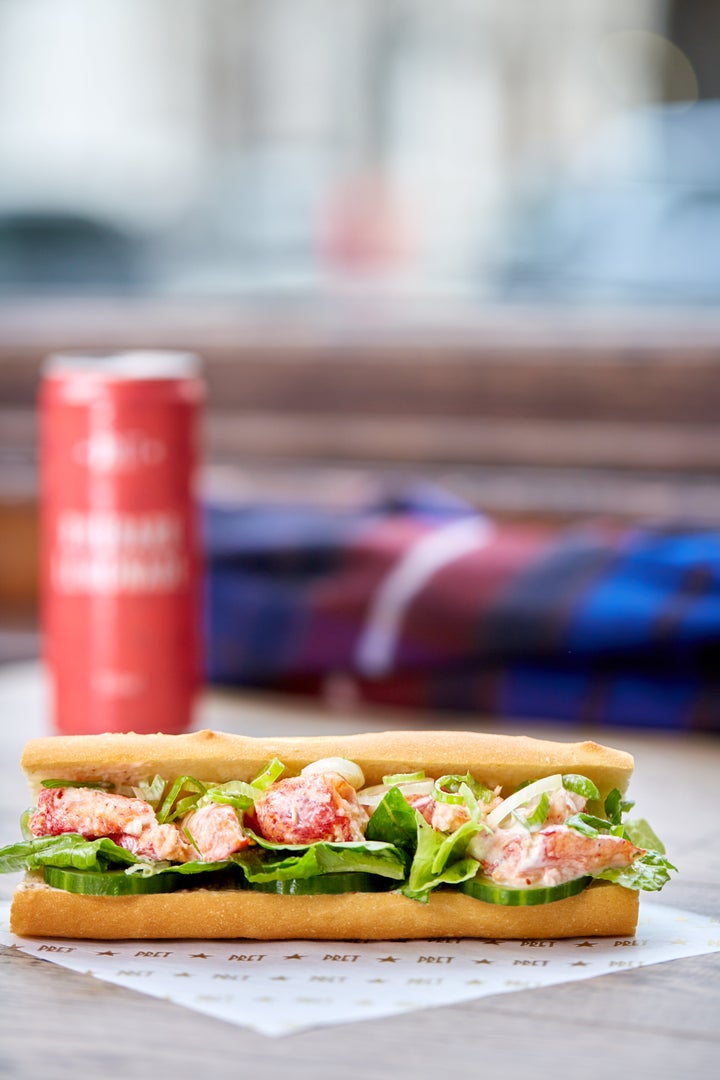 What is it? Maine Lobster claw and knuckle is coated in mayo and served in a freshly baked baguette, topped with slices of cucumber, crisp cos lettuce and sliced spring onion.
The verdict: Overpriced and underwhelming. Our judges had their high hopes dashed, calling the lobster 'chewy' and nowhere near tasty enough to justify the cost. And the over ample serving of mayo drowned out the actual taste of lobster, which is all we were here for if we're being honest.
Veggie – The Winner
All About the Sprout, Paul, £4.25 (Available in stores)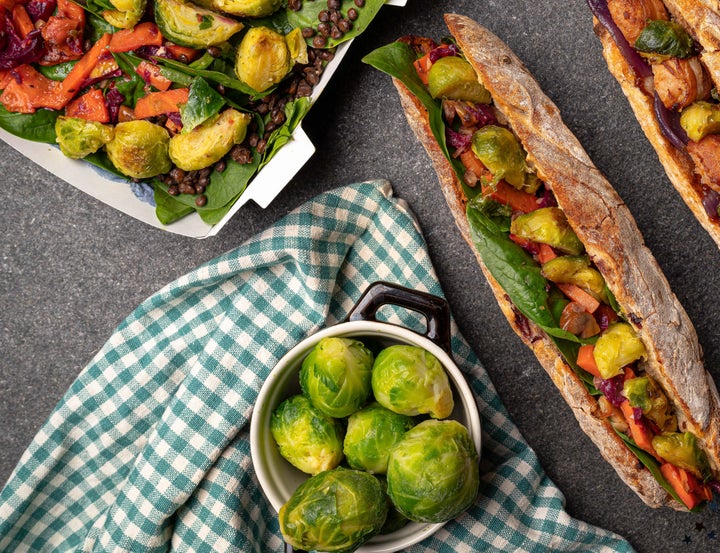 What is it? A vegan sandwich of houmous, roasted Brussels sprouts, spinach, pickled red cabbage, grilled carrots and chestnuts with orange jam and old English chutney, tightly packed into a cranberry, onion and sage baguette.
The verdict: This walked away with the top prize thanks to it's moist, chunky veg that we can only describe as tasting like Christmas, only better. Those diehard defenders of the misunderstood Brussel sprout were pleased to see it done justice in this delicious baguette. And even some of the sprout-averse were persuaded. While not cheap, this sandwich gives more veggie bang for its buck than some of Paul's competitors. We're looking at you, Pret.
Veggie – The Loser
Tesco Brie & Cranberry Sandwich, Tesco, £2.20 (Available in stores)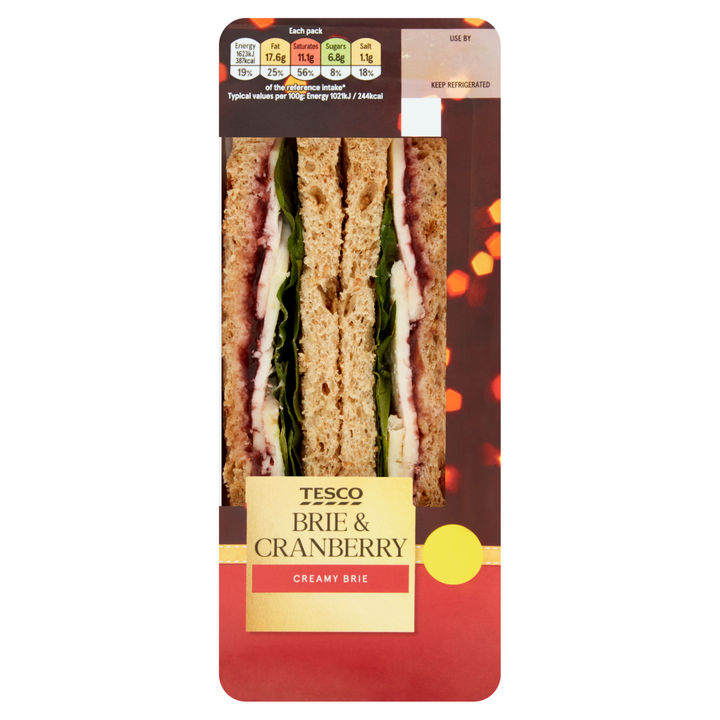 What is it? A creamy Brie sandwiched between cranberry sauce and spinach on white bread slices.
The verdict: In what should have been a crowd pleaser – who doesn't love excessive amounts of cheese at Christmas? – was a big, fat let-down. Everyone agreed that spinach, while a welcome addition to breakfast, was a misstep here, left damp and soggy thanks to the cranberry sauce, and overshadowing the rest of the sandwich. Even the bread was underwhelming. Thank you, next.
We all work hard to earn our money – so it shouldn't feel like hard work to spend it well. At HuffPost Finds we'll help you find the best stuff that deserves your cash, from the ultimate lipstick to a durable iron to replace the one that broke (RIP). All our choices are completely independent but we may earn a small commission if you click a link and make a purchase.