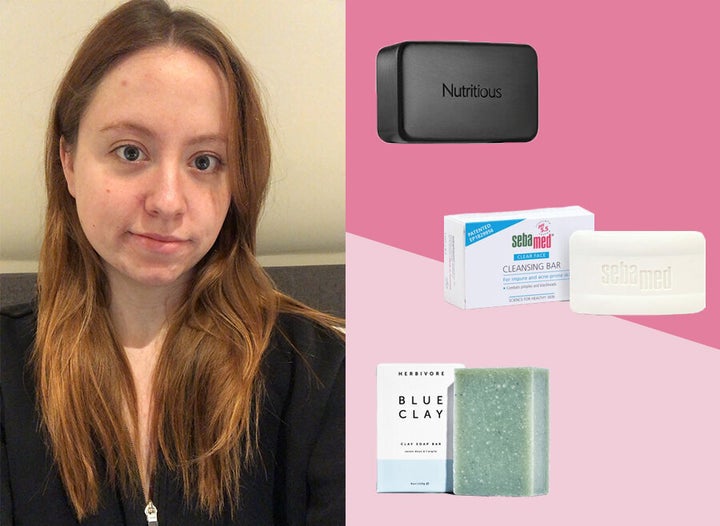 I have oily, acne-prone and, quite frankly, temperamental skin. Every time my period rolls around, my skin bears the brunt and up pop the spots.
You'll never find me without my trusty powder compact to blot away shine that disrupts my makeup. As a result, I've narrowed down my skincare routine over the years and take my cleansing very seriously.
I like to wear a full face of makeup so I currently rely on my trusty Dr Sam's Flawless Cleanser, a gel cleanser that does a stellar job of keeping my skin balanced and comfortable, so I'm curious to see how the three cleansing bars compare.
I've tried a couple cleansing bars here and there before so I'm already prepared with a soap dish in the bathroom. That's my only bugbear about these bars, the majority don't come with a soap dish so you're often required to buy one to keep it clean when you're not using it.
Anyways, first impressions was how small it is, barely half the size of my palm, and considering you literally rinse it down the sink, I had doubts it would last long. However after a week of using it, it still looked as good as new.
Put simply, this does the job. It effectively cleansed my skin without drying it out, as some alcohol-rich cleansers can do. It lathers up nicely, a little goes along way and it smells faintly of lavender, but not overwhelmingly so and the creamy texture is pleasant. I think it's reasonably priced too considering how little you need each time.
Twenty quid for a bar of soap seems extreme and I had very high hopes for this. The black colour is off-putting, it's almost like a perfectly chiselled bar of coal in your hand. That said, the actual soap, when it lathers, is a very dark green.
It's described as helping to "purify, detox and keep pores clear" in the product description, so fingers crossed it does all that.
After I patted my face dry with a towel, my skin did feel tight and zapped of moisture which wasn't very comfortable. I find anything that foams up too much doesn't sit well with my skin, so I put it down to that.
So far, I'm finding that after a week's use I've actually used very little product so even though this is expensive, it will last you longer than a regular liquid cleanser, but for me this isn't worth the cash.
This one definitely feel more clinical from just the packaging alone. In a way it's a bit joyless. There's no fragrance or luxurious experience awaiting you.
It did however, feel particularly gentle on my hormonal acne which is dotted around the lower half of my face and when I rinsed it off, felt calmer and soothed which is a big plus.
This was the only bar I tried that I saw a notable difference in my skin, I was less oily throughout the day, meaning my makeup stayed matte for longer and fewer touch ups were needed. With change from a fiver, I would definitely buy this again. It's definitely my favourite of the bunch.
We all work hard to earn our money – so it shouldn't feel like hard work to spend it well. At HuffPost Finds we'll help you find the best stuff that deserves your cash, from the ultimate lipstick to a durable iron to replace the one that broke (RIP). All our choices are completely independent but we may earn a small commission if you click a link and make a purchase.