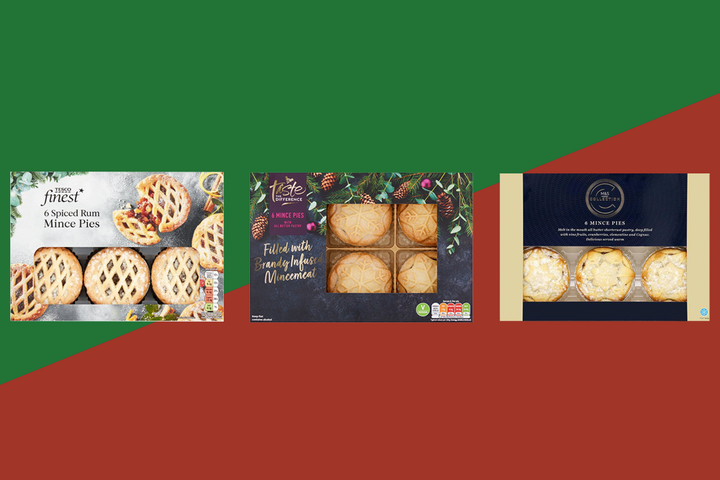 HuffPost may receive a share from purchases made via links on this page. Prices and availability subject to change.
For years at HuffPost UK, we've all gathered around a table full of festive treats, testing the delicious goodies from the big supermarkets and high-street coffee shops. But not this year – this year, it's different.
Due to Covid-19, our festive taste tests followed a new formula. Members of the HuffPost UK team each had to try mince pies from different supermarkets. As seasoned taste testers, we knew what we were looking out for.
Once we were done, we compared notes, wrote up our reviews and voilà: our testing was complete. Our mince pies went down incredibly well this year – perhaps we were all just ready for some festive food in such a gloomy year?
Rating: 2.5/5
Reviewed by: Lucy.Pasha-Robinson, opinion editor
"This very much tastes like a mince pie, so that's a positive. The filling of vine fruits, apple, brandy and port is sweet and boozy, with plenty of spice. But sadly, the supposedly all-butter pastry lets this one down. It's just too dry and chalky for it to be a truly celebratory eat, and generates a paste that sticks to the roof of your mouth. That said, for the price, you could probably do worse."
Rating: 3/5
Reviewed by: Tasha Hinde, life reporter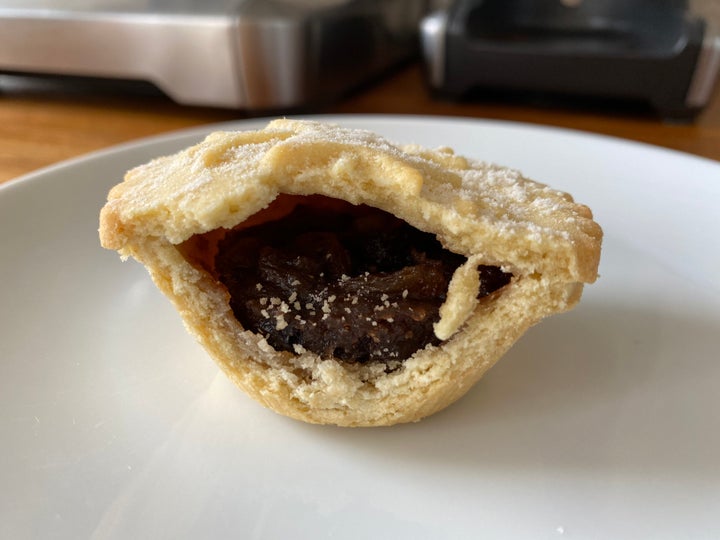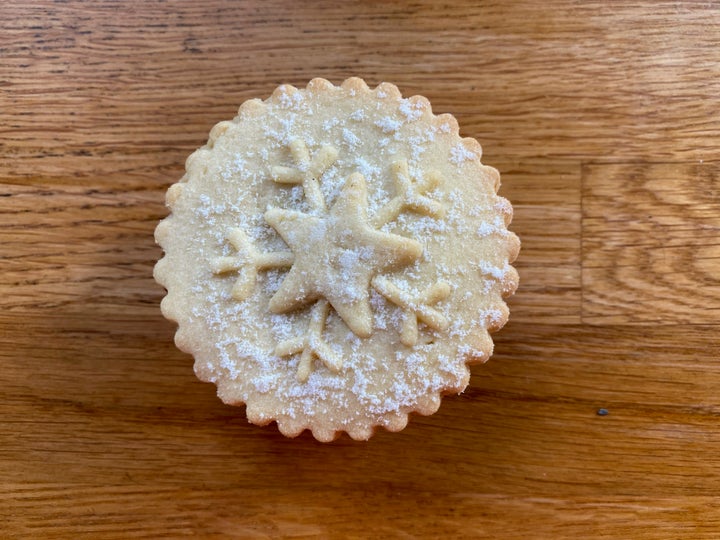 "I had high hopes for these mince pies, mainly because anything that contains the words 'all butter' is usually failsafe. But sadly this pie's shortcrust pastry was a bit dry and crumbly. The pie itself looks really pretty with its snowflake pattern and icing sugar dusting. But when I bite into it, I get a mouthful of pastry and not much else. On second bite I get to taste some of the spiced mincemeat, which is laced with Cognac – my first thought is it's not particularly juicy compared to other mince pies I've had and probably could do with a little more lubrication to offset the dryness of the pastry, however I do like the taste of the spiced mincemeat overall and, unlike other pies, the alcohol taste is subtle and warming rather than a full-blown assault on your senses. The pie is best served with a cup of tea (or any chosen beverage) to wash it down with. Would I eat it again? Yes, but heated up in the microwave and served with a splash of cream."
Reviewed by: Brogan Driscoll, life editor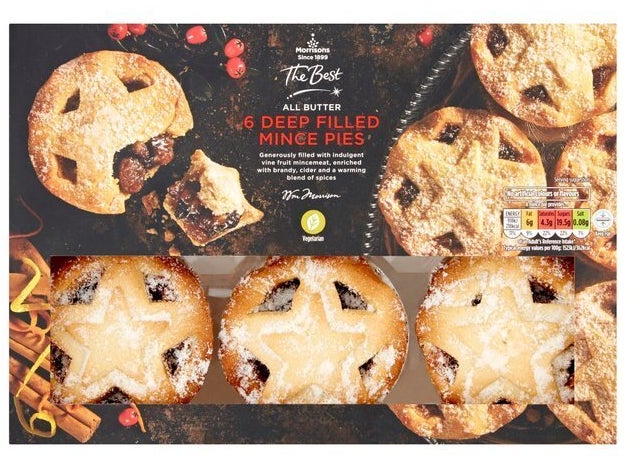 If you aren't going to heat these mince pies, don't bother. To be honest I think this applies to every mince pie ever made. Eaten cold, Morrisson's 2020 offering is perfectly fine. But then, I'll never turn my nose up at a mince pie. Heated however, the otherwise nondescript pastry softens, the boozy brandy aroma warms the soul and the filling offers gorgeously spiced fruits.
Co-op Irresistible Old Fashioned Clementine Buttercream Mince Pies
Rating: 3.5/5
Reviewed by: Lucy Pasha-Robinson, opinion editor
"Well, this is certainly something different. Firstly, this mince pie might be the most alluring I've ever seen – gold leaf, a piped buttercream flower, a sliver of clementine zest – it certainly looks refined. And the taste is generally good – I especially like the clementine flavour. But I have one big issue with this pie, where is all the fruit? The filling would be more accurately described as a jelly rather than a mincemeat. It tastes delicious, but has practically no texture because it is almost perfectly smooth – frankly bizarre for a mince pie. The pastry is good, if a little soft and pliable. It's a nice treat, but not quite there."
Reviewed by: Nancy Groves, head of life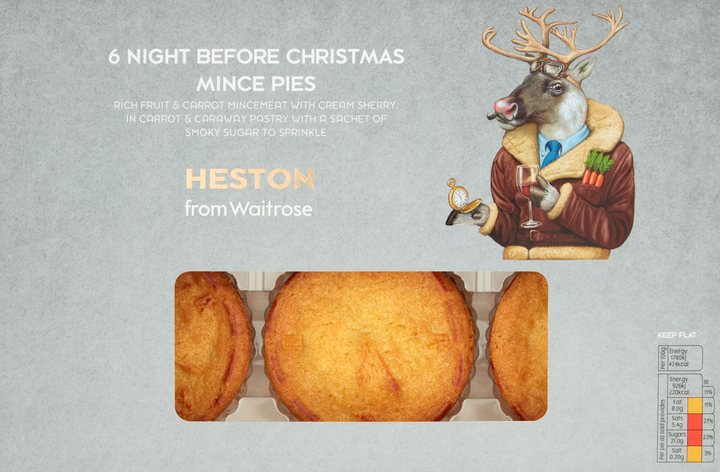 "I assume I've hit the festive jackpot with these – not only Waitrose, but Heston for Waitrose, with a 'night before Christmas' label that surely means these are good enough for Father Christmas himself. Certainly, they're massive, looking more like pork pies than pastries at first glance. But inside the mincemeat is definitely of the sweet variety, full of carrot and clementine – if a little too rich and boozy for my liking (that'll be the cream sherry). These are best heated beforehand after which you're supposed to dust them with the sachet of smoky sugar provided, with a typically Heston hint of almost bacon to it. I can't imagine kids will go for them. So you're best off saving them for (cough) Santa."
Reviewed by: Adam Bloodworth, features writer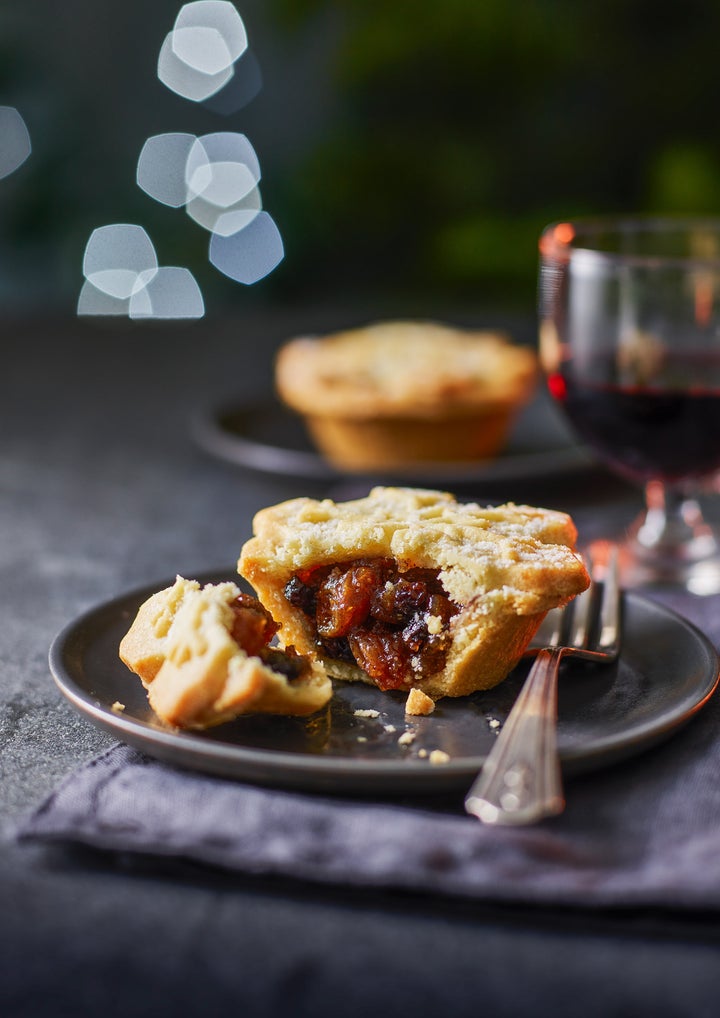 "I know what you're thinking: the spiced rum mince pies from Tesco probably don't have much rum in. I can neither confirm nor deny this suspicion, as the quantity of rum isn't listed on the packaging, but what I can say is that five minutes after my final bite, my mouth was still having a rum old time. Rummy mid-chew, on the nose, and leaving a satisfying rum afterglow, the booze does one up on other pies which include booze for novelty value – but never let it sing. The rest is equally full-thwack: note the criss-crossed patterns on top, which give the pie a deep filled look, even if the ones with cognac, brandy and port have a smattering more filling. A steal at £2 for six."
Reviewed by: Angela Hui, life reporter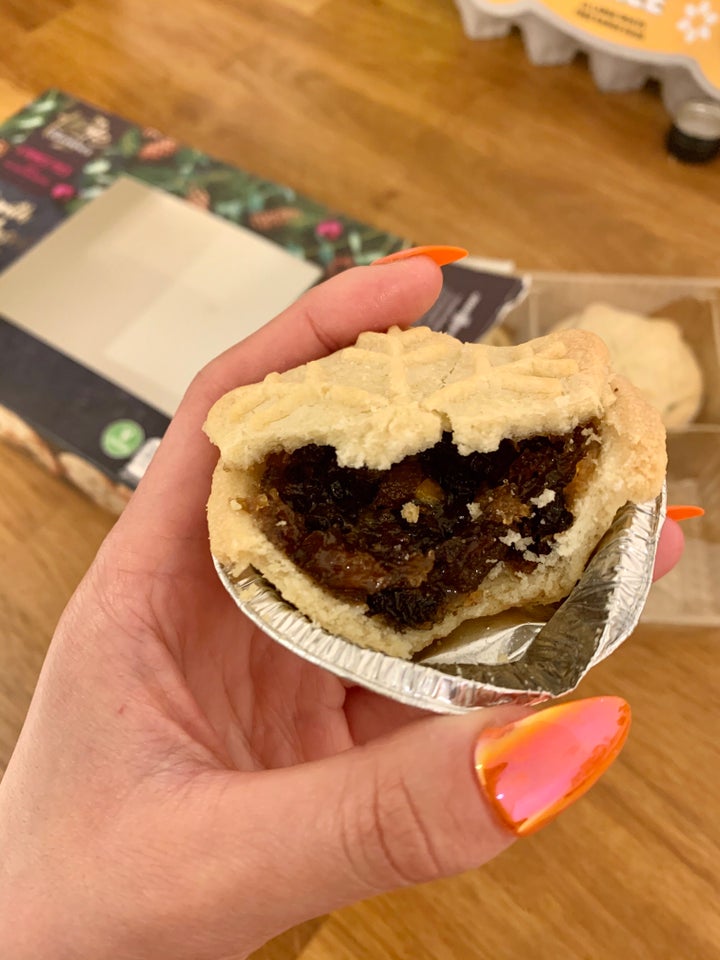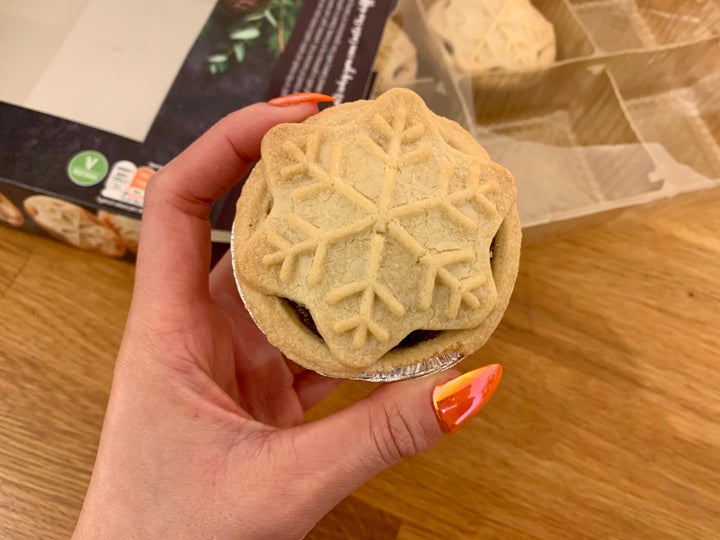 "A melt-in-the-mouth all butter pastry mince pie with a strong filling made up of a festive blend of luscious fruit, aromatic peel and warming spices, infused with brandy. It's a juicy explosion with a hint of citrus that's beautifully balanced with the sweetness of plump currants and sultanas followed by a brandy punch in the face aftertaste, which actually cuts through the richness perfectly. It has a lovely crumbly, golden pastry that isn't too sweet, it has a satisfyingly crispy bite and crumbles in the mouth similar to a shortbread. Generously sized, too."
Reviewed by: Rachel Moss, life reporter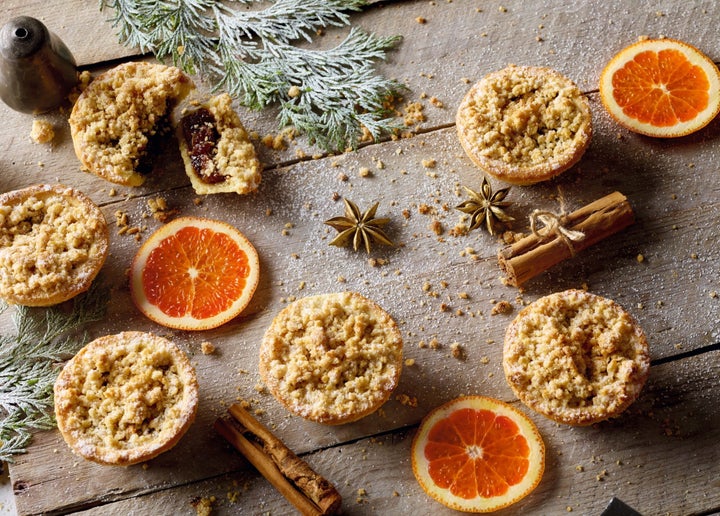 "Aldi's new Blood Orange & Gin Crumble Mince Pies look a little lacklustre compared to others on the market; there's no seasonal star design or decorative dusting. The loose, crumble topping also makes them impossibly messy to eat. But what they lack in finesse, they more than make up for in taste. The pastry is perfection, buttery yet light. The orange filling is sweet and zesty, while the subtle gin infusion provides a delicious balance. At £1.79 for a pack of six, they're excellent value. I consumed the lot at an alarming rate and will be adding more to my next shop. We're all at home alone anyway, so substance over style gets my vote."
Reviewed by: Amy Packham, life editor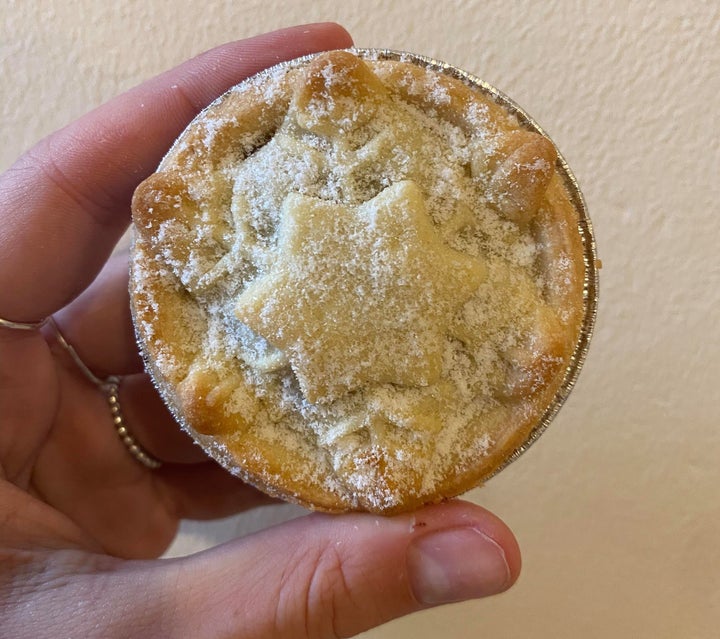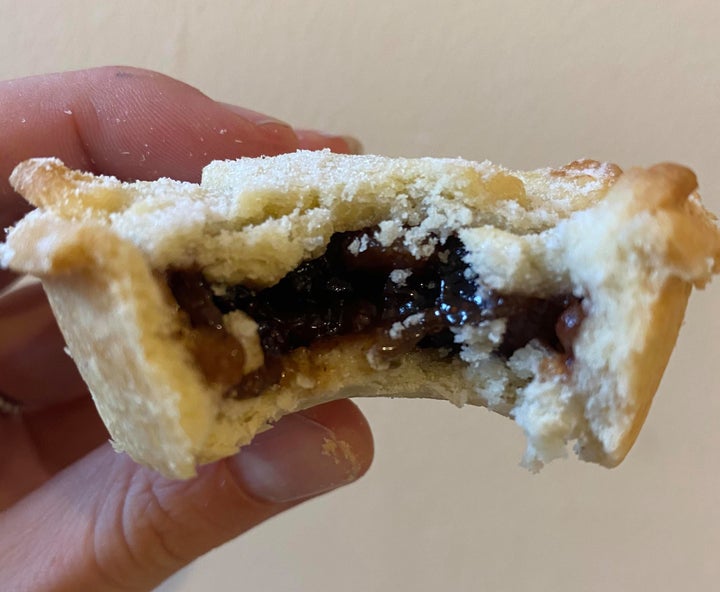 "I'm a huge mince pie fan, and have diligently tried many a pie from different supermarkets every year. From my experience, the fancier the mince pie, the less delicious they are as the filling gets too complicated that the original taste gets taken away. So I was reluctant trying M&S, but boy was I wrong. The pastry is delicious and crumbly, with a slight crunch on top dusted with icing sugar. There was so much sweet mincemeat inside the pie, that was moist and not dry at all, and they were so delicious I ate two in a row. My only gripe is that they're more than your average mince pies – but that's M&S for you."
Reviewed by: Nancy Groves, head of life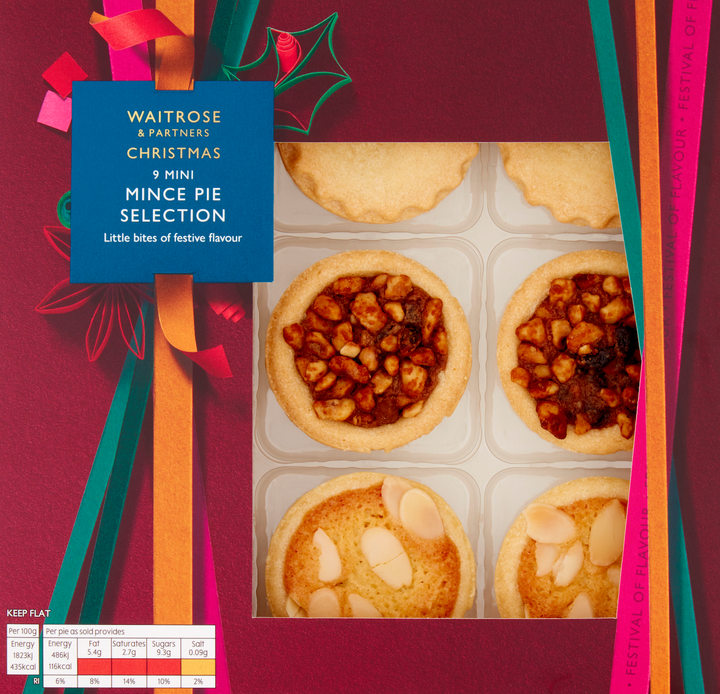 "An extra shout out to these delightfully festive mini-me pies: a nine pack of canape size mouthfuls in three considered flavour combos: orange and juniper, which tastes lighter than your regular pie, and good for gin lovers; a baklava-filled delight with caramelised hazelnuts that I'm totally here for – and my favourite: a regular mince-pie topped with almonds that's more like a frangipan tart. Whisper it, but I'm not even the biggest mince pie fan, so ringing the changes is a real winner for me. I guess the idea is to hand these round the room, but three mini pies is the same as one big one, yes? Just checking."