You're reading our series Summer's Not Cancelled, celebrating summer in this new normal. From rediscovering nature and cherishing time with friends and family to virtual festivals and unforgettable staycations – summer's still here, it's just different.
Is there any better feeling than dipping your toes into the cool, refreshing waters of the pool? After a sticky train or car journey submerging your entire body (head and shoulders, too) feels like a luxurious treat – how we've missed it.
It's been a while, but now that many (but not all) lidos have reopened to the public: it's time to put on your cossie, roll up your towel and pick up your suncream. We're going swimming.
From Yorkshire to Brighton, these are the best outdoor pools in the UK recommended by Parkdean Resorts that'll guarantee you the best of British summertime.
1. Jubilee Pool, Penzance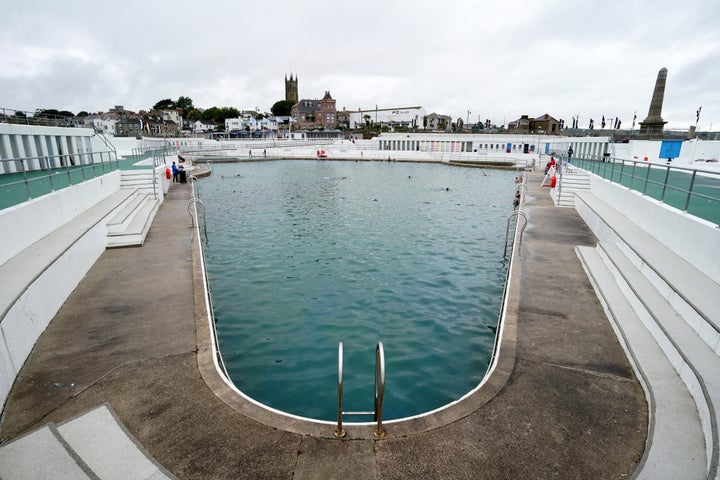 Want a swim that overlooks the picturesque coastline of Cornwall? Then Penzance's Jubilee Pool is the answer. The largest seawater lido in the country boasts magnificent Art Deco architecture and Cubist-style changing rooms dating back to its opening in 1935, the pool has recently been restored and is now grander than ever with more streamlined swimming lanes. For those who'd prefer to sit on the sidelines and watch there's also a licensed café for adults, a toddler's pool set within the main swimming area, and a giant inflatable for kids to play on.
Advance booking required. There are five hourly swim sessions between 10am - 4pm. Tickets cost £4.25 for adults, while children cost £3.00. Visit the website for more information.
2. Hathersage Swimming Pool, Peak District

Swim with the beautiful surrounding views of the Peak District at Hathersage Swimming Pool. At home in a quaint village, the pool has been around since the 1930s and the pool is heated to 28C all year – bringing joy to outdoor swimmers and visiting families for years to come. The adjoining cafe is ready to refuel you afterwards, but if you fancy bringing your own snacks or picnic there is a lawned seating area with breathtaking views of the surrounding hills. Rest assured, the pool has recently undergone recent renovations which includes the installation of a new circulation and filter system.
Advanced booking required. Hourly swim sessions between 7am-7pm. Half-hour swim sessions for members only. Tickets cost £7 for adults, while children cost £4. Visit the website for more information.
3. Ilkley Pool and Lido, Yorkshire
With the famous moorland providing a beautiful backdrop, Ilkley Lido is certainly a pool with a view and it's no surprise that this lido is known as one of the best outdoor pools in the North of England. The main pool is freshwater and unheated, when the weather turns there's an indoor heated pool too. Sadly, the lido is currently undergoing repair work until end of August, but the indoor pools are open from July 25. Once you've worked up an appetite, there are plenty of places to enjoy a bite to eat. Take a seat at the lido's popular Art Deco style café, or set up a picnic on the lawns.
Advanced booking required. Outdoor lido closed, but indoor pool open. Tickets cost £4.80 for adults, while children cost £2.50. Visit the website for more information.
4. Shap Swimming Pool, Cumbria
This beautiful open-air swimming pool is one of the most visited outdoor pools in the UK and with good reason. It's 900 ft above sea level and this Lake District wonder is the highest heated pool in the entire country. Swim in the 20-metre pool or enjoy the smaller paddling pool which is perfect for little ones. Since the 1980s, it's been run by a team of amazing volunteers and they've kept the open-air pool around for generations to come but also run a small shop for refreshments and make sure the picnic tables and benches are up to standard for amazing family days out. Bad news: Shap Swimming Pool has confirmed it's not going to be opened this year, but will be planning to reopen next year bigger and better than ever.
Closed for 2020. Visit the website for more information.
5. Gourock Outdoor Pool, Renfrewshire
Visit Scotland's oldest lido - Gourock Outdoor Pool. Whether you want to be daring on the diving boards or take in the beautiful views of the River Clyde, there's endless fun to be had. As an alternative to swimming, popular aqua classes are held here too, and the newly refurbished gym offers a contemporary and modern space to exercise. And the coolest thing? You can visit the pool at night for a midnight swim under the stars, the perfect activity for a warm summer evening. Scotland's First Minister has said pools in Scotland will not be able to reopen before July 31, so keep your eyes peeled for more details on reopening.
Advanced booking required. Tickets cost £4.50 for adults, while children cost £3.90. Family Swim available. Visit the website for more information.
6. Stonehaven Open Air Pool, Aberdeen
The epic Olympic-size pool uses filtered seawater directly from Stonehaven Bay and is heated to a toasty 29 degrees for your swimming pleasure. It's funded by the local community group and thanks to its 1930s listed Art Deco features it looks something straight out of a Wes Anderson set. There's an amazing paddling pool for under 8s, quiet swims, learner swimming lanes and even midnight swims where you can swim beneath the stars to disco music. Hard luck, they've confirmed it won't be open for this year's season, but get your swimming cossie ready for 2021.
Closed for 2020. Visit the website for more information.
7. Tinside Lido, Plymouth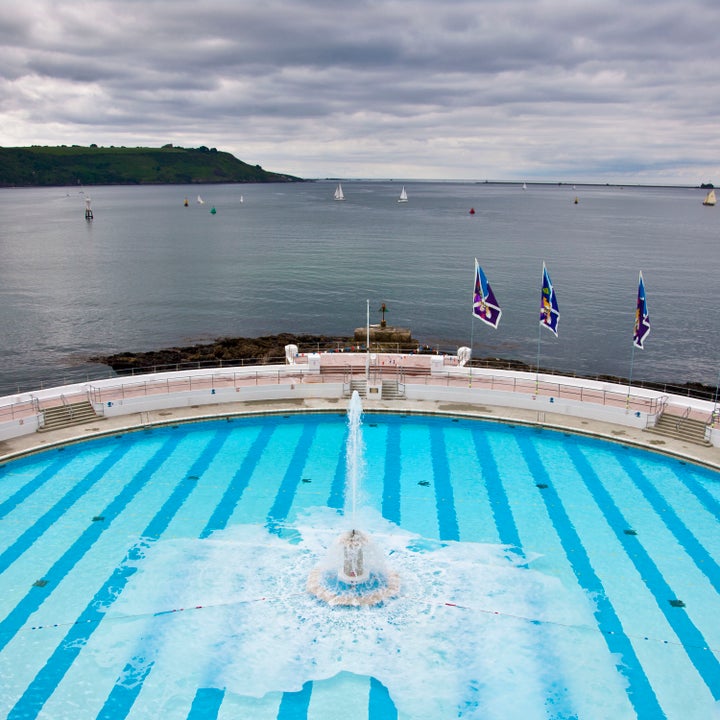 This iconic Grade II listed Art Deco semi-circle 50m wide pool makes for an incredible swim with even better views overlooking The Sound, one of Plymouth's most popular bays. From small fishing boats to huge ferries, enjoy watching a vast array of boats glide into the harbour as you relax by the pool. The three fancy fountains and regular inflatable fun sessions make this saltwater pool a great day out for the kids this summer. While the children have fun, you can soak up the sun on the terrace and look out onto the sparkling sea. Bonus points where you can visit the lido by night, and watch a film at one of the many open-air cinema events hosted at the pool. No news yet on its reopening but on their website it says they are currently liaising with local authority partners.
Advanced booking required. Tickets cost £4.50 for adults, while children cost £3.50. Family tickets are available. Visit the website for more information.
8. Saltdean Lido, Brighton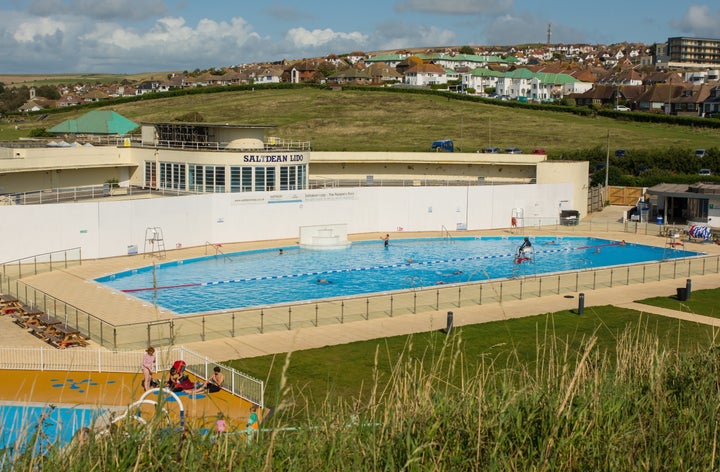 Dive right into 'The Seventh Wonder of the English Seaside', as described by English Heritage. The Saltdean Lido is a beautiful coastal spot that was originally constructed in the 1930s with an iconic new Hollywood Modernist design. After years of neglect, it's been reopened since 2017 and offers an outdoor and indoor pool, as well as badminton facilities, a bar, and a cafe. Keep your eyes peeled for reopening news, they're currently working within the government approved guidelines to ensure a safe and enjoyable swim sesh.
Currently closed. Visit the website for more information and reopening details.
9. Nantwich Outdoor Brine Pool, Cheshire
Experience the salt on your skin as you swim in one of the last few remaining heated brine pools in the UK. Be warned, the lanes are a little longer than coming in at 30-metres rather than the typical 25-metres and they're suited for confident adult swimmers, as you'll be swimming away from a wall and out of your depth. For those wanting to swim inside at one of the two indoor swimming pools or junior swimmers wanting to hop in the learner pools, you'll have to wait a little longer as they won't be open until September. Rest assured, there'll be no bumping into anyone else as there are only 21 swimmers per session.
Advanced booking required. Opened weekdays Monday-Friday from 7.45am-2.45pm for hourly swim slots. Tickets cost £5.50 for adults and £4.50 for members. Visit the website for more information
10. Sandford Parks Lido, Cheltenham
Another one for the serious swimmers. This amazing 50-metre pool within the gardens of Sandford Park in the Cotswolds was built in the 1930s. It's home to a 50-metre Olympic sized main pool, as well as smaller family-friendly pool, a paddling pool and a few slides that are all heated within the season. Keep in mind when you visit that the changing rooms, showers and lockers will be closed, but toilets are accessible, so if you fancy a dip be sure to arrive 'beach ready' and bring minimal belongings with you.
Advanced booking required. Opened weekdays Monday-Sunday from 6.30am-6.30pm. Tickets cost £7 for adults. Visit the website for more information.