The sky is blue, the sun is shining and keen swimmers will be clamouring to get back in their local pool. Unfortunately, the reality is that indoor and outdoor swimming pools will stay closed for some time yet. It's likely they won't be reopening until some time in July.
But that doesn't mean swimming is completely off the cards. There is no specific mention of swimming in the government's strategy for coming out of lockdown in England, but it does state that people can drive to outdoor open spaces, irrespective of distance, as long as they respect social distancing guidance while they are there.
This doesn't mean you can drive to Scotland, Wales and Northern Ireland for a swim. But it does mean you can enjoy open water swimming in England by visiting your local beach or swimming in a lake or river.
Safety is still paramount. Swim England advises that only competent and experienced open water swimmers should use this form of exercise during lockdown – and reminds people to stick to social distancing guidelines while doing so.
There are concerns that people who are new to open water swimming will try to do it during lockdown. The message is clear on this one: don't. Robert Gofton, chief executive of the Royal Life Saving Society UK, said: "We are extremely concerned that people will now rush to get into open water without proceeding with caution and understanding the potential life-threatening implications."
Even those who are open water swimming veterans are advised not to go alone in case they do get into trouble. Under the new rules you can exercise with multiple members of your household or one member from another household.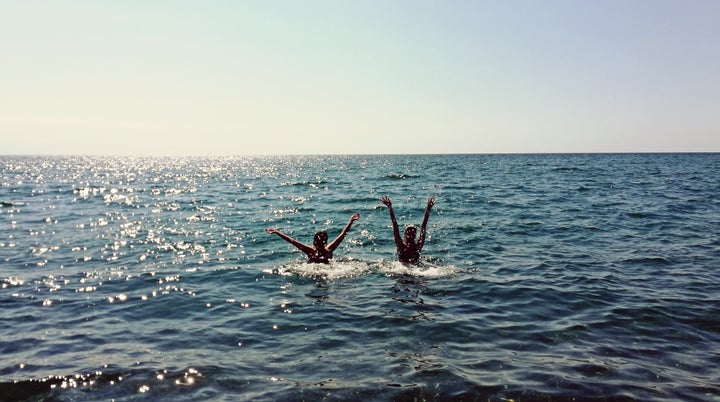 If you are going swimming with someone else, let those in your household know where you are, what you are doing and your expected time of return. And if you turn up to swim and the location is busy, you should turn around and go home.
Just because we're allowed to drive to a beach doesn't mean it's the best thing to do, according to Professor Andy Hunter, who works with the World Health Organisation on guidance around sanitation and disease.
"If you have children – who will still insist on running up to and playing with other children who are not part of your household, and may be from another part of the country as far as you know – that is a problem," Prof Hunter told HuffPost UK.
And if you're travelling a long way to get to a beach, bear in mind it may be the main open space that locals have to get fresh air and exercise themselves.
How To Prepare For An Open Swim
There won't be any changing facilities open at the moment so you need to turn up in your swim kit – and be prepared to dry off somewhere in public, and get changed into warm clothes afterwards
Don't forget your swimming costume or wetsuit, towel, swim hat, goggles, and swim boots, gloves and ear plugs (if you're planning on spending a long time in the water). You'll also want to cover up any cuts or scratches with a waterproof plaster as the last thing you want is an infection from dirty water.
Some wild swimming spots in England include:
Grantchester Meadows, Cambridgeshire

Goldiggins quarry, Cornwall

River Thames, Pangbourne, Berkshire

Rydal Water, the Lake District

Ullswater, the Lake District

River Waveney, Bungay, Suffolk

Lacy's Caves, Cumbria

River Stour, Fordwich, Kent.
For those who aren't competent swimmers, the best thing to do is to wait for the pools to reopen, hopefully in July – and in the meantime, find a different form of exercise you can enjoy on land.