WASHINGTON — Fresh off a visit to Israel following the Hamas terror attack that killed more than 1,300 Israelis, President Joe Biden pitched a $100 billion plan Thursday night to help both that country and Ukraine defend themselves as well as to provide humanitarian relief for the 2 million residents of Gaza.
"I know these conflicts can seem far away. It's natural to ask, 'Why does this matter to America?' Let me share with you why making sure Israel and Ukraine succeed is vital for America's national security," Biden said from the Oval Office in the White House, only his second such address of his presidency.
"History has taught us that when terrorists don't pay a price for their terror, when dictators don't pay a price for their aggression, they cause more chaos and death and more destruction. They keep going, and the cost and the threats to America and the world keep rising," he said.
While Biden has, many times over the past year and a half, explained his rationale for supporting Ukraine in its efforts to fight Russia's invasion, this was his first time to do so in a prime-time speech.
In it, he drew parallels between Hamas and Russian dictator Vladimir Putin to make his case for military help for Israel and Ukraine. "Hamas and Putin represent different threats, but they share this in common: They both want to completely annihilate a neighboring democracy," Biden said.
He said he would send Congress an "urgent budget request" on Friday to "fund America's national security needs."
"It's a smart investment that's going to pay dividends for American security for generations," he said.
Biden detailed both his trip to Israel on Wednesday as well as his journey to Ukraine eight months earlier. He again emphasized his insistence in conversations with Israeli Prime Minister Benjamin Netanyahu that Israel must abide by the "laws of war" as it carries out its military actions against Hamas, which meant safeguarding Palestinian civilians who are also victims of the terror group. Israel has been pummeling Gaza with airstrikes for the past week and a half and is expected to launch a ground offensive there in the coming days.
"We mourn every innocent life lost. We can't ignore the humanity of innocent Palestinians who only want to live in peace," he said.
He also reminded his audience of the tactics Russian soldiers have used against Ukrainians since the invasion began. "We've not forgotten the mass graves. The bodies found bearing signs of torture. Rape used as a weapon by the Russians, and thousands and thousands of Ukrainian children forcibly taken into Russia, stolen from their parents," he said. "It's sick."
And Biden cautioned Americans against both antisemitism as well as Islamophobia at home amid so much anger, recounting the story of Wadea Al Fayoume, a 6-year-old boy who was stabbed to death in a Chicago suburb last week.
"A little boy here in the United States, a little boy who just turned 6 years old, was murdered in their home outside of Chicago," Biden said. "His name was Wadea. Wadea, a proud American, a proud Palestinian American family. We can't stand by and stand silent when this happens."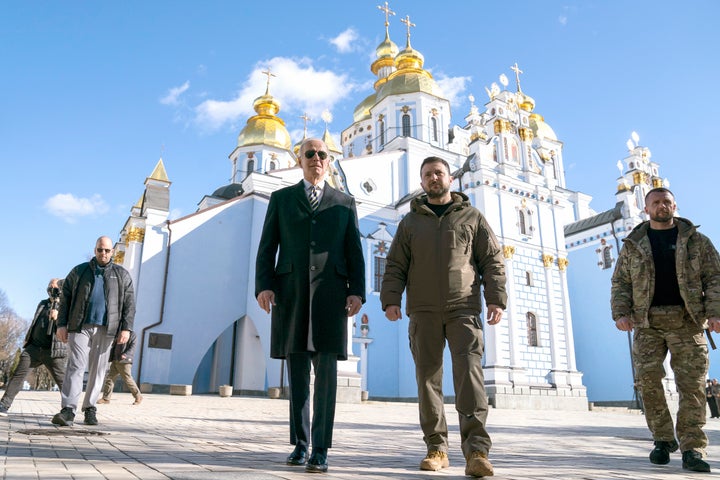 The president's first Oval Office speech, which came this June, followed an agreement with House Republicans that averted an unprecedented default on the nation's debt, which likely would have triggered a global economic catastrophe.
On Thursday night, Biden laid out his case for why it is important for the United States to continue its leadership role in organizing the multinational alliance on behalf of Ukraine, which he himself assembled in the wake of the February 2022 Russian invasion. "Kyiv still stands because of the bravery of the Ukrainian people. Ukraine has regained more than 50% of the territory Russian troops once occupied," he said.
He reiterated his support of Israel after Hamas militants assaulted towns bordering the Gaza Strip on Oct. 7, murdering, raping and kidnapping Israeli residents. He said his budget proposal would guarantee Israel the "qualitative edge" the United States has sought to make sure it maintains over other militaries in the region.
Biden's aid package will likely find strong bipartisan support in the Senate, where leading Republicans have, like Biden, said that helping Ukraine repel Putin's invasion was a cost-effective way of weakening Russia and keeping Europe safe.
However, prospects in the House are less certain. Even before the recent leadership turmoil in that chamber, former Speaker Kevin McCarthy (R-Calif.) was having trouble getting enough Republicans to support more assistance for Ukraine. Many in his caucus, followers of coup-attempting former President Donald Trump, argued that the United States had no interest in that conflict.
Trump himself, long an admirer of Putin, called him a "genius" for having invaded Ukraine in the days immediately following the initial assault.
Biden nevertheless urged Congress to move quickly. "Time is of the essence," he said.
"I know we have our divisions at home. We have to get past them. We can't let petty, partisan, angry politics get in the way of our responsibilities as a great nation," he said.
Biden returned from his 30-hour journey to Tel Aviv just after midnight on Thursday. While in Israel, he met with Netanyahu, other government officials, and survivors of the Hamas attack. He promised Israel, again, that the United States would support it as it fought to defeat Hamas, even as he cautioned against letting the current "rage" lead Israelis into making mistakes the way Americans' rage after Sept. 11, 2001, led to mistakes in the U.S. response. He also said that everyone in Israel and the occupied territories, whether Jewish or Palestinian, deserved security and dignity.
Eight months earlier, Biden had traveled to Ukraine to meet with Zelenskyy. That trip involved flying to Poland and then finishing the journey to Kyiv with a 10-hour train ride.
The two visits to active war zones are unprecedented in American history. Previous presidents had traveled to conflict zones, but only to places secured by the U.S. military.