Black and Asian people should be given priority status for Covid testing alongside NHS and care workers if the government's test-and-trace service can't cope with demand, a new report has urged.
The joint call by the Runnymede Trust and IPPR think tank came as they published research suggesting "structural and institutional racism" in health care, housing and employment are likely to be the main reasons for BAME communities suffering a higher risk of death from the virus than white people.
The new study, based on data analysis by CF healthcare consultancy, found that the disadvantage gap was so large that nearly 60,000 more deaths from coronavirus would have occurred in England and Wales if white people had faced the same risks as black communities.
And 35,000 more white people could have died if the risk was the same as for the south Asian population, the study estimates.
Among its main recommendations is a demand to include ethnicity as a risk factor in any "triaged" or rationed testing system.
"If testing cannot be scaled up quickly, a triage system to allocate scarce resource should be devised," the report says.
"The government has said they will prioritise tests based on occupation and
co-morbidities, with key workers such as NHS staff and care workers given priority.
"We argue that ethnicity should also be included as a parameter in this system,
particularly given the large unexplained excess risk of death for many ethnic
groups."
Other recommendations include offering temporary accommodation to people who live in overcrowded homes and are asked to self-isolate and extending £500 isolation pay to migrants without settled status and better targeted messaging for minority populations.
Death rates from Covid are 3.3 times and 2.4 times higher respectively among black men and women than among their white peers between March and May, according to the Office for National Statistics (ONS).
The study analysed the data and found that the difference is not explained by variations in the prevalence of underlying conditions such as lung disease, obesity and diabetes across different ethnic communities.
Similarly, higher deprivation means black communities are 14 per cent and South Asian communities 9 per cent more likely to die from Covid-19 than white communities – but both are insufficient to explain the far higher risk they face.
"Genetics cannot explain why every minority ethnic population, given huge genetic diversity within and between these groups, has a higher risk of death from Covid-19 than the white ethnic population," the report states.
"Instead, this inequality is likely to be driven by structural and institutional racism that results in differences in social conditions (such as occupation and housing) and differential access to healthcare.
"Covid-19 has brutally exposed the racial inequalities that sit at the heart of our society. Too little attention has been paid to the socially stratified structures and stigmatisation that makes race a determinant of health."
Parth Patel, an A&E doctor who was the lead author of the report, said little has been done to combat the unequal impacts of the pandemic, months after they became apparent.
"We cannot eliminate all the effects of structural and institutional racism overnight. But we can and should take practical steps now to better protect minority ethnic communities, to support people to self-isolate and to ensure healthcare access is less unequal in the dangerous winter months that lie ahead."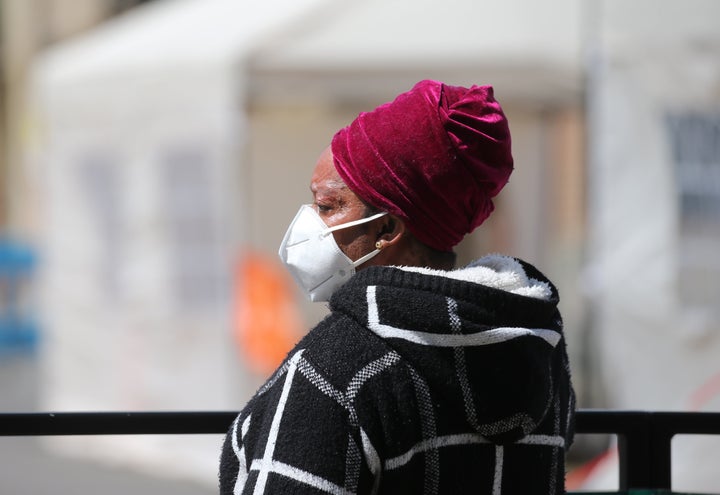 Dr Halima Begum, Runnymede Trust director, said of the 58,000 projection: "If that figure does not give the government cause to sit up, listen and take action, I don't know what will.
"I am repeatedly asked if Covid-19 is a 'racist disease'. It is not. But it prevails in a society that is riddled with structural inequalities whose roots are firmly entrenched in race and ethnicity.
"As we head into what promises to be a long, challenging winter, we cannot ignore these inequalities any longer. For the government to do so would be to condemn thousands more black and ethnic minority people to a needless death."
Shadow equalities secretary Marsha de Cordova said: "Inequality and structural racism continue to be contributory causes to the deeply unequal impact that coronavirus is having.
"Time and again I have asked ministers to tell us what actions they have taken to combat this, but still nothing. This is all the more worrying considering we are already in a second wave."
A spokesperson for the government's equalities office said: "Throughout the pandemic the measures introduced by this government have been designed to protect and support everyone, including our most vulnerable.
"The vital steps we have taken include ensuring that NHS frontline staff from ethnic minority backgrounds are best protected and making sure that public health information is easily accessible via translations and targeted messaging.
"We have also spent £4.3m on ground-breaking research to understand the links between the virus and ethnicity. The minister for equalities will set out more detail on this in her update to the prime minister later this week."
The government points out that 96% of frontline NHS staff from an ethnic minority background have had a risk assessment and agreed any necessary mitigating actions and that it has funded £4.3m for six projects that to improve understanding of the links between Covid-19 and ethnicity.
It spent an additional £4m from March to July on reaching ethnic minority people through tailored messaging, strategically chosen channels and "trusted voices".