Flights at the airport were grounded after nine Black Lives Matters demonstrators - protesting the "UK's environmental impact on black people" - got onto the runway shortly before 6am and chained themselves to a tripod.
After five hours of negotiations, police arrested the protesters on suspicion of aggravated trespass, being unlawfully airside and breaching London City Airport bylaws. The group remains in police custody.
The airport has since returned to full operation.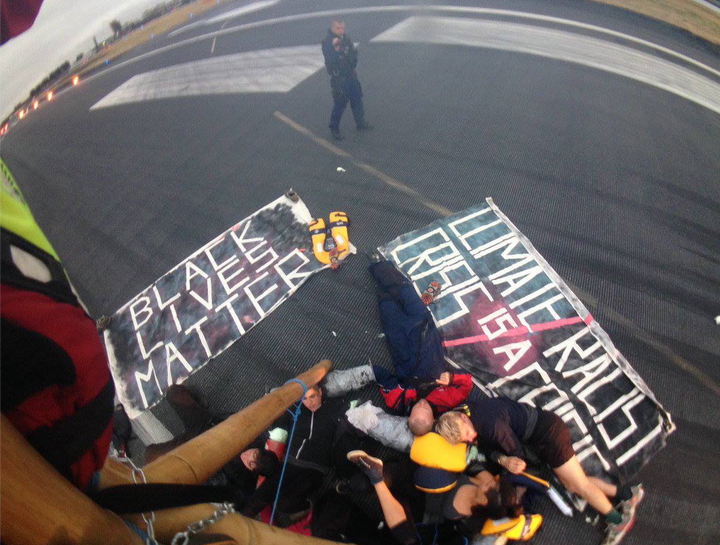 BLM said in a statement: "Black people are the first to die, not the first to fly, in this racist climate crisis.
"The action was taken in order to highlight the UK's environmental impact on the lives of black people locally and globally."
However, the response to the action has been largely negative, with people criticising its relevance, disputing claims the action would only impact the wealthy, and questioning why the group did not appear to have any black members at the protest.
One person described the protesters as "hipster-looking flower-crowners".
Ruairi Aherne wrote on their Facebook page: "Not a black person among them. A bunch of virtue signalling arseholes. Blocking normal hard working people from going about their business."
Zahra Clarke-Johnney said: "Where are all the Black people in this BLM protest? Looks like the hashtags just been hijacked by nine people with their own agenda. Was this actually organised by BLMUK?"
Joanne Marie was annoyed by claims that the action would only affect the well off.
She wrote: "I earn under £30k and I live in Newham. I use City Airport several times a year to fly home to Ireland to visit my sick and elderly parents. I pay around £100 return - slightly more than it costs to fly from Stansted on Ryanair. Should I not visit my parents to placate a bunch of self-righteous white people with placards who think they represent the BME community?
"City airport employs a lot of people who live in Newham and surrounding boroughs. Would you like them to lose their jobs?
"Your protest is embarrassing and a genuine example of white privilege."
The newspaper classified the protest as an "attack" and said it could "inspire copycat terrorist attacks".
The headline was savaged online. One of the more timid replies to a tweet the newspaper sent about the story can be seen below.
Airport campaign group HACAN East was one of few groups to support the action, writing: "Emails have been pouring in from local people in support of today's occupation of City Airport runway by, we understand, Black Lives Matter."
But they soon got a reply from a local who expressed a different point of view.
BLM protesters are said to have gained access to the Royal Docks site by using an inflatable boat to cross the River Thames.
In a statement, the protest group's UK division also cited expansion plans at the airport as the cause of their action.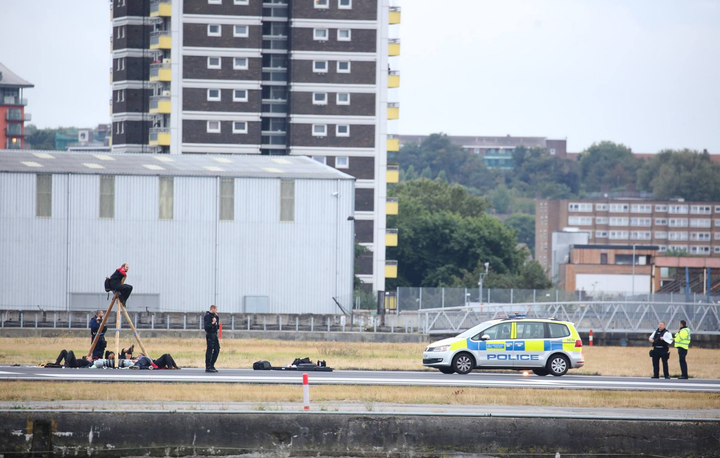 It said: "Recently London City Airport was given approval to expand its capacity, a move that consigns the local community in Newham to further deterioration of their environment. The average salary of a London City Airport user is £114,000 and 63 per cent of them work in business, finance or other business services.
"It is an airport designed for the wealthy. At the same time 40 per cent of Newham's population struggle to survive on £20,000 or less. When black people in Britain are 28 per cent more likely to be exposed to air pollution than their white counterparts, we know that environmental inequality is a racist crisis."