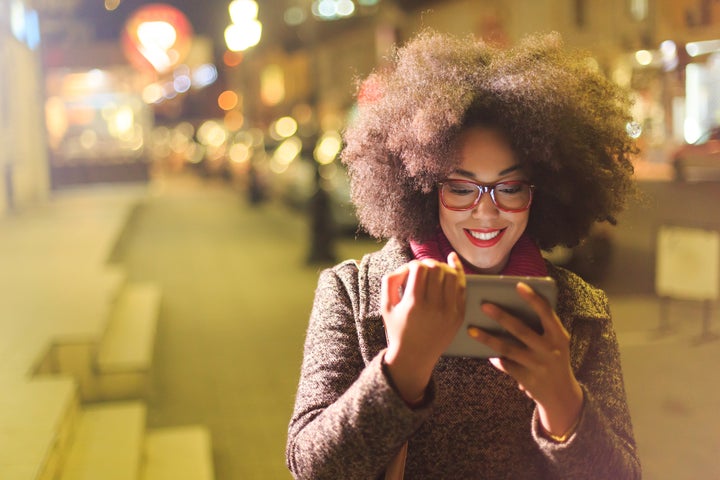 Growing up in the 90s, one might assert that TV was reasonably good for black people living in the UK. Although black and brown faces were few and far between, we were at least treated to strong matriarchs imported from the USA such as Aunt Viv and Claire Huxtable. They were educated, homely women holding their families together with grace, love and discipline. We also had our sense of humour tickled with our own comedies such as Desmond's and The Real McCoy.
If TV could pass for reasonable back then, it really is a lot to be desired now. Today when I switch on the box, I see almost no black women on our everyday popular TV shows.
It seems that with the turn of the century when one should expect more diversity on the TV, the British black woman is left wanting. I have asked myself many times why the BBC only see fit to roll out the carpet for black women on TV during popular sporting events such as the Olympics. Frankly we need more.
But where mainstream media has failed, social media has stepped in and filled the racial equality gap. I am sure that when YouTube launched back in 2005, little did its founders know that it was doing something unique for the lives and public image of black women. It has given us a much-needed gift, which is a voice. A voice that can reach anyone with an internet connection – uncensored and uninterrupted. In 2015 TV accounted for 76% of all video viewing in the UK, down from 81% the previous year, whilst YouTube viewing had grown to 4% over the decade*. Whilst the difference looks vast now, I truly believe that TV as we know it is becoming an endangered species. And as more people wake up to the fact that YouTube is offering more realistic images of themselves, the decline of television viewing will happen faster than we think.
What social media platforms such as YouTube, Instagram and Snapchat have offered are images of black women living content lives, having healthy relationships, chasing degrees, writing books, buying houses and starting businesses. These new images are challenging the status quo.
"YouTube, Instagram and Snapchat are showing black women living content lives, having healthy relationships, chasing degrees, writing books, buying houses and starting businesses"
Pictures of the frustrated black woman, mouthy and angry, lonely and single-handedly bringing up her children have had their day, and this is all thanks to what we are seeing online.
I first started watching YouTube seriously back in 2014. I was searching for old music videos when a thumbnail of Chanel Boateng (now Chanel Ambrose) appeared on the right hand of my screen. I clicked on it out of curiosity, and immediately fell in love with the bubbly, funny persona I was watching. What's more, she was a black Londoner like myself, beautiful, and living an ordinary life. I remember binge watching about ten of her videos that night which covered everything from beauty and fashion to lifestyle and motivation. My foray into the online world introduced me to other very popular, and much-loved YouTube personalities such as Patricia Bright and Breeny Lee.
For me, seeing these wonderful women is doing wonders to lift the esteem of back girls because for once, we have the choice of skipping what BBC One and Two have largely offered us for years: white, male and middle class. We are seeing women such as Nissy Tee and Courtney Daniella (who both attended Cambridge!) present us with a life of achievement and optimism. What makes it even more beautiful is that they are relatable. Their videos and pictures have removed the glitz and glam from success. Although it's always nice to see a made-up face and a laid wig, the truth is that these ladies are not afraid to share themselves bare faced, wigless, on their bad days, on sick days and at moments of absolute frustration! They are teaching us that you don't need to be Oprah Winfrey, or The Real Housewives of Atlanta to be deemed successful; that doing everyday things such as getting into the university of your dreams or finding a good job can be quantified as success.
What I am most impressed by is the way these women have leveraged their status to make bigger moves. Whilst Patricia Bright is a brand ambassador for L'Oreal, Chanel Ambrose is the CEO of her makeup line, Amby Rose. Courtney Daniella has recently started her line of custom made wigs – CDB Wigs, whilst Nissy Tee has launched BEBB (Be Educated Be Bold), an online media platform.
In ten years, this is what social media has achieved for the average black woman living in the UK. We are being represented. We are being inspired. A simple thing that mainstream media has failed to do.
Related