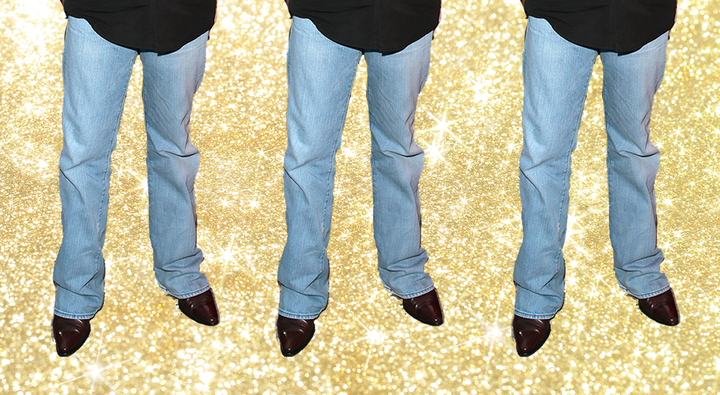 I am not a good dresser. What I wear has never really been important to me and, being a man, I'm lucky enough not to have my appearance over-scrutinised, so I pretty much dress the same every day, in some sort of jeans/hoodie/checked shirt combination. There are things I like more than others, but in general clothing isn't something that brings out a passionate reaction.
Apart from really bad jeans.
Really bad jeans, and their close relative, the really bad men's shoe, are extremely upsetting. The combination of a boot-cut jean and half-concealed pair of "scheux" sticking out is shudder-inducing, the kind of sight that makes you want to turn around and go home. Day ruined.
They're favoured by that person who got Amazon Prime solely for 'The Grand Tour' but still bought it on DVD because he likes owning it; who refers to the presenter James May, who he does not know personally, by the nickname Captain Slow; who has never read a book that didn't have an aeroplane on the front; who has never watched 'Doctor Who', but is still angry she's a woman.
I briefly worked with an ageing former boyband member, who was also a total dick. He wore boot-cuts. He couldn't get enough of them, paired with truly sick scheux and T-shirts with bits of metal on them. He was, as stated, a total dick.
Balenciaga – admittedly, a brand that has made its name by doing incredibly strange things, like selling a T-shirt with a button-up shirt attached to the front for more than a thousand dollars, and an IKEA bag for double that – features them heavily in its spring lookbook. The silhouette that time forgot could be back.
Will it happen, though? Will a time come when a pair of Cowellesque strides leaps out at me as just the thing I want to wear that day?
Jeans are weird – even if you pay very little attention to anything else you wear, they're often the one thing people are passionate about. When I was a teenager, my friends and I did the "head test" when jeans shopping – if you couldn't get your head through the bottom of them, they weren't baggy enough. Then for a while it was all about big high-tops and very skinny jeans, a look everyone around me was too polite to point out made me look extremely unwell.
These days I wear jeans that more or less fit me, but insist on wearing them too low, with half of my bottom hanging out – years of stupid trousers has meant that wearing clothes properly feels uncomfortable. There are definitely people who know my bottom better than my face, which I try not to think about.
I sort of figured this was it for me, that I was about 18 identical pairs of jeans away from death – but news of the bootcut comeback has me wondering.
I'm 35. That's only ten years younger than Simon Cowell was when 'The X-Factor' began, and he certainly had the air of a creature of denim habit, like he's been wearing that particular shape of trouser for a while. I'm also seven years older than Jeremy Clarkson was when he first started presenting 'Top Gear', a show with a large boot-cut jean-wearing following.
They're thought of as "dad jeans", of course, and while fatherhood isn't a prerequisite – Cowell only became one in 2014, decades into his light blue, wide-ankled period, and while life is too short to Google him, I don't think my boyband pal has any kids – it certainly seems to help.
Fathers famously have terrible taste, as evidenced this time of year in any shop display of "perfect presents for dads", in which absolutely everything is awful.
I've got a one-year-old, and it's definitely happening already. I got into Strictly this year (Danny John-Jules was robbed), something that would have seemed inconceivable a few years ago. Maybe boot-cut jeans, hideous goddamned boot-cut jeans, are next.
I'm never going to like Jeremy Clarkson, and I love that Doctor Who is a woman now, but with every day that passes, I'm that bit more likely to eye up a pair of particularly savage boot-cuts and think "You know what I want? A nice bit of air around the ankle to set off my shiny rectangular shoes to perfection."