Vision Express and Boots have been "misleading" customers about the effects of blue light emitted from computer and phone screens, according to a new BBC One Watchdog investigation.
Undercover video footage shows opticians from both stores making unproven health claims about the effects of blue light including eye strain, fatigue, headaches and drowsiness.
Watchdog presenter Sophie Raworth said it was "highly worrying" that the opticians were making these unproven health claims in store.
"The undercover investigation demonstrates how members of the public could be completely misled and left with the impression that screens are harmful," she said.
"These high street opticians cannot provide sufficient proof of blue light being in any way dangerous to our health."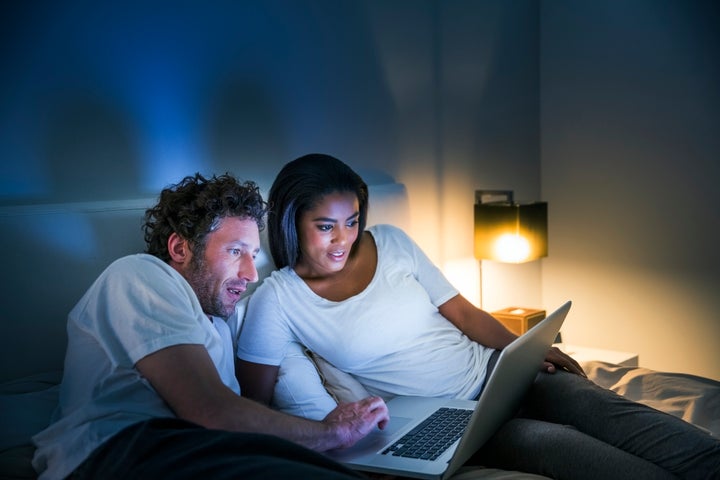 BBC Watchdog team members posed as customers shopping in ten Boots and Vision Express branches across the country.
There were six health claims reported across these ten stores, which experts said were not backed up by evidence.
In some branches of Boots, dispensing opticians claimed that blue light could cause serious harm to the eyes. While staff in one branch even claimed that the "dangerous" blue violet light kills the retinal cells at the back of the eyes.
Boots offered to sell its Protect Plus Blue lenses for an extra £70 and Vision Express offered a similar product for an extra £50.
Professor of Ophthalmology, Chris Hammond, said there is no evidence to support either store's health claims.
Dr John O'Hagan, who penned a report for Public Health England to establish whether blue light from electronic devices is dangerous, added that blue light forms a small part of the electromagnetic spectrum and is only dangerous if we obtain a far greater amount than what we would already get in daily life.
He demonstrated this through a test that measured the intensity of blue light emitted from a smartphone and several other electronic devices. Results revealed that the blue light released was less than 1% of the safe level, which isn't dangerous.
In response to Watchdog's report, Boots issued a statement which read: "There is a growing body of clinical evidence to support our position that exposure to some wavelengths of blue light may, over the long term, be harmful to the eye and these impacts are only just beginning to be understood.
"Our Protect Plus Blue Lenses reduce exposure to harmful blue light by up to 20% and should be considered, together with the effects of diet, smoking and family history on future eye health. The promotional materials relating to these lenses were approved by Trading Standards."
They added that they welcomed any feedback and added that, where they may not have given correct advice, they will work to educate their team so they can explain the benefits of Protect Plus Blue lenses more clearly.
Vision Express said it took the concerns raised "very seriously".
A spokesperson said the store has been offering a blue filter coating on lenses since 2013, "when we introduced it as a potential option for customers who use computers, phones, tablets and have prolonged exposure to electronic screens".
"We have never claimed that blue light causes retinal damage and have, therefore, never claimed that our lenses prevent retinal damage," they continued.
"Our recommendation of blue filter lenses is based on their ability to improve contrast for better visual performance and comfort, with a filter which can help reduce eye strain."
Update: A spokesperson for Vision Express issued the following statement -

Jonathan Lawson, CEO of Vision Express, agreed to be interviewed on the show to explain why Vision Express recommends blue light lenses, and crucially to make clear that evidence does exist to demonstrate the impact of blue light on vision.

He says: "These concerns really matter to us. We wholeheartedly stand by the advice we offer around blue light lenses as an optional upgrade to standard lenses, where a consultation with one of our expert optometrists identifies a customer has prolonged exposure to electronic screens such as tablets, computers and mobile phones.

"There is no question that working in front of electronic screens causes fatigue. The UK implemented the Health and Safety (Display Screen Equipment) Regulations 1992 (updated in 2002), which was entered into specifically in order to minimise the fatigue suffered by people working with electronic display screen equipment. Furthermore, our blue filter lenses have undergone extensive user-trial tests, and the response to the filtered elements have conclusively supported Vision Express' claims regarding a reduction in eye strain."

He added: "Importantly, we've never claimed that blue light damages the eye, nor did any of our store teams during the undercover investigation. Our key concern as a trusted optician is that people should have regular eye exams, from which we provide recommendations on product and solutions that are best suited to every customer's individual needs."
Related