Until recently, our borders haven't been the focus of much attention – from media or from politicians – but they are and will continue to be one of the most important weapons we have in the fight against Covid. So why aren't we talking more about border control?
Intuitive reasoning says that case levels are so high in the UK (reaching yet another record high, with 62,322 cases reported yesterday) that importing extra cases won't make much difference.
Far more focus has therefore been drawn towards the efforts of other countries to limit importation of the new B117 variant (the strain first sequenced in the UK which is widely believed to be between 50% and 70% more transmissible) from the UK, and the consequent chaos that December's temporary movement bans brought to our borders.
Borders have been an issue right from the beginning of the pandemic. Foreign travel is, after all, how the virus was imported into the UK in the first place – not once, but over a thousand separate times.
"Given the government's track record during this pandemic of doing too little, too late the question we should all be asking is: "Will these new measures be enough to make our borders Covid-secure?""
Back in the spring, the government focussed too heavily on the risk posed by travellers arriving from Asian countries, asking arrivals from Hubei Province in China and some high prevalence areas of South Korea to self-isolate for 14 days. Not enough attention was paid to the threat of virus cases coming from Europe. Spain, in particular, was highlighted, in a report by the Home Affairs committee, as a country which should have joined hotspots like Italy and Iran on the quarantine list. Over one third of the distinct cases imported into the UK in the early stages of the pandemic are thought to have come from Spain.
On March 13, with cases rising rapidly, the UK government lifted the requirement for international arrivals not displaying symptoms to self-isolate – a decision the Home Affairs committee described as "inexplicable". At a time when other countries were introducing stronger border measures, we were loosening ours. The cases imported between March 13 and the eventual lockdown 10 days later likely contributed to the rapid spread of the virus around that time.
It wasn't until June that travellers from countries not exempted under the UK's travel corridor programme were required to self-isolate at a location of their choosing. Initially the time period for isolation was 14 days. The government rejected the possibility of using testing to further reduce the potential for imported cases, citing a flawed Public Health England report suggesting that airport testing upon arrival would only catch 7% of imported cases.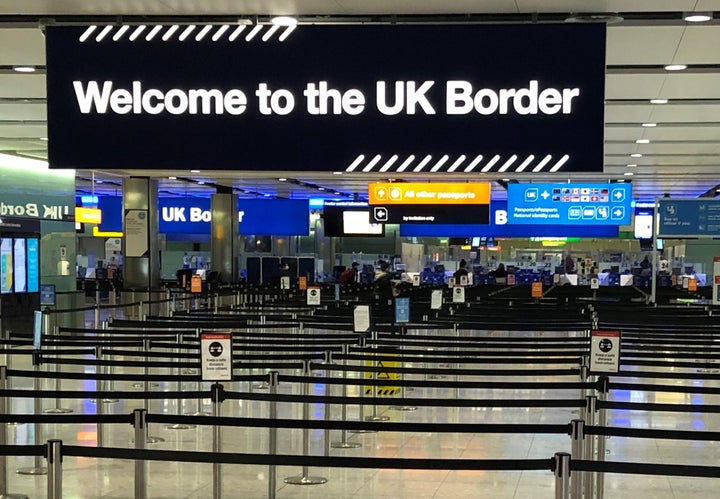 Implementing new border restrictions during the period in which we are attempting to bring down community transmission may assist in the reduction of cases, but more importantly will help to prevent re-seeding of infection if cases can be brought under control. However, if we are to follow the example of countries like New Zealand, Taiwan or Australia, who have successfully eliminated Covid, border restrictions must be more rigorous than the UK's current approach.
Measures that have been successfully employed by countries with 'Covid-secure' borders include prior agreement of incoming travellers to undertake a period of managed and supervised isolation; financial support for nationals returning from essential travel who cannot afford the cost of managed isolation; temperature screening at ports and airports; repeated testing upon arrival and before release from isolation; and the requirement for a negative test a short period in advance of arrival in the destination country.
Even in the absence of a "Covid-zero" ambition, the emergence of the South African variant, which scientists are worried may affect vaccine efficacy, provides an extremely compelling reason to ensure no potentially infectious individuals are allowed to roam freely within our borders.
The government's current policy of simply limiting direct flights from South Africa may not be enough to stop the importation of the new variant. People don't always take the direct route between A and B when they travel. Either we should monitor arrivals from all countries or none at all. There is no room for half measures.
We are expecting the government to announce tighter border controls imminently. Boris Johnson, however, in his press conference on Tuesday, was surprisingly sketchy on the plan and yesterday, Michael Gove refused to be drawn on the details.
Given the government's track record during this pandemic of doing too little too late the question we should all be asking is: "Will these new measures be enough to make our borders Covid-secure?"
Kit Yates is a senior lecturer in Mathematical Biology at the University of Bath and member of Independent SAGE.