Boris Johnson and Ruth Davidson engaged in angry exchanges over the EU referendum across Wembley Arena in-front of 12,000 people on Tuesday evening.
With under 48 hours to go until polls open, the likely next Conservative Party leader and the current leader of the Scottish Conservative Party fought each other on live TV.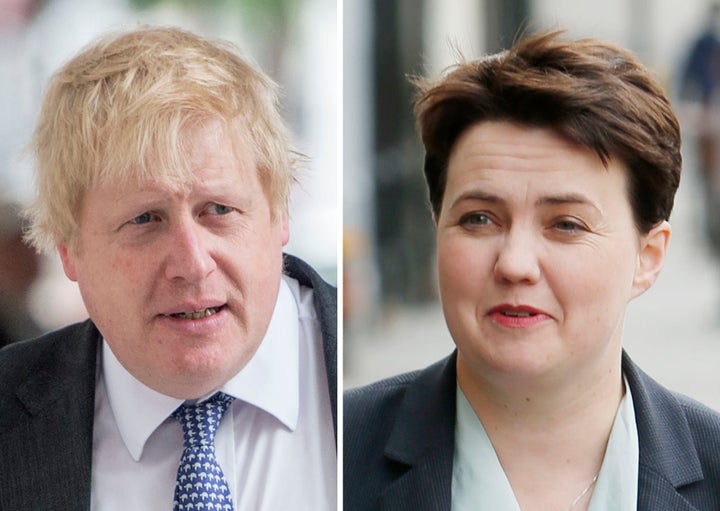 Davidson, who is backing a 'Remain' vote on Thursday, tore in to Johnson for saying there "might or might not" be job losses. "That is not good enough," she told him. "That is not good enough."
But the former London mayor accused her of trying to scare people. "It hasn't taken them long," he said. "They begun by telling us they were going to have a positive patriotic case, but they are back to Project Fear.
But Davidson hit back. She told Johnson "wanting to protect British jobs is positive".
Conservative minister Matt Hancock, who is backing the 'Remain' campaign, was a fan of his referendum ally. As was David Cameron.
Johnson summed up the debate for the 'Leave' campaign and he told the audience that June 24, the day after polling day, could be "independence day".
"At the end of this campaign, I think you'll agree there is a very clear choice between those on their side who speak of noting but fear...and we on our side who offer hope. Between those who have been endlessly rubbishing our country and running it down and those of us who believe in Britain. They say we can't do it, we say we can.

"They say we have no choice but to bow down to Brussels, we say they are woefully underestimating this country and what it can do. If we vote leave we can take back control of our borders, huge sums of money, £10bn a year net...and of our whole lawmaking system, the democracy that is the foundation of our prosperity and if we stand up for democracy we will be speaking up for hundreds of millions around Europe who agree with us but have no voice. If we Vote Leave and Take Back Control I believe this Thursday can be our country's independence day."
Davidson said voters should be "100% sure" before they decided to vote for Brexit as there was "no going back".
"Tonight was the Leave campaign's last chance to answer your questions, to spell out what happens when we abandon the biggest market in the world, to show us what a Brexit Britain would actually look like. I don't think I heard enough to be confident that they have all the answers we need and you have to be 100% sure because there's no going back on Friday morning and your decision could cost someone else their job."

"I know that the EU isn't perfect but the benefits far outweigh any costs and the Britain I know, the Britain I love works with its friends and neighbours, it doesn't walk away form them. Sadiq, Frances and I, we refuse to dismiss the experts, we listen to them and they all agree that Britain is better off 'In', you are better off in. There is nothing more positive than having a stronger economy, supporting jobs and opportunities and that's why I believe you should vote Remain. Thank you."