Boris Johnson has attacked Jeremy Corbyn for his links to 'Russia Today' – just weeks after his own father and a string of Tory MPs appeared on the TV channel.
The Foreign Secretary told the Commons that it was "an absolute scandal" that Labour MPs were "continuing to validate and legitimate" the "propaganda" put out by the Moscow-backed station.
But his attempt to criticise the Labour leader backfired spectacularly when it emerged that his dad Stanley had himself appeared on Russia Today only last month to promote his latest book.
And HuffPost UK has tracked down six Conservative MPs who have appeared on the TV channel – including current Brexit minister Steve Baker and the Chancellor's Parliamentary aide Kwasi Kwarteng.
Other Tory MPs who have been on Russia Today include Mike Freer, Johnny Mercer, David Davies and Michael Fabricant.
Jeremy Corbyn appeared on the TV station in 2015 when he was first running for the Labour leadership. Labour MPs have appeared 26 times on the channel in recent years.
Johnson used Foreign Office Questions to denounce all those who had agreed to appear on the Russian television station.
Fellow Tory MP Helen Whately said that the "red skies" in the UK in recent days were a "timely reminder" of the suffering caused by the Russian revolution.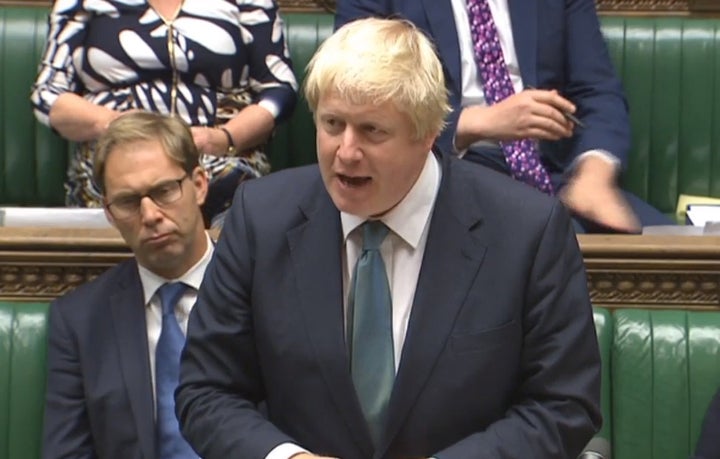 "Does the Secretary of State share my concern that Russia's state broadcaster appeared to be providing a platform to Jeremy Corbyn's Labour party and its campaign to inflict socialism on the UK?" she asked.
Johnson replied: "If we study the output of Russia Today and consider the state of the press in Russia at present, we see that it is an absolute....scandal that Labour Members should be continuing to validate and legitimate that kind of propaganda by going on those programmes."
He then added: "I am assured by my ministerial team that none of them does so."
A Labour source told HuffPost UK: "Yet again, Boris has engaged his mouth before engaging his brain, and his attack has backfired spectacularly.
"In trying to score points against the Labour party, he's ended up attacking not just his own MPs but his own dad. The bungling buffoon has blasted his own foot off again."
Russia Today, which has seen increasing prominence in recent years, has been the subject of sanctions from broadcast watchdog Ofcom for its slanted coverage of conflicts in Syria and Ukraine.
Here's the seven times senior Tories appeared on Russia Today:
1. Stanley Johnson plugs his book
Johnson's father Stanley, a former MEP, plugged his new novel 'Kompromat' on the TV channel in September.
He suggested that Rupert Murdoch was 'the real Mr Big' in global news, including pulling the strings at stations like Russia Today.
2. Steve Baker talks about his political roots
On his appearance in 2013, Baker explained why the financial crisis of 2008 had got him into politics. He has since been appointed junior minister in the Brexit Department.
3. Kwasi Kwarteng defends Brexit
Kwarteng - now Parliamentary Private Secretary to Chancellor Philip Hammond - appeared on the channel's 'News Thing' in February this year, to discuss Brexit.
4 Mike Freer says Theresa May is 'not gay'
Freer, since appointed as a Government whip, discussed his own political background when he appeared on Russia Today in 2016
5. Johnny Mercer chats about Syria, shower gel.
Mercer appeared on the channel in April 2016 to defend his vote for more military intervention in Syria.
6. David Davies discusses racial integration.
David Davies took part in March 2017 to discuss immigration policy.
7. Michael Fabricant on the case for Brexit.
Former Government whip Michael Fabricant was on Russia Today in April 2016 in the run up to the Brexit vote.
Other Tories who have been on the channel include Nigel Evans, Daniel Kawczynski, Sir David Amess, Philip Davies and Crispin Blunt.
Some Labour MPs told HuffPost UK they agreed with Johnson that Russia Today was not an appropriate broadcaster for any MPs in any party.
Redcar MP Anna Turley said: "I disagree with Boris on almost everything but on this he's right. It is deeply disquieting to see colleagues go on a propaganda channel which is a tool of Russian foreign policy."
Labour's Wes Streeting added: "Russia Today is nothing more than a propaganda machine for an autocratic government, which is why many of us on the left will have nothing to do with it."
Related