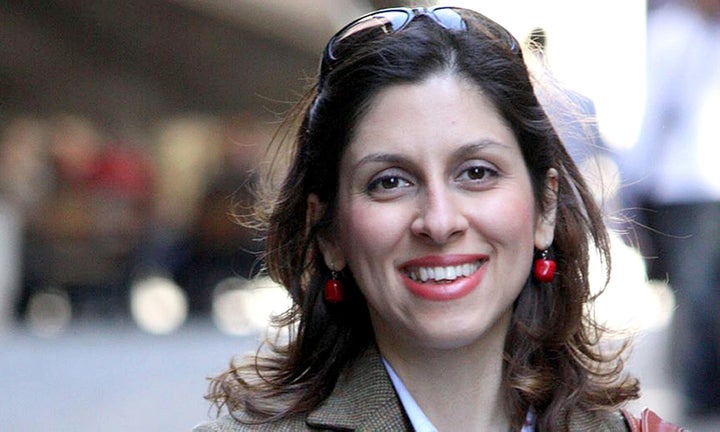 The husband of jailed British-Iranian Nazanin Zaghari-Ratcliffe has demanded that the prime minister keep his promise to help secure his wife's freedom.
Zaghari-Ratcliffe was arrested in April 2016 and sentenced to five years imprisonment after being accused of spying, which she vehemently denies.
In a much-criticised error, now Prime Minister Johnson said in 2017 that she was in Iran "teaching people journalism" – despite her family's insistence she was there to visit relatives. The comments were used by Iranian prosecutors as evidence against the charity worker in court.
He has repeatedly said the responsibility for her continued detention lies with the Revolutionary Guard and promised the family he will work hard to secure her release.
Ratcliffe told HuffPost UK: "Generally I want to see both Boris Johnson and Dominic Raab – to understand from them how they see the situation, how they are planning on solving this. Our campaigning will take its bearings from what they tell us personally.
"At this stage I am looking for the PM in particular to take personal responsibility for his promise to us. At the moment it feels a bit like he promised and then wandered away. But as PM you don't get to pick and choose which promises you keep, which promises become inconvenient to remember. At least, not without consequences for other people."
He said: "I thought that if we were an important issue we would have been invited within the first 30 days. It should not take more bad stuff to happen for this to be important enough to resolve."
In June, while Johnson was campaigning for the Conservative leadership, he told Sky News: "I do feel a deep sense of anguish about it as I have said and I have apologised several times in the House of Commons and elsewhere.
"But it is very very important that in this conversation we don't allow whatever I may have said or done to cloud the issue."
Zaghari-Ratcliffe's fight for freedom has seen her endure hunger strikes, separation from her daughter and solitary confinement, amid the major diplomatic row.
Then Foreign Secretary Jeremy Hunt earlier this year granted Zaghari-Ratcliffe diplomatic protection in an attempt to resolve her case.
The news rules which curtail her access to her family were announced this week.
Ratcliffe said the campaign hopes the restrictions are not permanent and that the authorities will at least allow his wife more frequent visits from their five-year-old daughter Gabriella.
He said: "If deliberate, it feels gratuitously cruel. If visits in particular are not allowed, then I think the effect will be a deterioration in Nazanin pretty quickly."
Gabriella lives in Iran with her grandparents and according to reports has previously been allowed to visit her mother regularly during the week.
Human rights charity Amnesty International said it was "devastated" to hear the news that Zaghari-Ratcliffe is having access to her family curtailed. It tweeted: "We hope that Dominic Raab will meet Richard Ratcliffe as a matter of urgency to end this injustice and do all he can do."
Last month, Zaghari-Ratcliffe was transferred back to Evin prison after a spell in a hospital mental-health ward, which she described as "proper torture."
According to her husband she was kept in solitary confinement was chained to her hospital bed.
But she was returned to prison after breaking out of her bindings and telling security guards she was at risk of self-harming if she remained in the hospital, Ratcliffe said. He said his wife told him she was "broken" by the experience and was "relieved" to be back in prison.
Zaghari-Ratcliffe's admission to the mental health unit camw after she went on hunger strike for 15 days in June in protest against her "unfair imprisonment".
Her husband joined the hunger strike in solidarity, and camped on the pavement outside the Iranian embassy in London.