You're reading The Waugh Zone, our daily politics briefing. Sign up now to get it by email in the evening.
The 'I, Sage' is coming, The Sun's zooming in/ Lockdown expected, the excuses are growing thin.
A new Covid error, but he has no fear/ 'Cause Boris is drowning. He lives by the river.
For many local leaders in the north dealing with coronavirus, when "London's calling" it's invariably with bad news. So it was no surprise that The Clash (alright, I'll stop now) of The Day came when Keir Starmer and Boris Johnson squared up in PMQs over who was tough enough to stem the tide of the virus – and whether a national response was needed.
After weeks of being derided as 'Captain Hindsight', Starmer seized on the Sage recommendation of a nationwide "circuit break" to claim that the PM was the one who was "behind the curve again". The foresight saga, of which leader can read the future best, had begun in earnest and it's a story which may lack a happy ending for Johnson.
Using the bombshell Sage documents as both a weapon and a shield, Starmer was merciless in claiming the PM had rejected independent scientific advice on how best to halt more deaths this winter. Just as damaging, the boffins had concluded his test-and-trace system was having a "marginal" impact. Like the good lawyer he is, Starmer picked up on the Sage small print too, that far from improving, the NHS Test and Trace system was likely to "further decline in the future".
A clearly irritated Johnson (irritability is now the punch-drunk PM's default mode in PMQs), was reduced in the end to admitting that yes, a "circuit break" was indeed one option. "I rule out nothing," he said, before quickly stressing that "we are going to turn around" the crisis "with the local, the regional approach".
"Will he get on to his Labour friends in those parts of the north of England whom we want to work with to put those very stringent measures in place?" Johnson asked. But it sounded like an admission that mayors like Greater Manchester's Andy Burnham are digging in to stop Whitehall from putting their area into the "Very High Risk" category.
It seems the government wants Burnham's region in the top tier as early as Thursday, though the lack of financial support is a huge sticking point. But just as importantly, Burnham has been saying that the hospitalisation rates in Greater Manchester while rising are nowhere near as bad as Liverpool City Region. This is indeed the same argument used in the north east.
Amid increasing bitterness, No10 knows there are serious political dangers in imposing London's will on restless regions that have suffered lockdowns for months with no impact on their Covid rates. In Merseyside, a pub renamed itself "The Three Bellends", complete with a sign ridiculing Johnson, health secretary Matt Hancock, and the PM's senior adviser Dominic Cummings.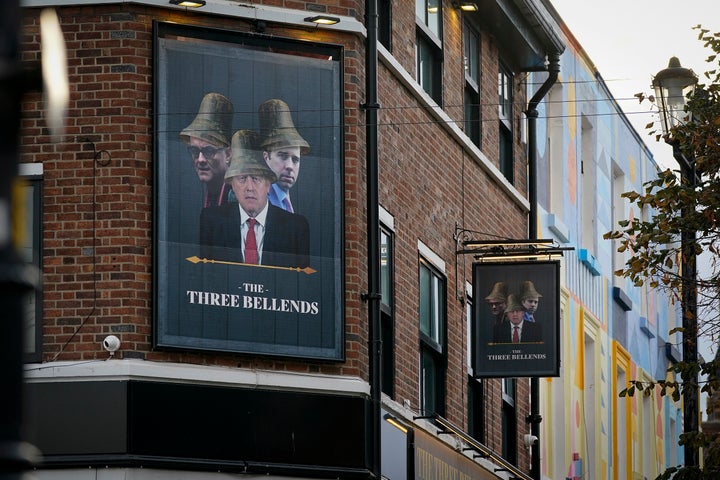 Now, contrary to the perceptions of some southern journalists, the "Red Wall/Blue Wall" is not the same as "the north west", let alone "the north". Liverpool City Region and Greater Manchester are still overwhelmingly Labour heartlands, apart from a handful of seats in Bury, Bolton and Middleton. Liverpool will never love Johnson, and neither will many Mancs.
But with Lancashire also reportedly in the firing line for "Very High Risk" treatment, there are plenty of marginal Tory seats in the North West that win or lose general elections. In fact, perhaps the most ominous warning for the PM this week came on Times Radio from Rossendale and Darwen MP Jake Berry.
"I think the government has a very small window of opportunity now to communicate to the people of the North, to reset the relationship that's been deeply damaged by a really confusing picture over the last couple of months," he said. Crucially, Berry has been one of Johnson's closest political friends (and he has very few real ones) over the past decade. His constituency is a true bellwether seat, blue under Thatcher and Cameron, red under Blair.
In the "Blue Wall" heartlands of the north east, patience with the PM and his top team is not limitless either. On our Commons People podcast recently, Sedgefield MP Paul Howell said the "vast majority" of people know that "if Dominic Cummings jumped over a cliff they wouldn't follow him". "Some of them might push him, but that's a different story completely," he added.
In the short term, Johnson is clearly hoping he can somehow get to October 26, when most schools start a week of half term, with his tiered structure being given a chance to work over the next 12 days. If hospitalisations keep rising, he may have to follow Starmer's lead by then.
But don't rule out the PM playing hardball, shaming northern leaders into tougher lockdowns if their local NHS looks like being overwhelmed. He could do a pre-Christmas circuit break (with a university student lockdown too) instead of half-term, but risks more lives potentially lost in holding out so long.
Over the longer term, the damage to the PM's reputation for competence may be so severe that he sets back the Tories' chances a generation in northern seats. For many, Brexit was the gateway drug to breaking with Labour and voting Conservative. The pain of withdrawal – of thinking Thatcherite, London-centric disdain for the north is back with a vengeance – may be so intense that they never get hooked again.