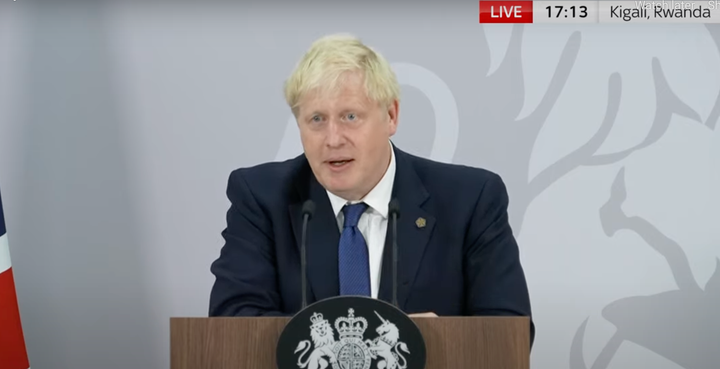 Boris Johnson has slammed the US Supreme Court's decision to overturn the constitutional right to choose abortion as a "big step backwards".
Millions of women across the US will lose the legal right to abortion after the court overturned the 50-year-old Roe v Wade ruling that legalised it nationwide.
The judgement will transform abortion rights in America, with individual states now able to ban the procedure. Half of US states are expected to introduce new restrictions or bans.
Johnson told reporters at a press conference in Rwanda the move was a "big step backwards", adding: "I have always believed in a woman's right to choose and I stick to that view, that's why the UK has the laws that it does."
Referring to changes to the law in Northern Ireland, he added: "We recently took steps to ensure that those laws were enforced throughout the whole of the UK."
Other British politicians have reacted in horror including the Labour Party's shadow women and equalities secretary Anneliese Dodds who said: "This is a devastating step backwards for women's rights in the United States.
"Every woman who needs one should have the right to a safe and legal abortion. Solidarity with every woman affected by this cruel decision."
Scotland's first minister Nicola Sturgeon said: "One of the darkest days for women's rights in my lifetime.
"Obviously the immediate consequences will be suffered by women in the US - but this will embolden anti-abortion and anti-women forces in other countries too. Solidarity doesn't feel enough right now - but it is necessary."
Mayor of London Sadiq Khan said: "London stands with the women of America, whose most basic rights and freedoms are threatened by this ruling. A dark day for a great country."
Chief executive Clare Murphy said: "Banning abortion does not remove women's need to end a pregnancy. It simply makes it more difficult and more dangerous."
Nimco Ali, the government's independent adviser on tackling violence against women and girls, called the decision "an assault on women's human rights, their lives and their families".
She tweeted: "The UK government and other G7 cannot remain silent as women's human rights are breached."
The Women's Equality Party said: "Make no mistake. Women will die because of this ruling, and tens of thousands more will be criminalised or forced to continue with pregnancies they did not choose.
"It is barbaric, inhumane and utterly heartbreaking. Solidarity with our sisters."