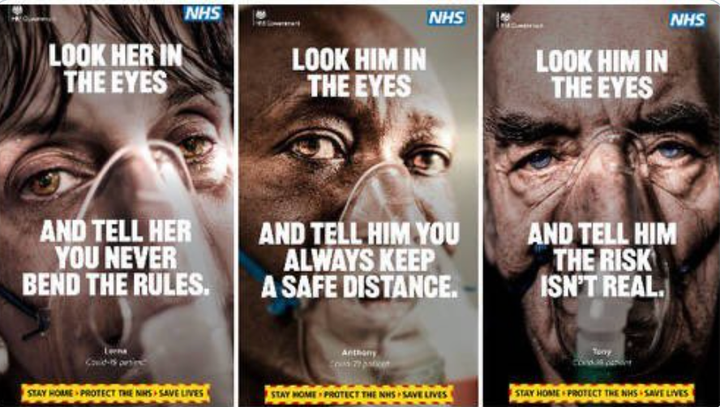 You're reading The Waugh Zone, our daily politics briefing. Sign up now to get it by email in the evening.
Whether you call it "the new variant" (Boris Johnson), "the British virus" (copyright Angela Merkel) or plain old "VOC, Variant of Concern, B117" (most scientists), it's wreaking havoc through many countries.
The higher transmissibility of the Covid variant is already well known, and has certainly driven this current wave of the UK pandemic. But we were told on Friday that it may not just be more infectious, but more deadly. In an almost breathless announcement in the latest No.10 briefing, the PM announced that it "may be associated with a higher degree of mortality".
The word "may" is pretty important. Chief scientist Sir Patrick Vallance went on to stress the uncertainty of the findings, adding a pile of caveats. And the careful wording of a new Nervtag paper put it like this: "there is a realistic possibility that infection with VOC B117 is associated with an increased risk of death".
Given all the uncertainty about the data, you may ask why this was the focus of the press conference rather than dealt with via a low-key publication of the detailed scientific papers. Well, anything that suggests the virus is now more deadly is certainly worth publicising, not least in terms of the public health messaging that is vital to getting control of the virus again.
Yet uncertainty about data was precisely the reason given by the chief scientist for playing down reports from Israel that delaying a second vaccine dose dramatically reduces protection. Moreover, when asked about leaked remarks by Matt Hancock that the South African variant may reduce vaccine protection by 50%, Vallance said of such a firm conclusion "you just can't do it", suggesting preliminary data from different labs could not be extrapolated so easily.
All of which suggests that this new announcement of a higher risk of death from the UK variant was aimed really at further encouraging the public to keep their distance and not mix households or take any risks. That Vallance used "a man in his 60s" as his example – 14 out of 1,000 would die compared to 10 out of 1,000 infected with the old variant – was also perhaps all about messaging too.
At a time when some are clamouring to run vaccinations of key workers alongside the over-60s and over-50s (the Tony Blair Institute says in a new paper that supermarket and police should get such priority), Vallance's words were a reminder that in fact hospitalisation of the over-60s has long been a key measure in this pandemic of how the virus is spreading among those most at risk.
As for the vaccination programme, there was yet more welcome news. Some 5.4 million people have had their first dose after a record 400,000 jabs yesterday, suggesting the February 15 deadline for over-70s may be reached a few days early. Some 71% of over-80s and two-thirds of elderly care home residents being vaccinated is a huge tribute to our health service and Hancock's early bet last year on securing as many supplies as possible.
It's precisely to protect such progress that Johnson warned "I don't rule out that we may have to go further to protect our borders", a clear signal that he's ready to implement the hotel quarantine idea at airports. The political pitfalls of not securing the borders were underlined by photos circulated by a former UK ambassador to Washington today of a packed arrivals hall at Heathrow.
Vallance slightly muddied the case for tighter border controls when he revealed that this new South African variant had been found in up to 71 people already in the UK. Pointing to a lack of evidence that it was as transmissible as the UK variant, he said "I don't think the fact that there are some cases here means this is going to take off".
But the overriding message of the press briefing was that the PM is nowhere near making announcements or timelines on easing the lockdown. The government's Scientific Pandemic Influenza Group on Modelling (Spi-M) has suggested pubs and restaurants would have to stay shut until May, for example, and nothing today seemed to alter that.
The reason for the caution was obvious, given the huge pressure the NHS is suffering and the appalling death rates right now. Chris Whitty said the rolling 7-day average of 1,241 deaths would "probably go up over the next week". That while the R number was now below 1, and the number of infections was going down they were still at a high level and the situation was "extremely precarious".
Indeed, Whitty pointed out the problems with just looking at national averages as they hid regional and other variation, with some areas and age groups. "In people 20 to 30 the evidence is actually it may still be increasing in parts of the country," he said. And hospitalisations were "still going up in some parts, particularly in the north west and parts of the midlands".
Which bring us back I'm afraid to that key decision Johnson took before Christmas, when he saw alarming evidence on the new variant and yet imposed tougher restrictions only in London and the south east. The virus is now beginning to level off in those areas but still rising in other places. The PM could argue that just shows that it took longer for the variant to travel outside the south, but many will argue that if he had imposed a national lockdown everywhere would now be seeing falling cases and hospitalisations.
Tonight, the government launched a new, hard-hitting TV advert that shows hospital patients with oxygen masks (the longer version is very moving indeed). One press advert has the tagline: "Look Him In The Eyes...And Tell Him The Risk Isn't Real." Can Boris Johnson look those patients in the eyes in the north and midlands and tell them he did everything he could to protect them? That may be the real question that haunts the PM in coming days and weeks.