A mum believes she has captured the perfect snapshot of the "struggle of growing up" as she filmed her 10-year-old trying to use deodorant for the first time.
Billy Westwell fought for almost three minutes to spray the canister under his armpits, prompting howls of laughter from his mum, Debbie Reavey.
Reavey captured the youngster's saga as he tried to click the deodorant into action, but failed to muster enough strength for it to work.
And when Billy finally had a burst of the spray, he let out a yelp of pain and asked his mum: "It hurts. What is it? Is it bleeding?"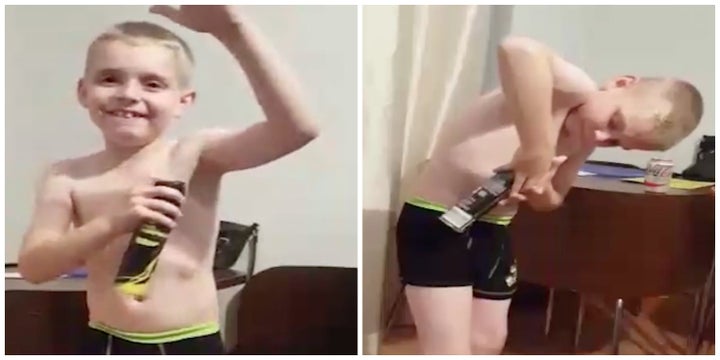 Mum-of-four Reavey, from Wythenshawe, Manchester, said: "I offered to help him but he was determined to do it himself.
"I think it's just one of those things that young lads have to get to grips with when they grow up. But there's not much to him and he found it tough.
"He's always out playing football and I'm encouraging him to always have a shower and make sure he smells clean, but you know what boys are like.
"There's not much muscle on him and he just couldn't find the right pressure point to break the seal. It was hilarious to watch."
Reavey, who is also mum to Charlie, 13, Oliver, six, and Violet, four, said she was keen for Billy to get into a daily routine of using the spray.
Dressed just in his boxer shorts Billy proclaimed in the clip: "I'm going to be a wrestler, but policeman is going to be my real job," before finally cracking the can.
"It's probably the funniest video I've ever made," Reavey said. "I thought he was going to be there all night trying to make it work.
"The deodorant actually belonged to a fella who was here working on the garden who left it behind.
"Billy started trying to put it on and I could see he was having problems so I sneakily videoed him, even though I said I wouldn't. I knew it would be something to look back and laugh at.
"You sort of take it for granted when you're older than something like this is simple but I thought it was a good way of highlighting the changes you have to adapt to as you grow up.
"I showed it to his uncle Tommy and he was roaring with laughter. Billy is a right little character so I knew he wouldn't give up.
"He's really active and big into his wrestling but I keep telling him he'll have to eat his greens if he wants to be big and strong like them."
6 Things Kids Get That Parents Can Only Dream Of