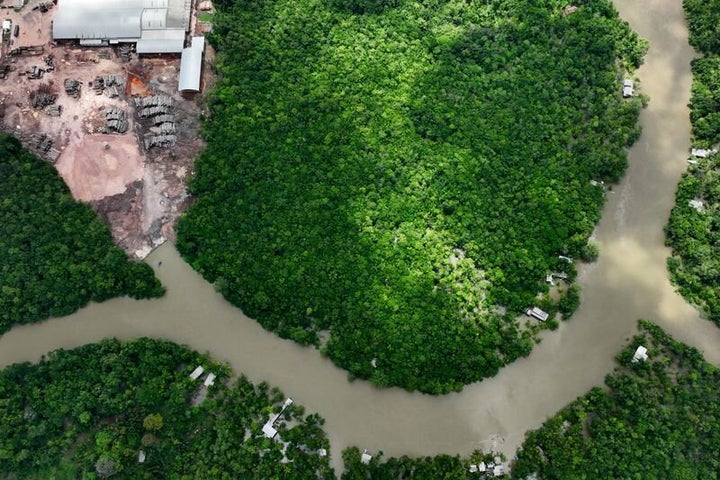 A milestone meeting of South American delegates will gather in Brazil today to discuss deforestation, climate change and crime.
It's the first summit of its kind in 45 years, and was organised by the Brazilian president, Luiz Inacio Lula da Silva.
He pledged on the campaign trail last year to host the summit of Amazon Cooperation Treaty Organisation (ACTO) members.
It is pointedly being held in Belem, the capital of the Para state which has the highest deforestation rate across the country.
Presidents from Bolivia, Brazil, Colombia, Guyana, Peru and Venezuela will be there while Ecuador and Suriname will send other representatives.
The countries are expected to reach a regional pact to end deforestation by 2030, end illegal gold mining and cooperate on cross-border policing of environmental crimes.
The final deal, dubbed the Belem Declaration, is expected to be announced on Tuesday afternoon.
Reuters also reported that the agreement will probably include financing mechanisms for sustainable developments, provisions to include indigenous leaders in policymaking and shared strategies for tackling deforestation.
As the climate crisis becomes increasingly pressing, the impact on the global south is severe – but their input in the climate change battle can often be overlooked by the global north.
That's why this is such a crucial moment in the battle against global warming.
When he was elected into office, Da Silva vowed to reverse the high rates of deforestation which took place under former president Jair Bolsonaro.
However, it's not clear if the rest of the region will agree to his goal of reaching zero deforestation by 2030.
Bolivia may push back against this agreement, because fires and farming have destroyed more of its forest land recently.
But, the deal could see Brazil agree to a regional centre in Manaus for countries to coordinate policies.
Da Silva has already overseen a decline in deforestation by 66% across July compared to last year.
According to the BBC, the delegates will also be looking into the currently unregulated carbon market as the rainforest holds significant value in carbon credit.
One credit means a company is permitted to release a tonne of CO2.
The World Bank estimates the carbon credit market in the Amazon forest is worth £165 billion a year.
The Belem Declaration may also criticise the trade barriers other nations have implemented against South America in the name of environmental protection.
It comes after the EU passed a law stopping companies importing products linked to deforestation.
The Amazon countries will meet with the leaders of the Congo, the DRC and Indonesia – three major rainforests – on Wednesday.
Norway and Germany fund Amazon preservation, while France controls the Amazon territory of French Guiana, so they will be in attendance, too.