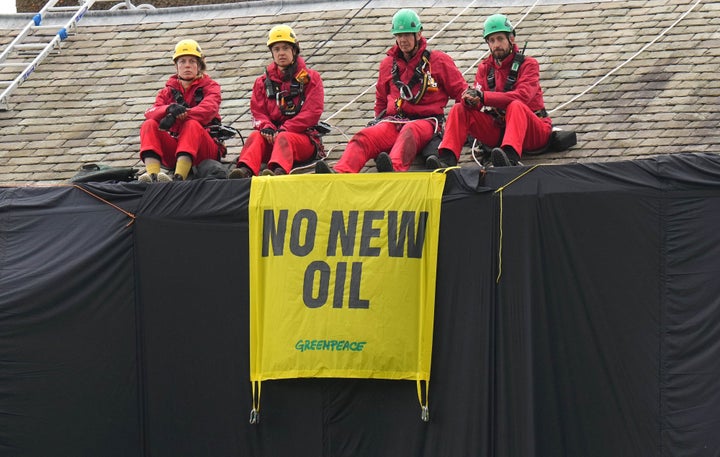 Greenpeace has defended climbing on Rishi Sunak's house to protest the granting of new North Sea oil and gas licences.
Five people have been released on bail pending further inquiries by the police following the stunt on Thursday.
Environment secretary Thérèse Coffey has ordered her department to cut all ties with Greenpeace in response, according to The Guardian.
Will McCallum, Greenpeace's co-executive director, said the action taken by the campaign group had been "entirely peaceful".
"The planet is on fire and Rishi Sunak is acting like nothing's happening." he said.
"Most people are looking on with horror at the news of wildfires, extreme flooding and searing heat waves, but Sunak and his government are doubling down on the fossil fuels which have got us into this mess.
"This isn't about the government engaging with Greenpeace, it's about them engaging with the world around them.
"If the Conservatives want to avoid tanking votes at the next election, they need to listen to the public who want bold action on climate, nature, sewage and pollution."
McCallum added: "We were diligent in our approach to safety and ensured that no one was home."
Sunak flew to the United States on Wednesday for a family holiday and was not at his Yorkshire house when the protest took place.
Questions have been raise about security, given the ease with which the protesters climbed onto the prime minister's roof.
Former North Yorkshire Police deputy chief constable Peter Walker told LBC: "I am absolutely astonished that they have been able to gain the access that they have.
"It is clearly, in my view, a major breach of security. Obviously, nobody was there to prevent what they were doing and they've had access to the roof as well."