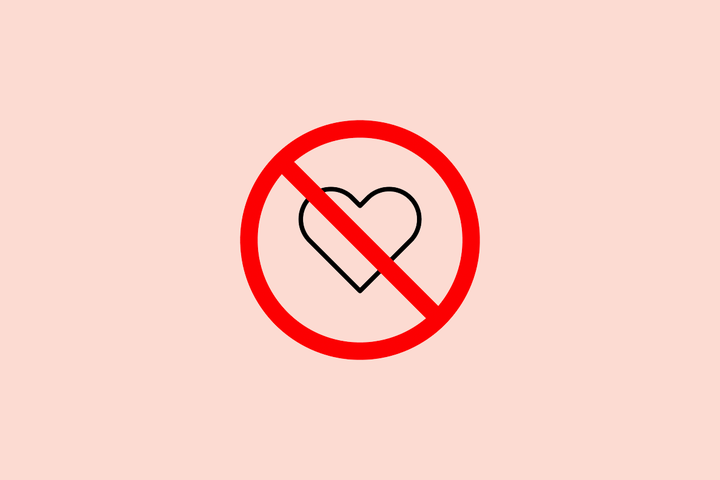 Like it or loathe it, Valentine's Day is here again – and it's everywhere. It's even in our primary schools, where the kids are, frankly, too young to know much about romance (during my eight-year-old's recent birthday sleepover, she and her friends were in complete hysterics over a 'kissing' scene in a family movie).
I still remember the mix of excitement and trepidation I felt as a child on 14 February when, while walking into school, I spotted the dreaded red postbox, marked with a heart, signalling that love was in the air. But just as much as I remember the thrill of anticipation, I also remember the fear that I wouldn't get any cards.
That's why I'm so in favour of the move made by a primary school in East London that has introduced an alternative to Valentine's Day – one that won't make any kids feel left out or unwanted. Rather than hearts, cards and flowers, Aldersbrook Primary School is running 'Break The Rules Day', instead.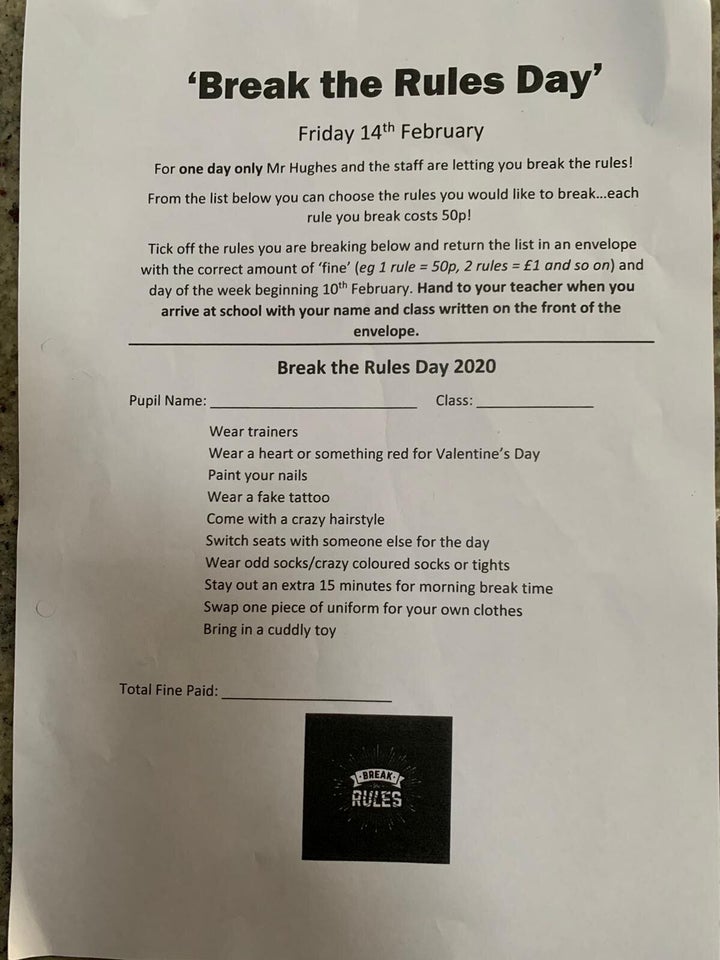 Kids choose the "rules" they're going to break from the list, and pay 50p for each one. Brian Hughes, headteacher at Aldersbrook, told HuffPost UK he hoped it was obvious that the type of rules being broken were "fun things that won't lead to unruly behaviour" – ranging from "come in with a crazy hairstyle" to "bring in a cuddly toy".
And with all the proceeds going to the PTA, a registered charity, the money will circle right back to the kids again. Hughes also said the school previously changed the 'Valentine's Disco' to a 'Spring Disco' to get away from the idea of love as commercialism.
I think it's brilliant. Firstly, the idea of 'breaking the rules' at school for a day will be almost as exciting as Christmas for kids. No doubt when they read the list they'll tot up how much they need to spend to break every single rule on there – so it's not just a healthy alternative to romance, but good maths practice, too.
But also, because I have my own personal bugbear with putting Valentine's Day pressure on our kids. I've always found it uncomfortable to hear suggestions that young children should regard each other as anything other than 'friends'. When my daughter was small, another dad made a passing comment about his son of the same age that implied they would grow up and "get married". They were jokingly betrothed before they'd even cut their front teeth – and it just felt plain wrong.
I want my son and daughter to think of their peers as 'friends' for as long as possible, without any pressure of romance – and it's important that we, as parents, don't place heteronormative ideals on our kids, either. I've heard other mums and dads asking girls if they "have a boyfriend" – or vice versa – which only limits kids' awareness of the multitude of options out there: boyfriends, girlfriends, both or neither.
Why restrict their choices before they've even had the chance to make them for themselves?
No, I'd much rather they have fun and focus on being 'kids', rather than being forced to take part in a tradition that even grown-ups find uncomfortable. Ask anyone who's worked in an office that has introduced a tongue-in-cheek version of the same red postbox – I bet you'll see them cringe.
Far better to let these children break the rules, I say. Starting with Rule #1: taking the pressure right off Valentine's Day.