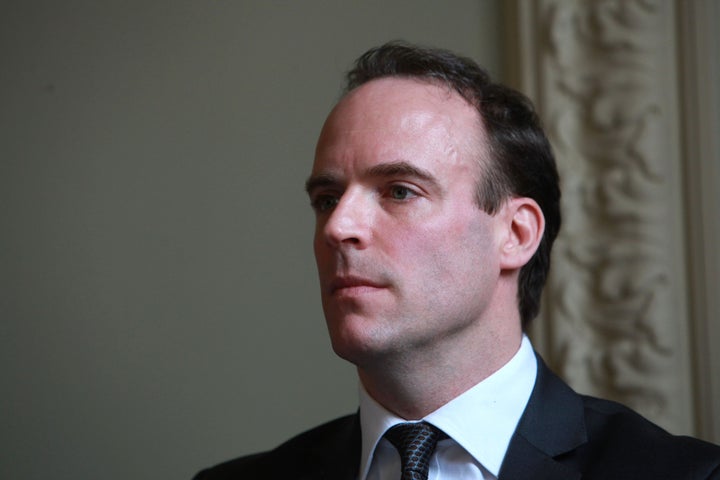 Britain is more at risk from an Isis terrorist attack if it remains a member of the European Union, Conservative justice minister Dominic Raab will say today.
In a pro-Brexit speech in central London, Raab will argue EU freedom of movement rules forces the UK to "import risk" into the country.
"Europol estimates that up to 5,000 people are back in Europe having attended training camps run by Islamic State," he will say.
"They are back in Europe, free to travel from Greece to Sweden. This was evidently a relevant factor in the movements and organisation of those suspected of responsibility for the recent terrorist attacks in Paris, including Salah Abdeslam and Mohammed Abrini. Abrini was reportedly in Britain last July, when he took pictures of a football stadium.
"It is too early to accurately assess the extent to which borderless travel facilitated those involved in the Brussels attacks. But, it is undeniable that regaining control over our borders would be a valuable defensive tool in protecting Britain from future terrorist attacks."
Raab will also dismiss the intelligence agencies of many EU countries as "far too slow and leaky" to be relied on.
The minister's comments echo those of Sir Richard Dearlove, the former head of MI6, who last week said getting out of the EU's free movement rules could boost security.
However Sir David Omand, the former director of GCHQ, disagreed. "The UK would be the loser in security terms from Brexit not the gainer," he said.
Defence secretary Michael Fallon has also branded the idea that Brexit would help secure the UK against terrorism was "ridiculous".
In his speech today, Raab will say EU rules on free movement force Britain "to import risk into the UK only to find that the fetters imposed by the European Court of Justice make it increasingly difficult to deal effectively with that risk, in order to protect the public".
"In most countries outside the EU, you can bet that individuals flagged in this way would not waltz through passport control without these doubts or question marks being answered or assuaged.
"EU rules set the bar for taking meaningful action impossibly high which means we effectively have to give a free pass into Britain to those coming from the EU. It massively increases the pool of people that need to be monitored by the intelligence agencies. The numbers involved make it exponentially harder for them to sift out those presenting a credible and current danger. Those individuals who should attract the closest surveillance."
Raab will also say the EU will be desperate to cooperate with the UK on policing and intelligence issues even if it does leave the union. "We return more suspects under a European Arrest Warrant than any other EU member state. We have the biggest DNA database in Europe. And we have the best intelligence networks. In law enforcement terms, we are massive net contributors to the EU," he will say.

However Tory MP Nick Herbert, the chairman of 'Conservatives In' said the 'Remain' campaign would "take no lectures" from the Brexit campaigners "who oppose all the EU co-operative measures which help to keep us safe".
"They oppose the European Arrest Warrant which brings serious criminals to justice and they oppose EU measures to share DNA records which identify offenders. They are willing to place their ideological opposition to any EU co-operation ahead of effective security measures," he said.
The former Minister of Policing & Criminal Justice added: "The UK is outside Europe's passport-free Schengen area, we have border controls and checks, and we can and do turn away people who pose a threat to our country. It is simply irresponsible to suggest otherwise."
And former Labour home secretary Yvette Cooper said said Raab's argument was "desperate, false and irresponsible".
"Senior police officers have made clear how important close working through the EU is to protecting our national security and fighting crime," she said.
"Because we are outside Schengen, Britain can operate full borders and security checks. And the Home Secretary also has the power to bar entry into Britain to any foreign national - including EU citizens - where intelligence points to them posing a threat."