A bride who used to eat 5,000 calories per day lost so much weight that guests at her own wedding didn't recognise her.
Amy Williams, 23, used Instagram to chart her weight loss as she went from a size 18 to a size eight in just nine months.
She was inspired to lose weight after her boyfriend of five years Michael Williams, 29, proposed.
Mrs Williams, a full-time mum to 18-month-old Nicholas, bought a size 14 wedding dress for £1,200.
But weeks before her big day in June last year (2015), she went for a final fitting – only for the dress to fall down because it was so big.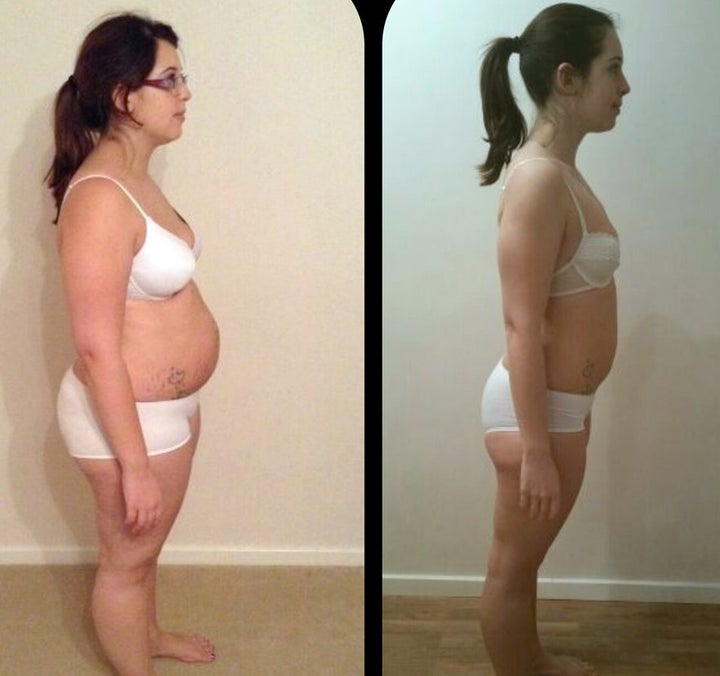 "When the seamstress told me the dress didn't fit I started to cry," Mrs William, of Banstead, Surrey, said. "I thought she meant the dress was too small and I had failed in my goal.
"Actually she said it was far too big and I was a size 10.
"It cost £565 to get adjusted and I was forbidden to lose anymore weight because the corset was boned.
"But it was worth it when guests at my wedding didn't even recognise me.
"Lots of Michael's family hadn't seen me since I was big and were amazed at how much weight I had lost."
Mrs Williams, who met her husband at a nightclub in Kingston, Surrey, put on weight while pregnant in 2014.
At her heaviest, she would eat five meals each day, keeping high-calorie breakfast bars in her bedside cabinet, which she would reach for straight after waking.
For breakfast she would have Nutella chocolate spread on pancakes, followed by a mid-morning snack of several bars of Snickers and two bags of crisps.
Lunch was a chicken burger with chips and onion rings, then an hour later she would have a second lunch of more pancakes.
During the evening, she would eat dinners such as spaghetti Bolognese followed by rich chocolate cake.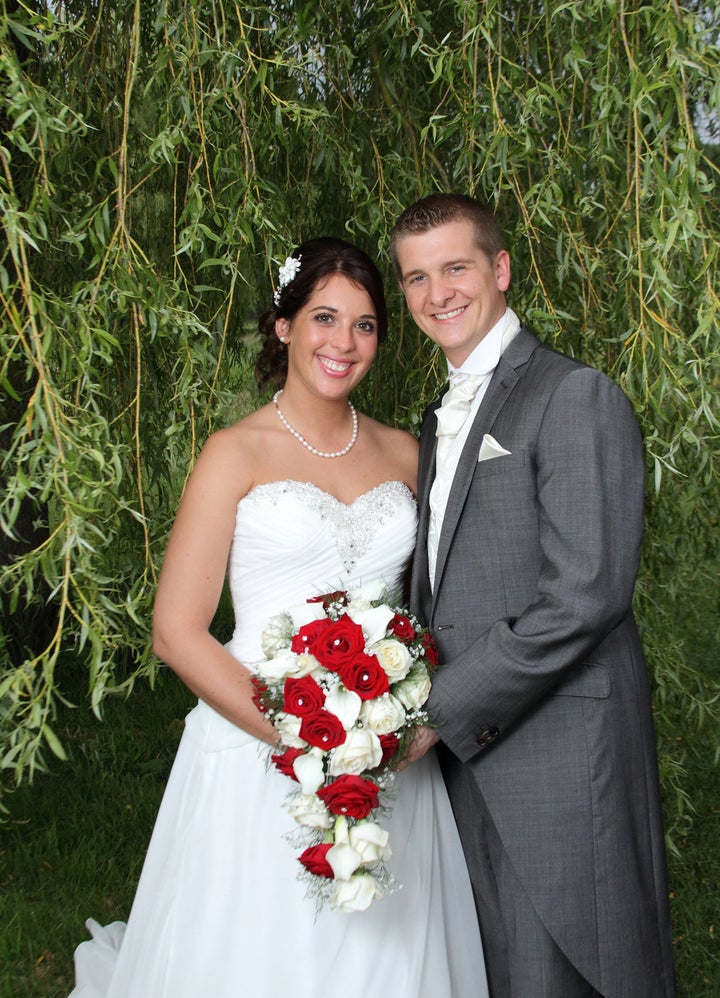 When little Nicholas was born in September 2014, her snacking habits got even worse.
"As he fed in the middle of the night, I would too," she said. "I would eat Jaffa Cakes and mini doughnuts."
Mrs Williams admitted that, the more she ate, the lower her self-esteem got.
She continued: "I felt really unhappy about how much I was eating.
"I hated how fat I was and didn't like going out or wearing nice clothes.
"I felt really ashamed of how much I was eating.
"When the date for the wedding was set, I realised something needed to change."
Determined, Mrs Williams signed up to an online Weightwatchers group and weighed herself for the first time in years.
She learnt she weighed 15 stone.
She subsequently attended a class in Ewell, Surrey, with her mum Jackie Woodward, 52.
"I wasn't nervous the first time I attended," she said. "I weighed 15 stone but everyone was so nice.
"I learnt how to eat healthily and started exercising regularly.
"I also charted my progress and what I was eating on Instagram.
"That was really helpful.
"I got lots of support from people saying that I was doing well and looked good. It spurred me on."
Over the next nine months, with the support of Mr Williams, Mrs Williams began to shrink.
She dieted alongside her mum, who also lost two stone.
Eventually, her wedding day rolled around and – wearing a size 10 dress – she tied the knot, before jetting to the Dominican Republic in the Caribbean for honeymoon.
"I wore a bikini on honeymoon which I couldn't have imagined doing previously," she said. "I was so proud of myself for doing so well, so took loads of selfies."
Now 10 stone and a size eight, Mrs Williams loves cooking.
"I have porridge for breakfast, tuna salad for lunch and a pasta roast for dinner," she said. "I've stopped snaking.
"The days of me secretly eating at midnight are long gone."