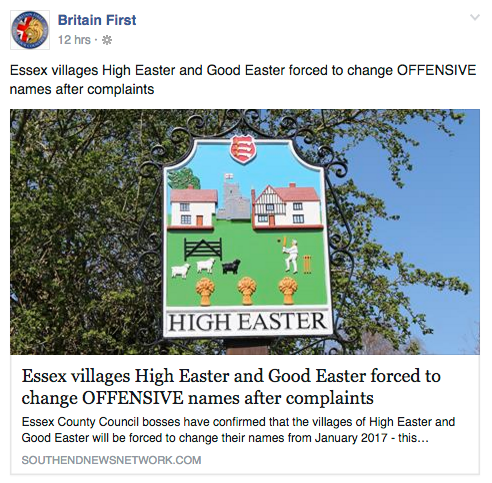 Southend News Network is a satirical news website whose masthead reads: "The latest news from Southend. Honest..."
The article describes the "irritating but necessary" move is necessary to "save millions in legal costs further down the line".
Despite quoting fictional characters and being obviously absurd, a large number of people have fallen for it, not least Britain First.
A selection of outraged comments on their Facebook page include...
"So hey (sic) first take our choice of how we eat what we call Christmas and now Easter now they want to take our names away from villages that been there for years please stop this cultural genocide."
"Things are going to far taking everything that's British away from us next will be the English breakfast."
"We should complain and get all mosques closed down. They are offensive to look at. I bet the council would not even consider it! Time to start doing 'things' ourselves."
"How ridiculous this town has been here for god knows how long and it wasn't offensive then I find it offensive wen (sic) half of the population can't even speak English I find it offensive having these mosques appearing every where if they dnt (sic) like it get a one way ticket bk (sic) to where you came from what is wrong with this country are they really going to get bullied into changing it when it has been there for donkeys years Britain yr a laughing stock."
And last month the group fell for a spoof twitter account purporting to be the Queen.
Such is the success of the Southend News Network that it was officially recognised as a media outlet by Southend Council earlier this year.