The leaders of Britain First will appear in the High Court next month to fight an injunction that could see the far-right group barred from entering every mosque in England and Wales for three years.
The injunction is being brought by Bedfordshire Police and would also ban Britain First from entering Luton without permission or directing activists into the town.
The hearing - originally scheduled for next Monday - could have serious ramifications for the group and even mean the end of Britain First.
A spokesperson for Bedfordshire Police told The Huffington Post UK: "We are continuing to seek a full injunction banning Britain First organisers Paul Golding and Jayda Fransen from entering Luton town centre and Bury Pary for three years."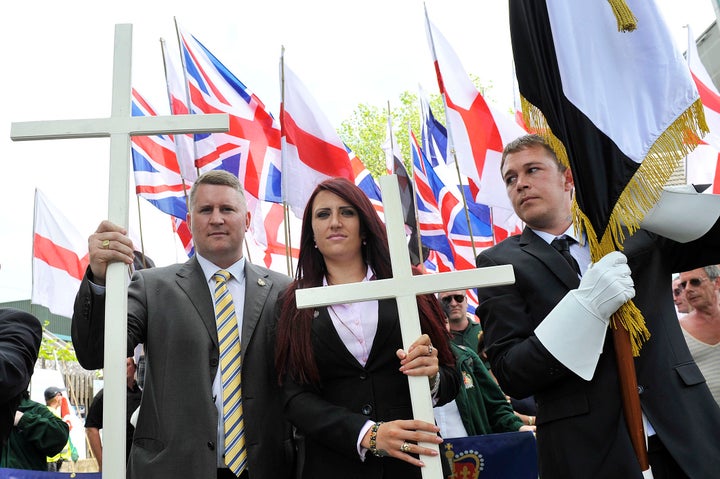 Britain First has staged a number of marches in the town which it calls an "Islamist hotspot".
In January, Golding and his deputy, Jayda Fransen, led a small contingent of activists through Luton handing out newspapers and confronting local Muslims in what anti-extremist charity Tell Mama said was an "intimidating" fashion aimed at "inflaming" tensions.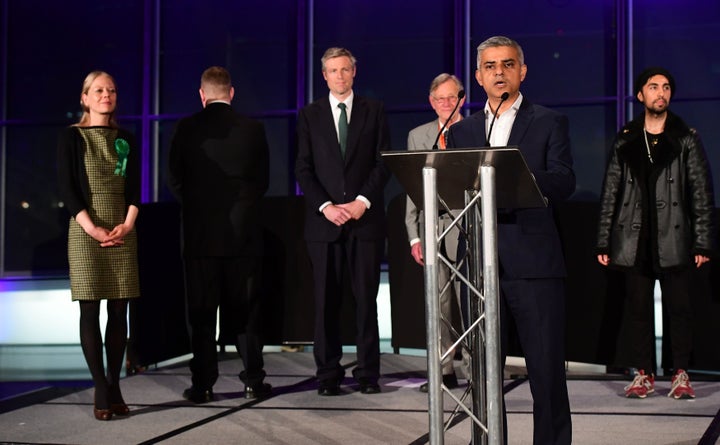 The hearing could spell the end of the group, with Golding explaining in a video message last month that it risked being "bled dry with endless court appearances and injunctions that simply make it impossible for Britain First to continue operating".
He said: "I have some shocking and disgusting news to inform you of today. Britain First has received notification that once again we are being dragged to the High Court by Luton Police.
"What we are dealing with here is a direct challenge to exist as a political party. Why do I say that? It's simple. If Luton police can achieve an injunction against a legally registered party then what's to stop then what's to stop every other town obtaining similar injunctions".
He added: "If we lose this court hearing, as we are dealing with the highest court in the land, the ruling will bind all other courts. Thus, if we lose it becomes ridiculously easy for other police forces to obtain injunctions.
"As this is the High Court in London we simply have to win. If we lose, not only will we face an avalanche of other injunctions being sought but we will probably be liable for the costs of the other side which will run into the tens of thousands of pounds. This is literally all or nothing.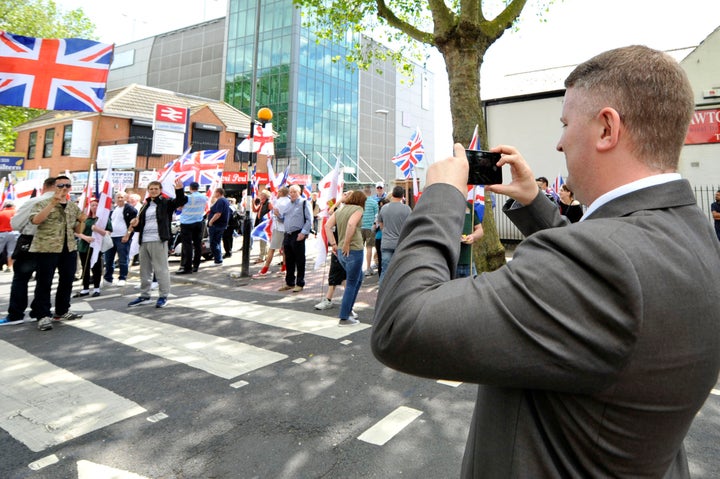 "If we do not win we are finished and I mean that with all seriousness," Golding concluded.
It is up to the High Court judge presiding over the case to decide who pays the costs, which can run into tens or hundreds of thousands of pounds, and often total more than any punitive charges imposed.
Entering any mosque or Islamic Cultural Centre or its private grounds within England or Wales without prior written invitation.

Publishing, distributing or displaying, or causing to be published, distributed or displayed any words or images, whether electronic or otherwise which having regard to all the circumstances are likely to stir up religious and/or racial hatred.

Using threatening, abusive or insulting words or behaviour thereby causing harassment, alarm or distress to any person.

Carrying or displaying in Luton on Saturday, 27 June, 2015 at or in connection with the march by 'Britain First' any banner or sign with the words 'No More Mosques', or similar words or words to like effect.
The court case is due to be heard on 15 September.