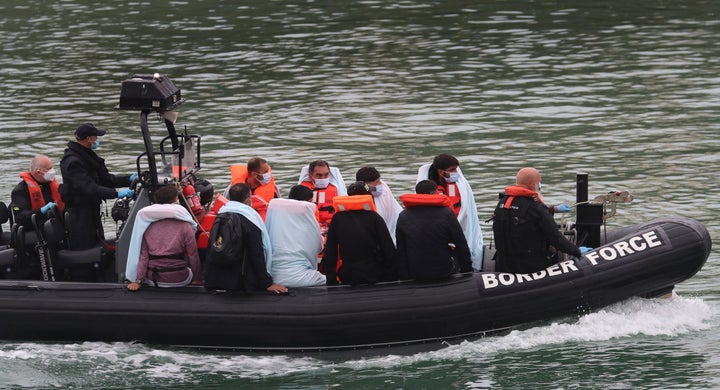 Groups of far-right men have been storming hotels housing asylum seekers and harassing people – forcing outreach teams to introduce measures to protect homeless guests.
The "despicable" actions of Britain First follow Priti Patel's threat to deploy the Navy to block the record number of desperate migrants making the perilous journey across the English Channel.
Police have been called to a number of incidents where far-right groups have harassed people placed in emergency accommodation because of the coronavirus outbreak.
It said the team had since been made aware that the group had also stormed hotels in Bromsgrove, where they gained entry and "harassed several residents", and Essex, as revealed by the Independent on Tuesday.
A screenshot of an email from City Hall was posted on Facebook by Streets Kitchen – a grassroots group working to help the homeless community.
"Dear all, we are writing to make you aware of an incident which took place this past week at a Covid Protect hotel in the London Borough of Camden.
"A group of men from the extremist 'Britain First' group targeted the hotel, attempting to gain entry and demanding to know if the facility was housing asylum seekers. Staff dealt with the incident well and the police were called, and no residents were harmed."
A spokesperson for the Mayor of London said: "Harassing migrants who are being legally accommodated in hotels is despicable, and goes against all the values we hold as an open, welcoming city.
"The mayor's rough sleeping team are working with our charity partners to put measures in place to prevent homeless people sheltering from Covid-19 in hotels from being targeted, mistakenly or otherwise, by these right-wing groups."
Britain First has recently used a yacht to "patrol" the English Channel.
Streets Kitchen founder Jon Glackin said the government's messaging over the Channel crossings – including Priti Patel's Navy threat – was feeding into the far-right's actions.
"Golding and his like have never cared for those experiencing homelessness," he told HuffPost UK.
"They've never done anything to benefit anybody, they are violent thugs coming to hotels to cause trouble.
"We've heard about them haranguing staff saying: 'Is this a migrant hotel'. These hotels are just places of sanctuary for people who are vulnerable."
The Met confirmed to HuffPost UK that officers were called to a hotel in Camden on Saturday afternoon, following reports that a small number of protesters had entered the property.
Officers were also called to a hotel in Brent Cross on the same day in response to similar reports of a few protesters gathering outside the venue.
The groups left both areas shortly after the arrival of police and no arrests were made.
Lisa Doyle, director of advocacy at the Refugee Council, told HuffPost UK the reports were very concerning.
"The UK should be a place of safety for people seeking asylum, where they can rebuild their lives and fulfil their potential, she said. "It's shameful that they are being subjected to such hostility."
Extremists have reportedly been circulating lists of hotels to "investigate" on social media.
They have also been swamping websites with negative reviews of hotels that have taken up contracts with the Home Office, encouraging people not to stay in them when they reopen, according to The Independent.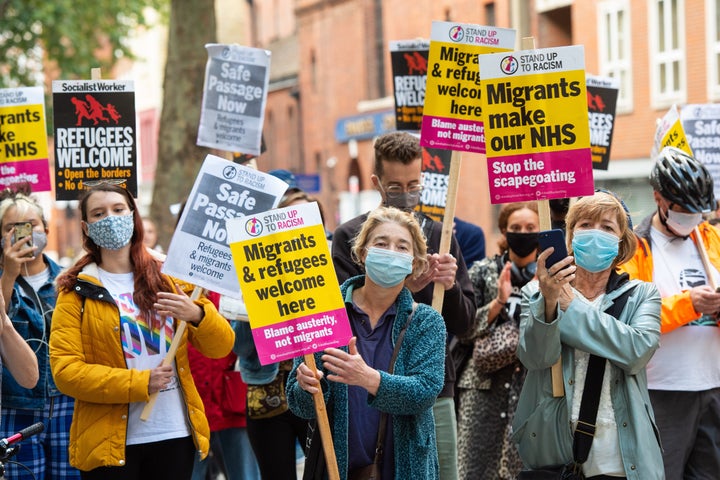 On Tuesday, dozens of pro-migrant demonstrators accused the government of "dehumanising and vilifying" asylum seekers at a protest outside the Home Office.
The demonstration was organised by campaign group Stand Up To Racism who demanded that the right of safe passage be given to "desperate" migrants making the crossing between England and France.
Protesters chanted "no-one is illegal" and said migrants had been "scapegoated" by the government.
One protester, who did not wish to be named but described himself as a highly skilled migrant worker, said that migrants should not be seen as a "burden" on the UK.