Jayda Fransen and the gang released a video showing them posting leaflets through letterboxes and chatting to locals.
She said: "You may have seen reports in the media that migrants have set up illegal camps and within these camps they've been causing a huge amount of destruction and disturbance.
"There's litter everywhere, they've been cutting, hacking at trees, cutting bushes down.
"They've got knives and locals have been threatened by these migrants occupying these illegal camps.
"It really is an issue around here."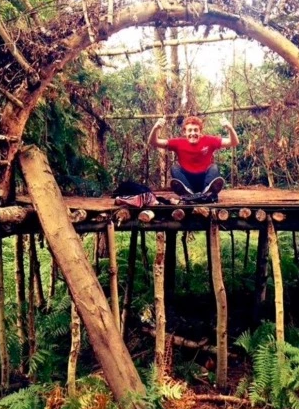 Brad Dury told Mansfield's The Chad: "The truth is me and a few friends just decided to build it in 2010 when we were bored in the summer. We wanted somewhere to camp and have a party, as you do.
"We never chopped down any of the trees we used ones that had already been knocked down and pieced it all together. It took about five of us to put the arched trunk up there!"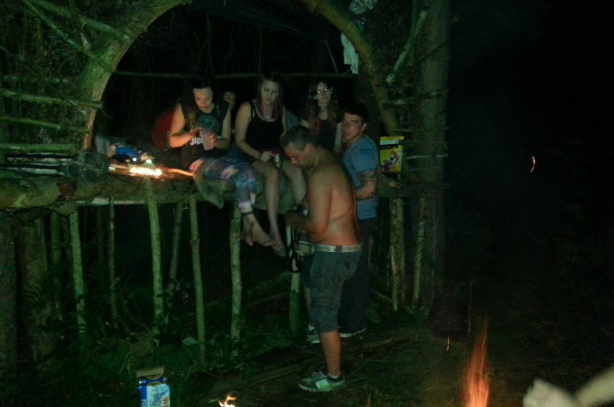 Tellingly, Britain First never make it to the camp in the video, choosing instead for a gentle stroll through the area.
Those who built the treehouse have said they are "disgusted original reports tried to paint it as an illegal migrant camp.
Jessica Rimmington, now 23, said: "It was built as a leaving present for one of the lads going in the army.
"It was built for such a beautiful reason, with the end of a group of teenagers' summers together before they went on to begin adult life.
"I think it's disgusting that someone's made such a silly story up. There's many wonderful memories up there for many people and for it be stained by this silly story is horrendous."
Reporter, Nick Charity, said the group are basically campaigning on an issue that doesn't exist as far as he can tell.
He added: "I was given a tour of sites where the evidence showed signs of groups drinking and camping in the woods.
"The source also claimed a very elaborate treehouse was built by migrants. When we confronted him with the knowledge it was actually built by local teens in the summer of 2010, he argued with this presuming they were lying and must 'be with some immigration protection outfit'. Eventually he submitted but asked if our contact was foreign.
"We have already written numerous stories refuting the initial claim - but we understand that Britain First are deleting comments on their Facebook from people correcting them.
"I rather like the idea that Britain First have spent the time since wondering around the woods, looking for a band of migrants that isn't there."
The embarrassing blunder comes just days after the group aggressive confronted a homeless couple living in a tent...