A court descended into chaos Wednesday evening after Britain First's leader and deputy leader were jailed after being found guilty of religiously-aggravated harassment.
The head of the far-right group, Paul Golding, 36, was handed an 18-week prison sentence at Folkestone Magistrates' Court on Wednesday.
His deputy, Jayda Fransen, 31, was jailed for 36 weeks.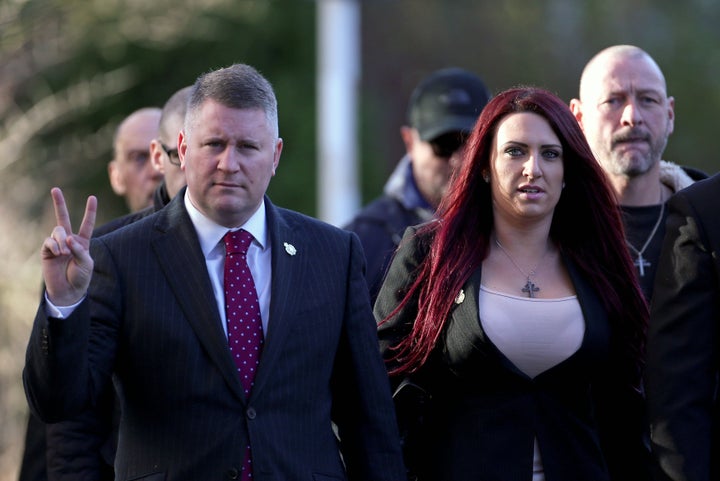 The pair were arrested over the distribution of leaflets and posting of online videos during a rape trial involving Muslim men in Kent last year.
Golding had been charged with three counts of religiously aggravated harassment. Fransen stood accused of four offences.
On Wednesday Judge Justin Barron convicted Fransen of three charges and Golding of one charge.
There was uproar in the court as the judge attempted to continue his sentence and impose restraining orders so the pair could not contact victims and witnesses in the case.
But Fransen spoke over him and said: "This is a very sad day for British justice. Everything I did was for the children of this country and they are worth it."
This caused cheers and applause to erupt from the public gallery as the pair were led away and Judge Barron temporarily left the courtroom before concluding his directions.
As supporters left the courtroom they hurled abuse at court staff and members of the press, branding the proceedings a "shambles" and shouting: "No surrender."
They added: "If we say anything these days we get sent to prison."
Judge Barron had earlier said he was in no doubt that Fransen and Golding demonstrated "hostility to those of the Muslim faith".
Sentencing the pair, he said the crimes were "deliberately planned against targeted victims".
"I am sure that when Miss Fransen and Mr Golding decided to come to Kent, their reason was not because four men were on trial for the rape of a 16 year old child. The reason for their decision was the men included Muslim immigrants. I have no doubt it was the joint intention to use the case for their own ends."
He added: "They were in my judgement hostile to Muslims and immigrants."
The court had heard that the pair targeted homes in Kent they believed were connected to a rape trial at Canterbury Crown Court in which the defendants were Muslims.
Britain First's Facebook page had a new cover photo on Wednesday afternoon featuring Fransen, Golding and their supporters standing outside the magistrates' court.
The court heard that Fransen went to the Kent home of one of the defendants, Tamin Rahmani, and shouted racist abuse through the front door.
Rahmani's pregnant partner, Kelli Best, said she was alone with their two children, aged three years and 18 months, at the time of the incident on 9 May last year.
In a victim impact statement read to the court, Best said the incident had left her traumatised, KentLive reports. "I am now scared of going out alone ... As a result of the video which showed the front of my house, my neighbours now know and refer to me as 'the rapist's girlfriend' and my children as 'the rapist's children'."
She added: "I have seen a change in my three-year-old's behaviour. He now follows me around the house and doesn't like being alone."
Best said she was six-weeks-pregnant at the time of the incident. A few days later she began bleeding, and at 24 weeks of pregnancy she experienced a stillbirth.
On a video played in court, Fransen was shown banging on the door of Rahmani and Best's home shouting "Come out and face me you disgusting rapist, come on."
In November Donald Trump retweeted a handful of anti-Muslim videos posted by Fransen on Twitter, prompting a rare condemnation of the US president by Theresa May, whose spokesperson called Trump's actions wrong.
The retweet saw Fransen Twitter following grow by more than 10,000 accounts. "Thanks for the retweets @realDonaldTrump," she said. "I'm facing prison for criticising Islam. Britain is now Sharia compliant, I need your help!"