A quarter of all Brits who backed Brexit believe they were misled by the Leave campaign and almost one-in-10 now say they would change their vote if a second EU referendum was held.
According to a poll by Opinium, 26% of all Leave voters say they were misled by the Brexit campaign which promised voters £350m a week extra for the NHS.
When respondents were asked whether they believed the NHS bus pledge, a quarter of all voters said they did. Of Leave voters, 35% said they did, and 16% of Remain voters.
More than a year after the June 23 referendum, of all voters, half say the Leave campaign was misleading. Nineteen percent said it was truthful.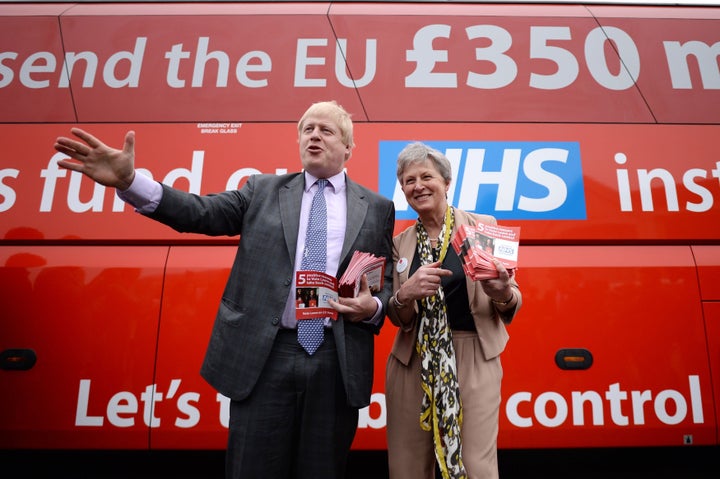 According to the survey from August 15, if there was another referendum 47% would vote Remain and 44% Leave. Five percent did not know how they would vote.
However, it also found that there wasn't a significant demand for another vote with 39% saying there should be once the final terms of the UK's exit are confirmed, while 49% opposed it.
The poll found that a significant number of voters have changed their mind since the referendum.
Among all those who expressed a preference, 52% of voters now say they would vote to Remain as opposed to 48% who would vote to Leave.
Concerns that voters would be financially worse off over the coming years were shared by 39% of all voters. Of Leave voters, 23%, said they expected to have less money in the years ahead.
When asked about the long term effect of leaving the EU, those surveyed were evenly matched with 31% saying they thought they would be better off in a decade, while 30% said they would be worse off.
Nearly half of the 2,006 people survey, 47%, disapproved of the way Theresa May is handling Brexit talks, compared to 28% who backed her. Among Leave voters, 36% disapproved of her attempts to secure Britain the best deal.
Opinium found that 36% of respondents were happy for freedom of movement to continue if it meant staying in the single European market. Slightly less, 31%, were willing to leave the single market to curb immigration concerns.