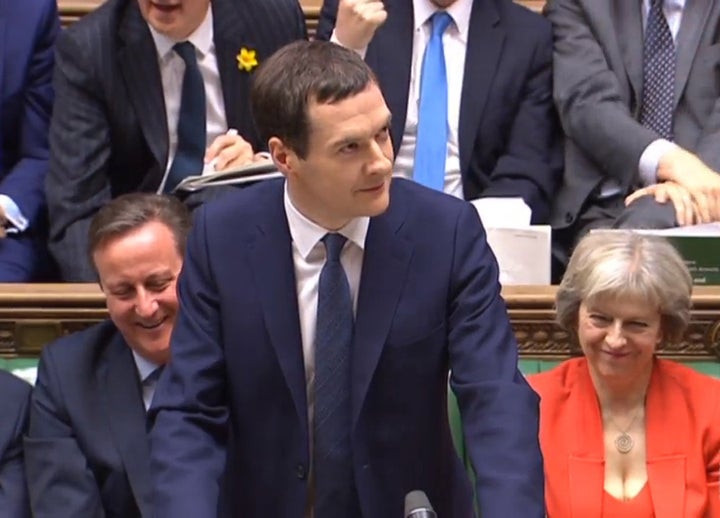 George Osborne has hinted he may rethink his cuts to disability benefits following an outcry over his Budget measures.
The chancellor yesterday confirmed £4.4bn would be slashed from benefits for disabled people over the course of the parliament.
The cuts have led a Tory disability campaigner to quit the party and sabotage a party website in protest at the chancellor "robbing the vulnerable to pay the rich".
Speaking to BBC Breakfast, Osborne insisted the government was "increasing" the support it was giving to disabled people overall.
But in a sign he may be willing to soften the cuts, he added: "I'm always happy to listen to proposals that others might have on how we can improve on that."
The cuts, first unveiled by Work and Pensions Secretary Iain Duncan Smith, will axe £590m in 2017/18 – the same year that the wealthy will gain £630m in capital gains tax relief.
PIP are used to help disabled people who struggle to get dressed, travel or use the toilet.
Shadow chancellor John McDonnell said this morning Labour would reverse the cuts to disability benefits if it was in power.
Conservative disability activist Graeme Ellis,who uses a wheelchair, quit the party last night and shut down a party website over the cuts which he said were "robbing the vulnerable to pay the rich".
"The first story I came across on the BBC News website was about the proposed changes to PIP and proposing to take 200,000 people out of the benefit and lowering the eligibility of others," he said.
"They are saying they need to make savings and yet they can make tax cuts."
Ellis added he was sure voters would "rather see people looked after than see huge tax cuts".
"I would like to say to [Osborne] - does he realise how he's destroying lives?," he told The Daily Mirror. "I've had distraught clients on the phone today. I've had people in tears worrying about the future."
Defending the government's spending on disability benefits, Osborne told the BBC: "We are increasing the support, increasing the money that is going to disabled people, so that money is going to go up as a budget because we've got to make sure we help the most vulnerable in our society."
He said the change to PIP was a response to an "independent report" to make sure money was "focused on those who need our help most".
McDonnell told Radio 4's Today programme: "Yesterday we made the point that austerity is not an economic necessity it's a political choice and yesterday the Chancellor made his political choices.
"He cut capital gains tax to the richest five per cent of our country and he cut the disability benefits to some of the most vulnerable.
"We would reverse them, it's unacceptable that people with disabilities have to pay for the tax cuts for the rich."
Michelle Mitchell, Chief Executive of the MS Society, added: "Changes to the Personal Independence Payment (PIP) will increase anxiety and fear in thousands of people with MS."
Citizens Advice chief executive Gillian Guy said: "Disabled people who rely on PIP for help to get dressed or use the toilet will be worried about the impact this Budget has on their ability to live an independent life."
Popular in the Community