More than half of the British public would support banning people from wearing a burka, a YouGov poll has found.
A total of 57% of those who were surveyed said they would support a ban on wearing the burka in the UK, while just 25% are against outlawing it.
The debate surrounding the Islamic dress has become particularly heated in the past few weeks after France instituted a ban on burkinis across more than 30 coastal towns.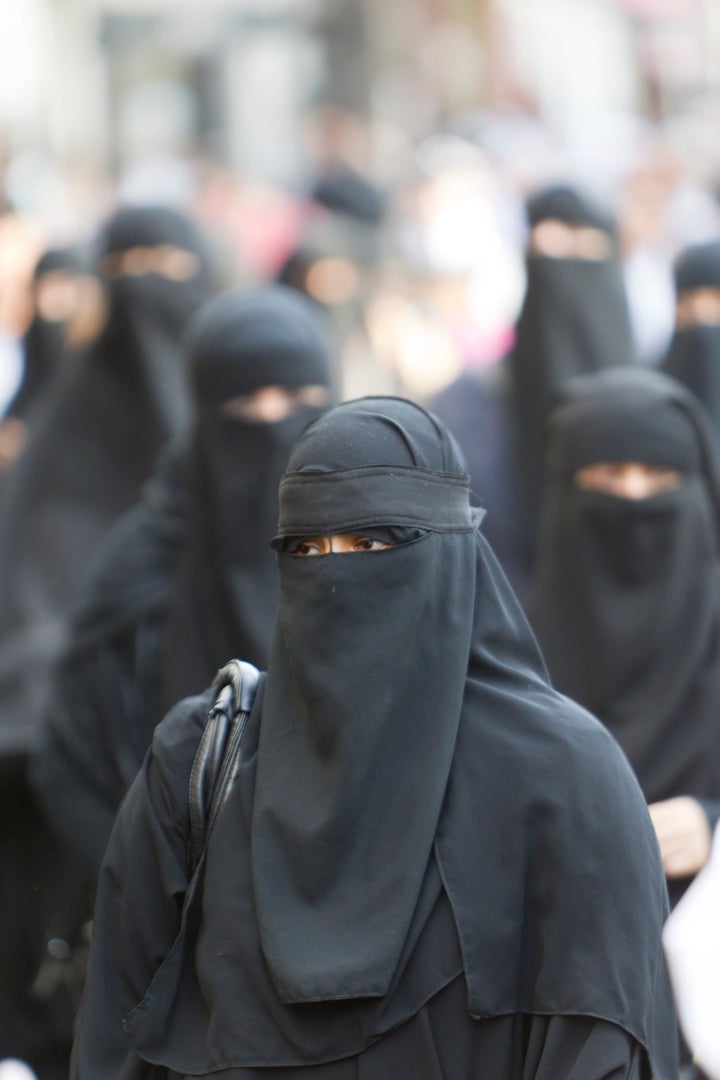 A burka is a loose item of clothing covering the whole body from head to feet. The garment is predominantly worn by Muslim women.
The YouGov survey found that in the UK older people are more likely to support a burka ban, with 78% of those aged 65 years or older backing the ban, compared to just 34% of 18 to 24-year-olds.
Working class people are also more likely to support the ban than middle class people, with 61% compared to 54%.
Women are almost as likely to support a ban as men are, with 56% of females backing it compared to 58% of males.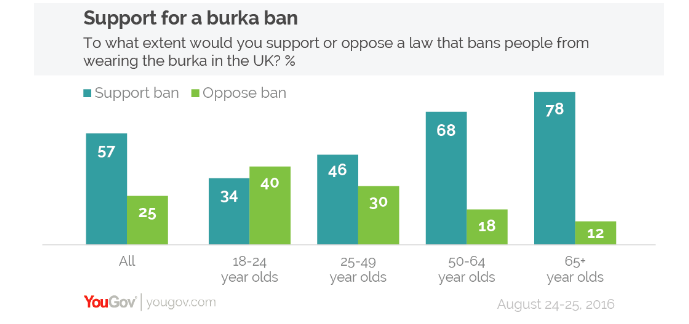 The YouGov survey found that a burka ban is supported by 84% of all 2015 Ukip voters and 66% of Conservatives.
A total of 48% of Labour voters said they would support a ban, followed by the Liberal Democrats, with just 42% backing the proposal.
Yet just 37% of Labour voters and 30% of Lib Dem supporters said they would oppose the ban.
YouGov surveyed 1,668 British adults.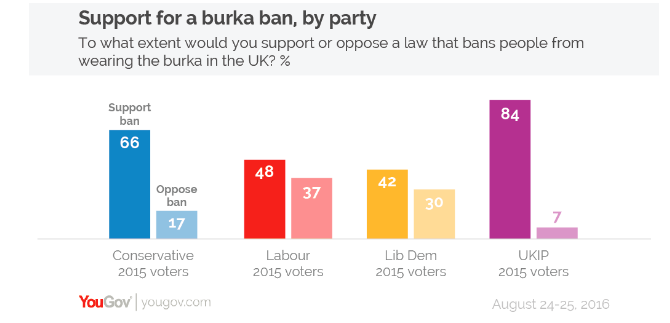 The results revealed that there were only two demographics that are more likely to oppose a ban than support it. These are 18 to 24-year-olds and Remain voters.
Yet even then the numbers are relatively close – Remain voters are net opposed to the ban by just 3%, whilst 18 to 24-year-olds are 6% net opposed to the ban.
The burkini debate in France has exposed cultural tensions within the country.
Nicholas Sarkozy, who instituted a ban on burkas and niqabs while he was president, said he would change the French constitution to ban burkinis should he be re-elected next year.
YouGov found that British people also in favour of banning burkinis, although less strongly than burkas.
The survey found that 46% of people would support a burkini ban and 30% would oppose one.
Compared to other countries, YouGov found that 62% of people in Germany supported a ban and 27% opposed it.
In the US a ban is strongly opposed, with 59% of people opposing the ban and just 27% backing it.