Taking advantage of temperatures tipping 30C, a group of burka-clad women descended upon Brighton for a paddle in the sea.
Some lifted up their hems while others simply waded into the cooling waters, mixing happily with other beachgoers.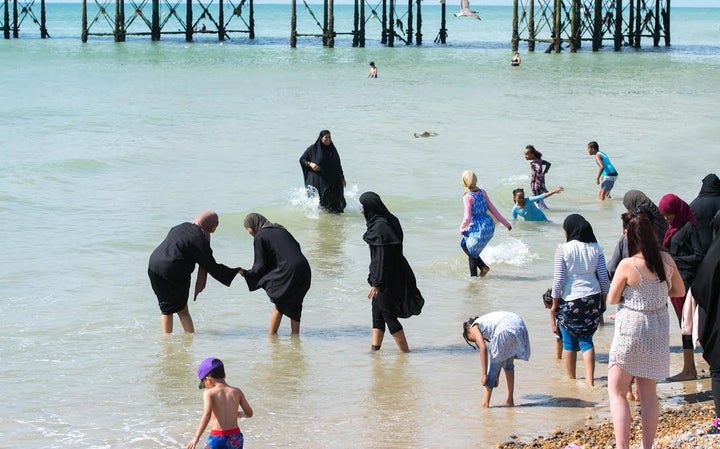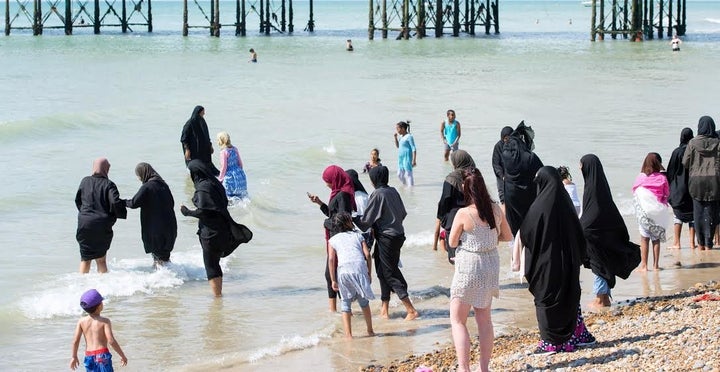 Which is what occurred on a Nice beach on Tuesday.
The 34-year-old target, named by French news agency AFP as Siam, was photographed surrounded by officers who urged her to remove her long-sleeved blue top, in order to comply with the ban. [Many commentators have pointed out she was not even wearing a full burkini.]
As her daughter began to cry, Siam recalled nearby beachgoers applauding their actions, with some shouting at her to "go home".
She was issued a ticket stating she was not wearing "an outfit respecting good morals and secularism."
French laws also ban face-covering veils in public and headscarves in schools - based on views they violate French secularism and oppress women – which have alienated many among France's 5 million Muslims.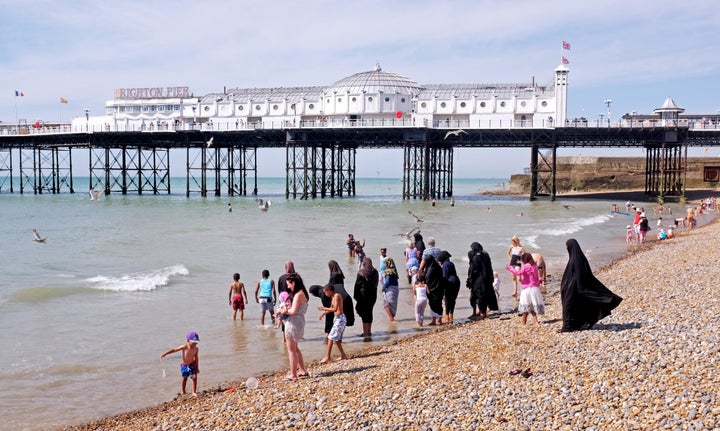 Members of the clergy are also amongst those asking whether the same ideology would demand nuns to remove their habits when entering the waters – illustrated with a number of pictures of habit-wearing nuns enjoying the sea.
One voice of support, however has been in the form of France's former conservative president Nicolas Sarkozy.
Sarkozy, who announced this week he is running for the presidency again in next spring's election, branded the burkini a "provocation" that supports radicalised Islam.
In a TF1 channel interview, the 61-year-old insisted that Muslims in France are French people "exactly like any other ones" but, when living in the country, they must "assimilate" the French language and way of life, the French regions and the history of France.
Muslim people shouldn't "impose their differences on the majority," he added.

Meanwhile a protest group originating in Britain intends to travel to Le Touquet in France on September 10 to hold a burkini sit-in protest.
The event, which is set to be repeated in Brighton, says: "We should stand in solidarity with French Muslim women and show that the majority of people do not care what they wear on the beach and are behind the traditional French values of liberté, égalité, fraternité which extends to citizens of a different religion. Women should have free agency to choose how they dress, it is not for the police to decide. Burkinis are suggested attire but come however you like!"
Aheda Zanetti said her original intention was to allow Muslim women to participate in Aussie beach life, and to give them a choice.
"No man in this entire world can tell us what to wear or what not to wear," she said.