A "Burkini only" day at a French waterpark, aimed at Muslim women who do not want to expose their bodies while swimming, has been defended after right-wing politicians condemned it.
Critics said the day for those who wear the Islamic-style full swimming wear known as a Burkini showed some Muslims wanted to be "outside our society."
The Speedwater Park near Marseilles will only admit women who cover their bodies between their knees and necks for a day in September, after being booked out for this by a community group.
Valerie Boyer, a centre-right mayor of two districts in Marseilles, criticised the even saying: "Accepting this so-called fashion means we accept communalism in our country."
The organisers said attendees would have "a great day with their children" but must be "must be covered from the chest to the knees". Boys up to the age of 10 will be able to attend.
France, which has a strong commitment to keeping its politics and public life secular, banned the wearing of the full face veil, the burkha, in public.
Stephane Ravier, mayor of another two Marseilles districts with the more right wing Front National, told the BBC: "This Islamist day demonstrates that, outside of the comforting words of Muslim authorities, a certain number of Muslims are deciding among themselves to break away from our Republican model and put themselves outside our society."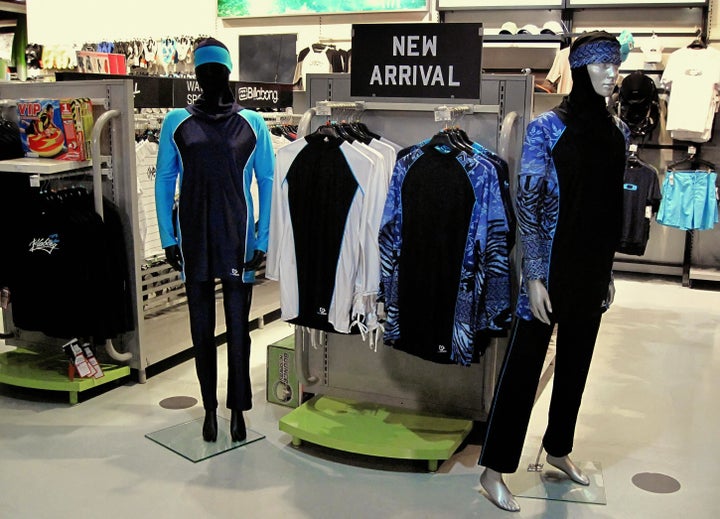 But supporters responded on the Facebook page of the event organisers, Smile 13, offering words of encouragement in the face of the political criticism.
The page was being bombarded with comments, many critical of the event but some were postive.
One woman wrote: "Good luck, ladies, I hope this takes place" wrote one woman, who said: "And I don't even wear the veil."
Another woman said: "I don't understand how an event aimed at mothers of families and bringing together a community around an event supposed to be pleasant turns into a wall of hatred and racism."