Andy Burnham, the newly-elected Manchester Mayor twice thwarted in his bid to become Labour leader, is not a man filled with regret.
"There has not been one minute of one day where I have thought: I wish I was back in Westminster," he says, getting comfortable in his Oxford Street office.
"I'm up at about 7am and I'm back home at 7pm, so they are long days but they are good days.
"And tonight, I can get home and go and play five-a-side. I know that sounds trivial but it's not in the great scheme of things. It's about being back in the real world."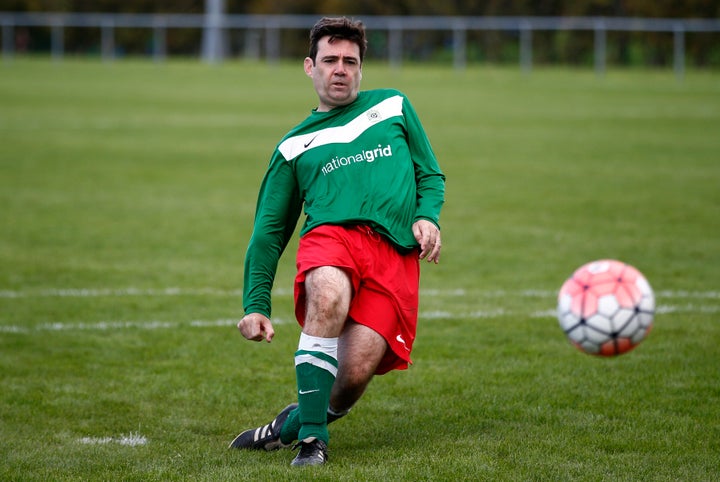 The former Health Secretary took office in May, with a staggering 63.4% of the vote. His new constituency of Greater Manchester is home to no fewer than 2.8m people and, with media, digital and tech economies in rude health, is widely regarded to have overtaken Birmingham as the UK's second city.
He quit Jeremy Corbyn's shadow cabinet to stand for the new metro mayor role, which he is happy to acknowledge only exists because of George Osborne's 'northern powerhouse' agenda.
"Some things are just a fact and George Osborne talked about the North more than any chancellor I can remember, but the question is, did he back it up with anything?," he says, refusing to retract his comments that the austerity-driven former Chancellor was a "champion" for the region.
"There is a devolution deal here which he authored, which has created the potential for real change."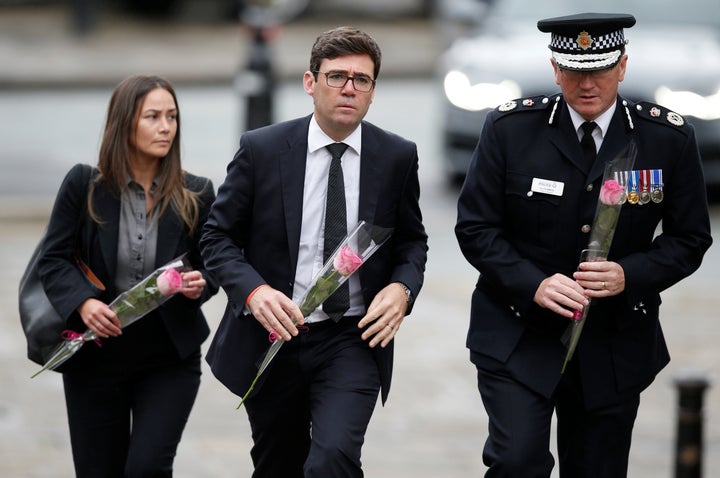 He went on: "I lived in the Westminster system for 16 years. I'm not saying it's all bad, it's not, but I lived through a period in politics where public disaffection was growing and I felt the gap getting bigger between Leigh and what went on in London.
"I got a lot of criticism for talking about the Westminster bubble, but it's true that we have a highly-centralised political system in which the London view on life dominates.
"I saw that getting worse in all of my time there, and the Hillsborough families just brought that out to me again. If the Whitehall-Westminster establishment can ignore the north then they will ignore it."
Burnham, 47, was just 18 days in the mayor's chair when tragedy struck and 22 people were killed in the devastating Manchester Arena terror attack.
"I remember it vividly, I was at home watching Newsnight and Steve Rotheram (the Liverpool mayor) was ringing my phone," he says. "I was thinking 'I will pick it up tomorrow' but he rang again.
"Steve had just heard that something had happened at the arena because his daughters were there. As I had Steve on the phone, the chief constable was then on the other line.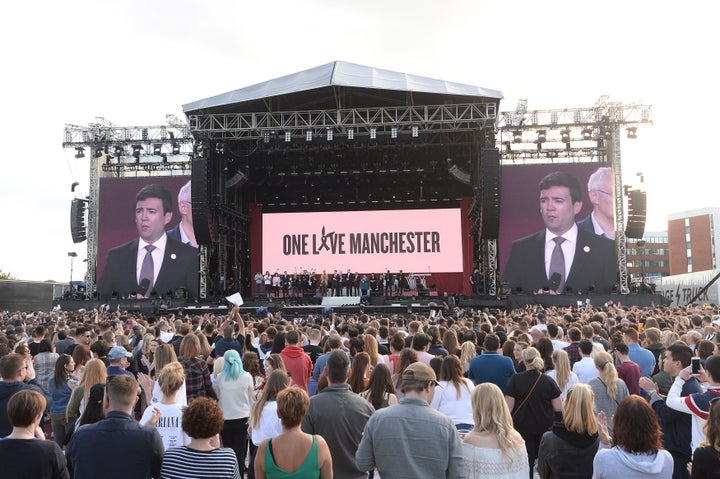 "That was tough, but not for me for everybody. I can remember feeling really empty and sick, trying to make some sense of it.
"I think what I felt was the strength of Greater Manchester - its people, its partnerships, its institutions. There was and is a tangible strength, resilience and solidarity that mattered and that helped me respond to it."
Burnham, whose role as mayor incorporates the powers of Police and Crime Commissioner, has been thinking deeply about how to tackle homegrown terrorism. Having launched a review, he says the anti-radicalisation programme Prevent has been discredited in the city and must be replaced.
"You can have as many government intelligence officers as you want but you can't keep the whole public under surveillance, and nor would you want to," he says. "So, how do you start again with families and communities.
"You have to go back to real grassroots and build trust, which I think has been lost with the Prevent programme.
"There is always going to be a need for a strong anti-radicalisation programme but if it doesn't have trust beneath it then the information flow is not going to come through, is it.
"I think it looks like a much more community-oriented, empowering approach where people are able to report concerns without it immediately going up.
"There is a different dialogue at a local level. So, for instance, with all our faith organisations, we should have a clear protocol about what is and isn't acceptable in terms of material and literature – a much more public agreement, if you like.
"It is also about empowering voices from different communities, particularly women and girls."
Another challenge looming is how the north, which overwhelmingly backed Brexit, can avoid the economic damage of leaving the EU.
Burnham is lukewarm about the Labour Party's shift in policy to not only back single market membership during the transition phase but leave the door open to permanent single market membership.
This will not, Burnham says, respond to the concerns Mancunians have about immigration.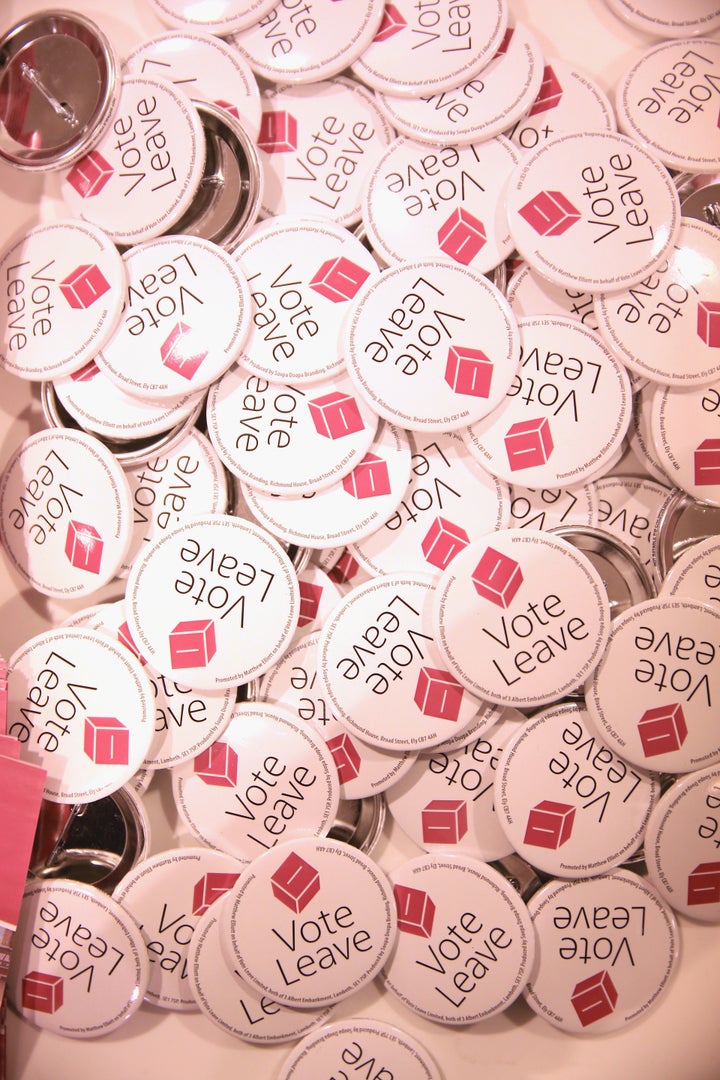 "I'm not saying I'm against it," he says. "If you can have it, great, but first of all you need to address the concerns that people had about the way Europe was working.
"People always say that Manchester voted to remain, which it did, so did Trafford and Stockport.
"But seven of our boroughs voted to leave and it's very important for people not to forget the referendum result.
He adds Labour must come up with a Brexit policy that curbs immigration.
"I voted remain," he says. "I have concerns about the Brexit deal the Government is negotiating and what that might mean for Greater Manchester, but at the same time, this issue will become very divisive if it looks like there is backlash from the establishment to almost deny the referendum result.
"My biggest worry would be a London-centric Brexit. What I mean by that is when UK negotiators are going over to Brussels, to the extent that they have any papers with them, because I saw that picture of David Davis where he didn't seem to have any files or papers, I know what is top of their list when it comes to protecting British interests – City of London.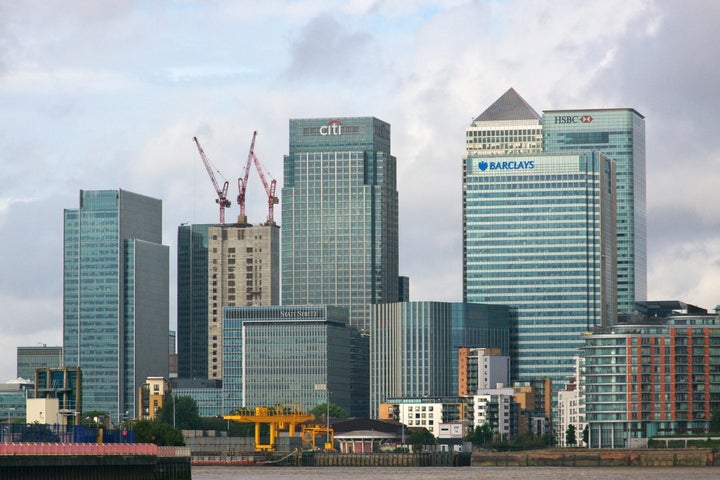 "There is no question about that given its tax-raising potential for the country but my worry would be when we get into the meat of the Brexit negotiations: what trade-offs are done?
"Is it the pharmaceutical sector where we are going to lose? Is it life sciences? Is it digital? Is it manufacturing? Is it the car industry? This is where it gets worrying for the north."
Burnham is due to meet Brexit Secretary David Davis but says ad-hoc meetings with metro mayors will not cut it as negotiations gather pace.
"Greater Manchester and the north needs a permanent seat on a committee that allows that view to be fed in and sees how those negotiations unfold," he says.
"It will get very serious very quickly. We need to know what is being negotiated in our name."
Also high on his to-do list is tackling homelessness - something on which he has staked the success of his mayoralty.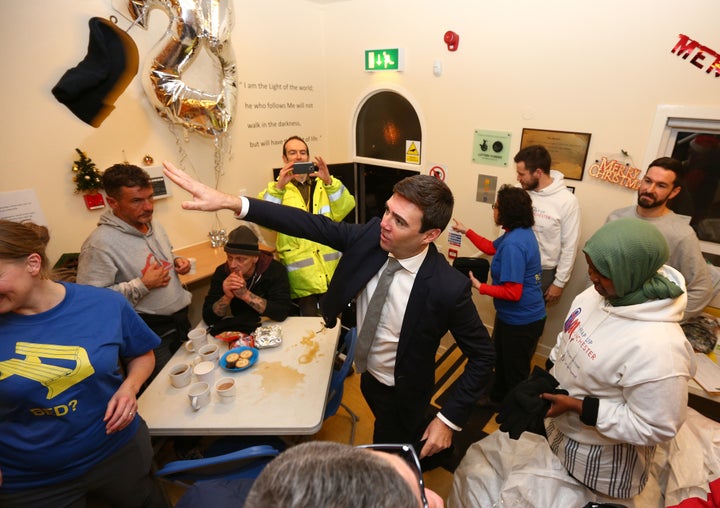 Pledging to eradicate rough sleeping by 2020, he is donating 15% of his £110,000 salary to kickstart the Mayor's Homelessness Fund, and beyond the charity work he is advocating radical policy on the private rented sector, in which 43% of rented properties were found to be below a decent standard.
Bad landlords who don't engage with the mayor's office could have their property subject to a compulsory purchase order.
"The failure to regulate the private rented sector is a large part of our homelessness problem," he says. "It's a tough agenda to crack without national legislation but I'm going to give it a go because they are getting away with murder, really.
"There are lots of parts of Greater Manchester where private landlords own huge numbers of terraced houses, they never visit, they get housing benefit from the tenants but they never put a penny back into the upkeep of the house and they have no regard for what goes on there.
"That, to me, is just not acceptable. It's not acceptable to get public money to do that.
"My thinking is we have a Greater Manchester good landlords scheme and you isolate those that are not prepared to sign up, pretty quickly, and then you need to start getting more aggressive.
"We say to them: 'You won't sign up to the standards scheme, on what basis should we allow you to continue to drag these communities down?' and then we would be clear with magistrates that we would be thinking about a compulsory purchase order to get rid of some of the worst offenders."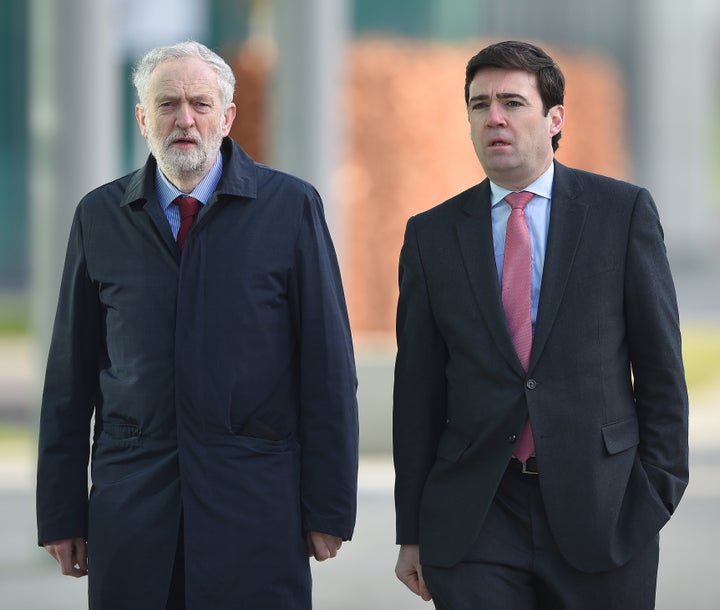 Burnham made education central to his manifesto and says he offered Corbyn a few tips for Labour's general election campaign.
"I think the Tories got their comeuppance for calling an election for no reason without any sense of why they wanted it other than wanted to increase their own power," he says. "They rightly got a bloody nose but Jeremy gave it to them because of the campaign that he ran.
"Earlier on in the campaign, I'd just got elected. I did say to him I put young people at the heart of my manifesto when I stood and I recommended something similar.
"I pitched in ideas. The election was a vindication of a strong grassroots campaign that is not about being timid and cautious, it was about a genuine alternative. People have not had that for a long time in British politics."
Rumours have been abound of a rift between Burnham and the party leader, with claims the mayor refused to celebrate his win with Corbyn.
HuffPost UK also revealed that Burnham, along with London Mayor Sadiq Khan, would not be offered a speech slot at the Labour Party Conference in Brighton later this month.
Asked if he had been given an explanation for the snub, he says: "I don't know. It's obviously a matter for the party who addresses conference."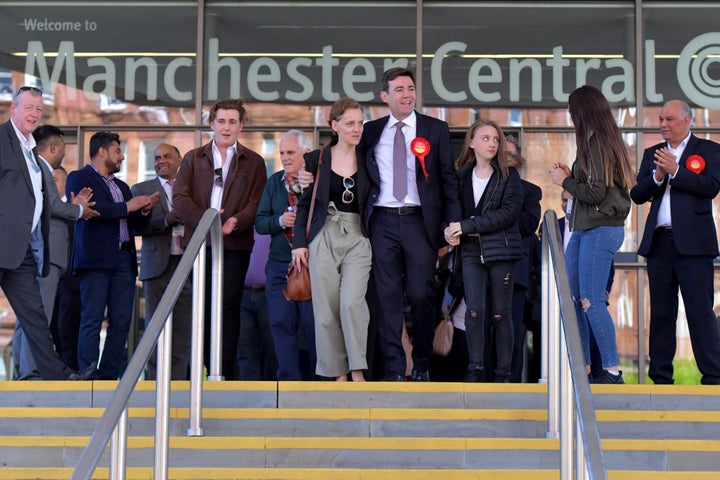 Is he personally disappointed by the decision?
"I think it is more about the people here and Greater Manchester getting its voice heard," he says. "If I was them, I would just think about that and making sure that conference is truly of all the country."
Asked what message his speech would have contained, he says: "I think what I would have said was that it is time to embrace devolution wholeheartedly, create 'Northern Labour', give the party a northern voice and celebrate that and show how we can, by embracing that, make sure that the northern Labour family doesn't leave us."
He underlines that voters from across the political spectrum backed him as mayor.
"I'm Labour to my core but my main purpose is to be a mayor for everybody and put Greater Manchester first and that is very much the way I am going about the job.
"I don't see what we are doing here as a branch office, and I think the Scottish Labour Party are the same.
"It only works if you do your own thing and what's right for here. I'm not taking directions from anywhere."
Asked if he would describe himself as Corbyn's man in Manchester, he said: "Obviously I'm part of the Labour family, but I'm my own man."
"The election result I got meant that people of all views and affiliations voted for me. When you are mayor, you do go beyond that political point-scoring."
He insists his door is always open to Corbyn's invite, but there is one man he would not welcome to Greater Manchester: Donald Trump.
He would join TUC members in protesting, he says.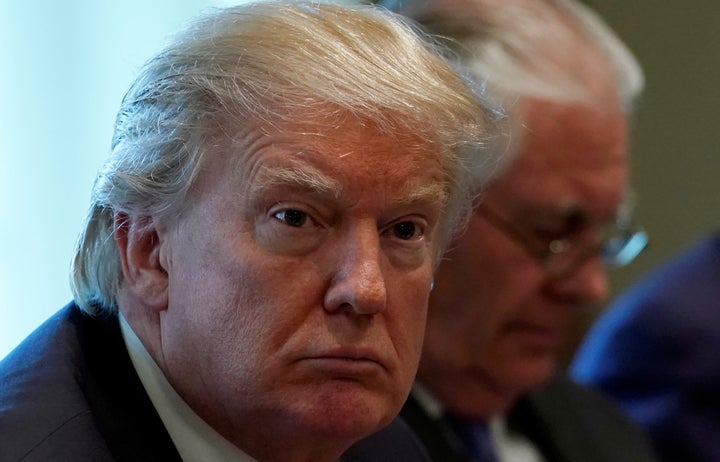 "I found the whole response to Charlottesville quite sickening, to be honest. I found it quite frightening.
"Things are being done that have gone way, way over the line and people have got to take a stand.
"These people who say trade is more important and we have got to be friendly with whoever the president is whatever they say but no, I don't see it like that.
"There is real harm being caused by some statements coming out of the White House and you have got to be prepared to put your money where your mouth is and stand out against those things."
Looking beyond Brexit, Burnham says he is hopeful of striking standalone deals with other global cities.
He says: "In terms of our future as a city, it won't be a case of country to country, it will be city to city.
"What I see in the States is fascinating. A lot of mayors are standing out against Washington and saying 'we might do the Paris climate agreement ourselves' and voluntarily signing back up to it.
"That is what the future will be like: partnering with other cities. I want Manchester to be in that club of cities worldwide that are progressive, really leading change on a whole range of fronts."