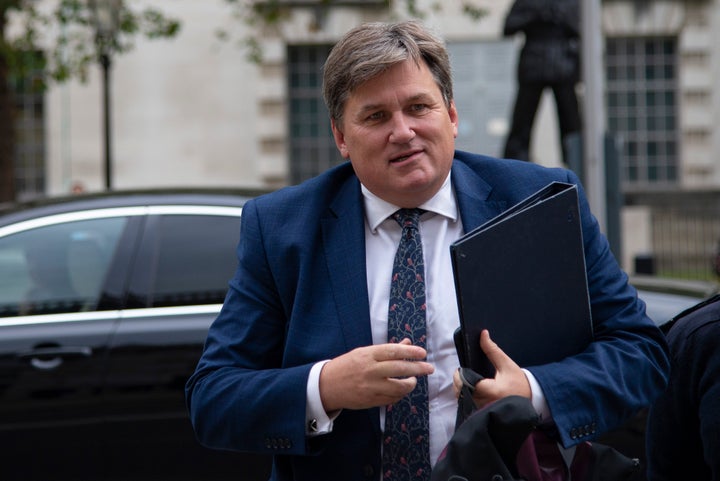 Boris Johnson's policing minister today told women to "call 999" if they have concerns about an officer trying to arrest them.
Kit Malthouse also defended the under fire Metropolitan Police chief Cressida Dick, describing her as "dedicated and talented".
The Met is under pressure after Sarah Everard's killer and serving police officer Wayne Couzens received a whole life-term at the Old Bailey yesterday.
Couzens used his police warrant card and handcuffs to lure Everard off the street before strangling her with his police belt and burning her body, the court heard.
Asked what a woman should do when approached by a lone police officer, Malthouse told Sky News they "rarely deploy singly".
But he added: "If anybody has any doubts about a police officer, then obviously they should re-question the officer about what they're doing and why they're doing it.
"If there are any doubts at all, they should ask to either speak to the control room using the officer's radio, or if in doubt call 999 and ask a question."
Pressed on the matter, he said these were the "devastating consequences" of this "awful man's actions".
He added: "These kind of stories do raise question marks in people's minds - I can understand particularly given the circumstances.
"I think it would be perfectly reasonable in similar circumstances for somebody to question the officer, seek reassurance, if that means asking them to identify themselves by speaking to the control room, or calling in 999 if they feel in danger, then I'm afraid that's where we've got to."
His advice comes after Scotland Yard issued guidelines for women who fear a male police officer might not be genuine, suggesting they call 999, shout out to a passer-by, run into a house or wave a bus down for help.
Malthouse admitted the police will have to work "much harder" to rebuild public confidence following the murder of Everard.
Rejecting calls for Met Police Commissioner Cressida Dick to resign, he added: "She is a dedicated and talented and committed police officer who is driving the Metropolitan Police to ever greater standards of care and improvement and fighting crime."
He also confirmed that an investigation is under way into why allegations against Couzens earlier in his career did not affect his employment by the Met.
Scotland Yard admitted a mistake was made in its vetting of Couzens after they missed his link to an alleged flashing incident, but said he would have been hired anyway.
Senior officers said the indecent exposure - one of two flashing incidents linked to Couzens and reported to police before the murder of Everard - would not have affected his recruitment because detectives deemed it required no further action.
Malthouse said the Met had been unaware of other claims that Couzens had been known as "the rapist" by some colleagues.
Labour MP Jess Phillips, shadow minister for domestic violence and safeguarding, said trust in police is "not going to be built back overnight".
Her Labour colleague Dawn Butler hit back at the advice issued by Scotland Yard, adding: "This advice just isn't good enough. Trust in the police is at an all time low, especially amongst the black community.
"Women are now scared of police officers, running into a house or flagging down a passerby will not build confidence or make women feel safer."
Meanwhile, Labour's deputy leader Angela Rayner said: "What is going on at the top of the Metropolitan Police? Give me strength."