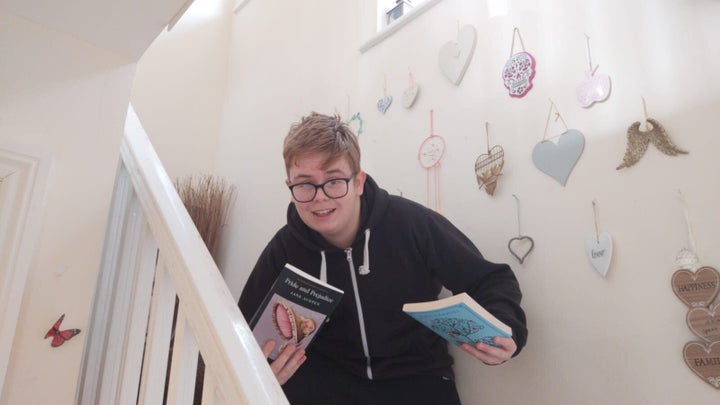 "Yo, it's me Cal and I LOVE books." So reads the blurb on Cal's Books Account, the Instagram page of 13-year-old Callum Manning from South Shields, where the teenager posts about the books he's read and recommends to others.
He was bullied by classmates for it, but Cal has had the last laugh. Dozens of authors and readers have shown him their support by sending their best wishes – and books, lots of them, from the Amazon wishlist he set up when his Instagram went viral, with more than 350,000 followers and counting.
To mark World Book Day, Cal has shared with HuffPost UK his top six picks from his ever-growing stack of books. Happy reading!
Charlie and the Chocolate Factory by Roald Dahl
"After buying numerous chocolate bars, poor Charlie finally finds a golden ticket for a trip to the famous chocolate factory owned by the mysterious Mr Wonka. The visit changes his life for the better. I enjoyed this because of Roald Dahl's sense of imagination, it's feel-good and people can relate to Charlie."
Paper Towns by John Green
"Quentin Jacobson has always liked Margo Roth Spiegelman. To his surprise one day she goes missing, leaving behind a set of clues which take Quentin and his friends on a journey across America. What I liked about this book was the characters and the fact Quentin has such good friends. I was 12 when I read it."
You by Caroline Kepnes
"Bookstore owner Joe Goldberg forms a deep obsession with university student Guinevere Beck, and won't let anyone get in the way of their relationship. I read this two months ago and it's so compelling. This author is my favourite."
A Christmas Carol by Charles Dickens
"Rich humbug Stooge hates Christmas! His nephew tries to get him into the spirit but it's not the only spirit he is visited by: the ghost of Christmas past, the ghost of Christmas present and the ghost of Christmas yet to come. I love how creative and original this is – you get lost in the story. I read it when I was eight."
The Shining by Stephen King
"Caretaker Jack moves his family to take care of the Overlook Hotel one winter, but gets slowly cursed by the curse of the place and tries to do away with them. I love Stephen King's style of writing and this story totally grips you."
The Boy In The Striped Pyjamas by John Boyne
"Young Bruno moves to the countryside with his father who is a Nazi officer. but Bruno develops a friendship with a prisoner of Auschwitz. This story proves that things you don't expect to happen can do and the ending really takes you by surprise."