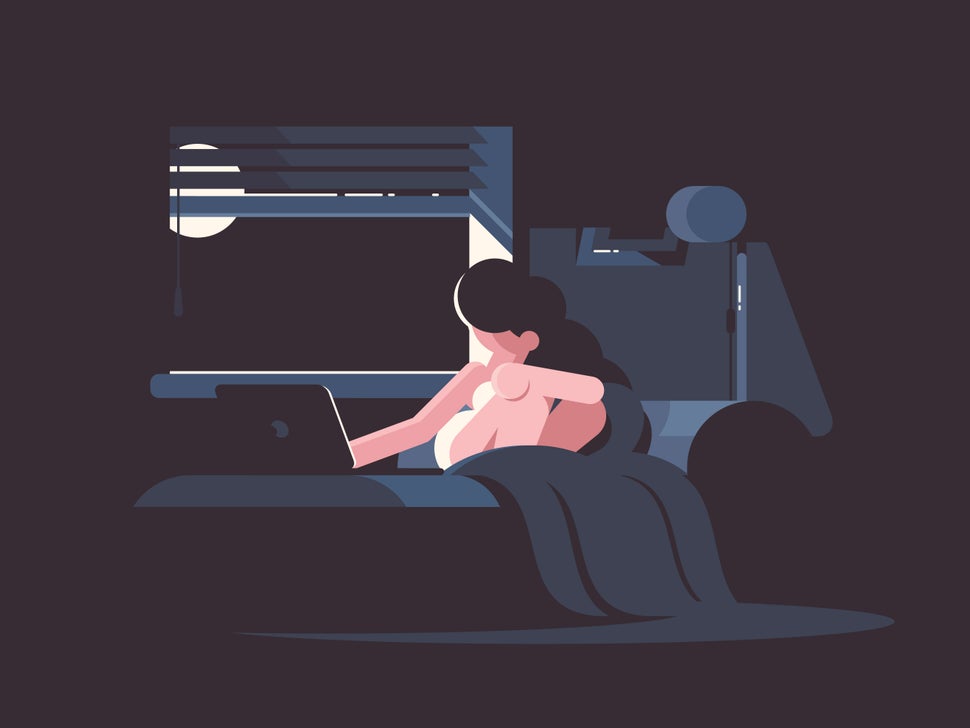 You're reading Sex Diaries, a HuffPost UK Personal series about how we are (or aren't) having sex. To share your story, get in touch on ukpersonal@huffpost.com.
I looked nervously at my overdraft. The UK had gone into lockdown, and people were losing their jobs left, right and centre. I had a narrow escape from redundancy last summer and feared my luck was about to run out. I was £700 in debt, and I had to act quickly.
Surely there was some way of turning faceless nudes into cash, I hoped.
Three months into lockdown, I struck gold, when I found a webcam agency online. It sounded too good to be true, with the agent promising that even the lowest earners could turn over a grand a month for very little work. But it was worth a shot.
While I'd managed to avoid being furloughed and was promised that my day job was secure, I jumped at the chance to come out of this apocalypse richer than I went in. Even at the best of times, my journalism and writing only pay so much. I've struggled with my mental health since I developed OCD in my early 20s. Camming now offered me not only an escape from my overdraft, but the means to pay the thousands required for a course of specialist therapy that isn't available on the NHS.
"The girls who show their face full time can pull in as much as £7,000 a month," the agent told me as I registered, "but I'd say you can make £300 a week for an hour or so a day."
"I was nervous. I'd never faked an orgasm in my life, but you gotta do what you gotta do."
I sent the agent my passport, nudes that never earned me a penny when they first were taken for exes, and he went through the basics with me over the phone. I was to smile and be nice to everyone (regular clients are the key to long-term success), and, most importantly, I had to remember that it is a fantasy: if a man wanted me to call him "daddy" or pretend to be a schoolgirl, it wasn't necessarily an indication that he should be on a register. He had probably just seen too much porn.
I was nervous. I'd never faked an orgasm in my life, but you gotta do what you gotta do. I was soon given a wealth of acronyms to learn when clients began to check out the "new girl"—JOI (jerk-off instructions), COI (cum-eating introductions), and SPH (small penis humiliation).
One of my first memorable clients was a man who asked for CBT (cock and ball torture, naturally). The moment I answered the call, he pulled up a piece of card covered in nearly arranged lines of cocaine.
"Tell me to snort it," he said.
I went along with it. He obliged. I hit a riding crop off my hand for a wonderful spanking effect. Then the unthinkable happened: he tied a belt around his genitals. As his penis turned purple, he bashed his testicles off a table.
"Harder," I said. "If you can walk tomorrow, you've not done it hard enough."
He returned for round two a week later. In that time, I'd made the £300-a-week I was predicted, and I'd had my first non-sexual clients. I thought I'd be getting paid to strip and masturbate, but in reality, that's only what I'm asked for a fraction of the time.
"Sorry to be boring," one user typed when the call began, "but I just want to talk."
"Tell me about some of your craziest clients," he continued. "You must have seen everything." No prizes for guessing who I mentioned.
"Camming, like every job, has its downsides. I sometimes feel like a piece of meat..."
We spent the rest of the chat talking about classic rock and exchanging song recommendations. I felt bad that he was paying me just to talk, but when he explained what he did for a living, it was clear that he could afford it. Cam girls were his therapy.
"I'm married," another client confessed, "and my wife's away for a few days. I like coming here for some company." Fair enough, I thought, running my hands over my breasts.
Camming, like every job, has its downsides. I sometimes feel like a piece of meat – compliments about the shape of my breasts, my vagina and derrière make me feel objectified, especially when I get comments like "you have a better body than my girlfriend". I've also had concerning requests for age play and CNC (consensual non-consent), and I've been disturbed how common these fantasies are. But my agent has never forced me to do anything. I simply say no, and that's enough.
I quickly began to value my time more than ever before because of camming. While I've had some wonderful relationships, I've had some nasty ones too. I'd have never stood for them if I'd known my company alone – and not my body – was worth £2 a minute. An unpleasant ex used to make fun of my breasts, claiming that they were too small, but I've had countless strangers praise them for being an ample addition to my petite frame.
This job has proved to me that I am a more social person than I ever gave myself credit for too. I've had virgins come to me ashamed about their lack of experience and I've reassured them that it is no bad thing, and I've lost count of the number of men I've assured that size really doesn't matter. Camming has even increased my confidence in my ability to improve someone's day when they simply come to me for a chat – I make it my mission to find out what a client wants and to give to them to the best of my ability. Sex work is work, after all, and I want to do a good job.
I don't know how long I will cam for. It's improving my life in the here and now, but I imagine that long-term it is likely to be unsustainable because of the effects it is slowly having on my opinion on some of my more disturbing clients. I don't want to hate men, and I don't want to be walking down the street imagining what run-of-the-mill strangers passing me by might say when protected by the anonymity of a webcam.
Silk bed sheets, designer shoes, and a therapist who is holding me to account for my OCD behaviour have helped me through quarantine. And ultimately, I'm coming out financially better off and more confident in my worth than I've ever been in my life.
Kate O'Kelly is a freelance journalist, writing under a pseudonym