A radical left-wing group of Jeremy Corbyn supporters have declared that they will oppose "any" expulsion of Ken Livingstone from Labour.
The Campaign for Labour Party Democracy (CLPD), which has officers who sit on the party's ruling National Executive Committee, tweeted that its executive would fight any move to kick the former London Mayor out of the party.
It also objected to a recent decision to expel activist Marc Wadsworth over his conduct at the launch of the Chakrabarti report into anti-semitism in 2016, where he accused Jewish MP Ruth Smeeth of colluding with the media.
The ruling NEC is due to meet on Tuesday and HuffPost understands that the CLPD vote is expected to be highlighted in the meeting.
Livingstone is currently suspended pending a fresh hearing into allegations of misconduct, centring on claims that he made anti-semitic remarks in linking Jews to Hitler last year.
The party's NEC disputes committee is set to decide the next steps in his case before July.
But Labour is under huge pressure to act after Jeremy Corbyn was told by Jewish groups that Livingstone's treatment would prove how serious the party was over the issue of anti-semitic abuse.
The Labour leader has asked new general secretary Jennie Formby to make tackling anti-semitism her 'number one priority' and has issued a strong denunciation of those who link Zionism to the Nazis.
MPs joined a demonstration on the issue in Parliament Square earlier this year and Labour failed to take the key Tory flagship council of Barnet in the May elections as Jewish voters showed their anger.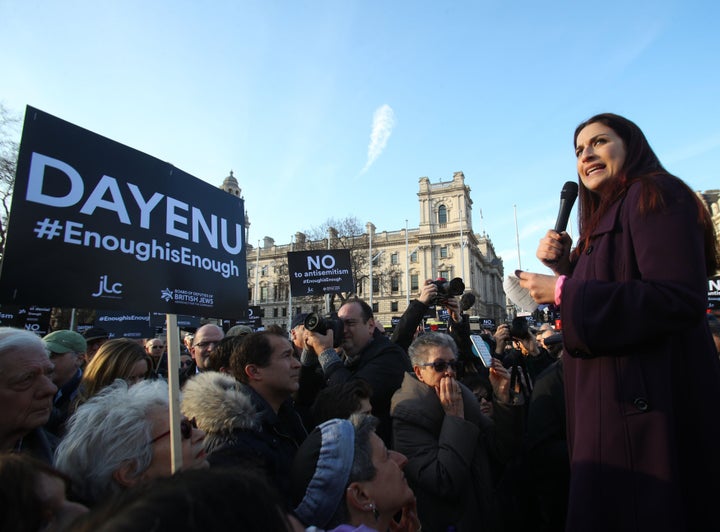 Luke Akehurst of the moderate group Labour First said that the CLPD decision was "grotesque".
CLPD lists key members of the NEC, including Pete Willsman, Claudia Webbe, Rachel Garnham and Momentum founder Jon Lansman, among its officers.
Until the rise of Momentum, CLPD was for years the main Left grouping that organised around party conference and internal elections and it still retains a role in drafting the centre-left slate of candidates for key bodies.
According to minutes passed to HuffPost UK, the group's AGM this year listed several NEC figures on its nominations for its executive committee.
NEC members Russell Cartwright and Darren Williams were also listed as 'regional organisers'.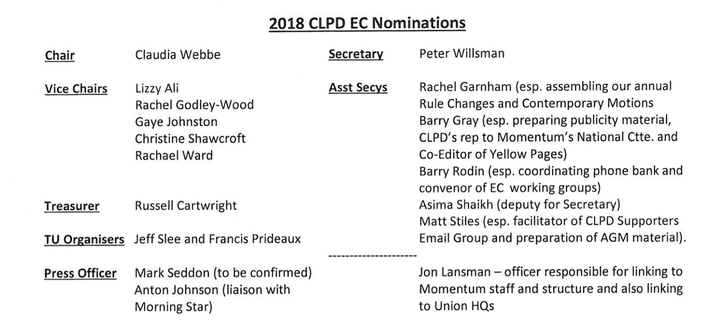 Cartwright, treasurer of CLPD, also sat on the original three-member National Constitutional Committee (NCC) panel that decided in March 2017 not to expel Livingstone.
It instead suspend him for his remarks suggesting Hitler had supported Zionism.
After Livingstone showed no remorse following that NCC hearing, and again repeating his claims, Corbyn ordered a fresh inquiry into the case.
CLPD's critics on the left, some of them within Momentum, believe that it has failed to grasp the way both Livingstone and Wadsworth damaged the party's wider message on racism.
But others say it reflects grassroots worries about due process being followed on disciplinary cases.
HuffPost revealed earlier this year that outgoing general secretary Iain McNicol approved the 'administrative suspension' of Livingstone, a move that ensured he remained suspended until his case was next heard.
His two-year suspension had been due to run out in April.
Wadsworth, who has been supported by MPs Chris Williamson and shadow minister Clive Lewis, has claimed that he was the victim of a "purge".
HuffPost UK has approached Willsman, Webbe and others for comment.