The 'Star Wars' actress remains in intensive care in UCLA hospital, with her beloved bulldog Gary by her side, according to reports.
Her mother, Hollywood veteran Debbie Fisher, has sent a message on social media that her daughter is "in a stable condition" following her cardiac arrest.
And her brother Todd has told Entertainment Tonight: "She is in the intensive care unit, she is being well looked after.
"If everyone could just pray for her that would be good. The doctors are doing their thing and we don't want to bug them. We are waiting by patiently."
Carrie spent Christmas in hospital, after being taken ill on a plane flying from London to Los Angeles. Witnesses reported that the star failed to breathe for 10 minutes, while passengers with medical training attended to her.
The pilot radioed ahead with the emergency, and paramedics were waiting to treat her when the plane landed.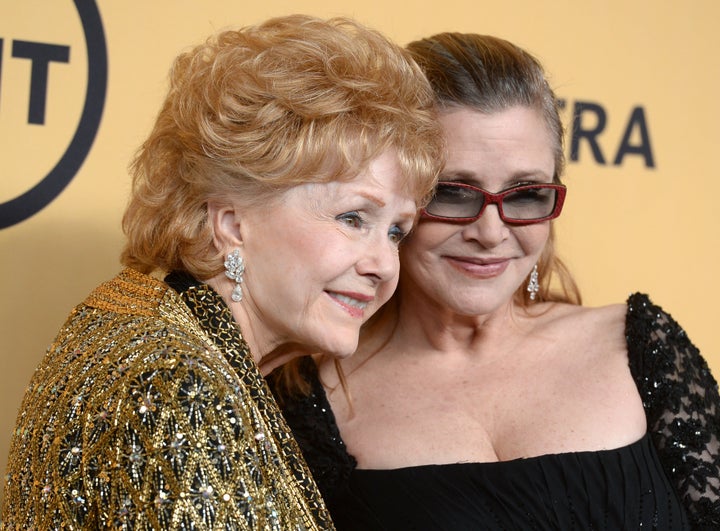 Carrie's 'Star Wars' co-stars were quick to send their best wishes. Harrison Ford, whose affair with Carrie back in the 1970s was recently revealed in her new memoir, said he was "praying for my dear friend" while Mark Hamill wrote on social media, "As if 2016 couldn't get any worse…"
The actress has been extremely busy over the last few weeks publicising the latest in her memoirs, The Princess Diarist, an account of her time making the original 'Star Wars' film, when she only recently revealed that she'd had a secret affair with her co-star Harrison Ford.
This book release coincides with the debut of the latest film in the series, 'Rogue One', following her appearance in last year's sequel, 'The Force Awakens', alongside Harrison Ford.
As well as her era-defining role of Princess Leia in the original 'Star Wars' trilogy, Carrie Fisher is a celebrated raconteur, novelist and author, often detailing her extraordinary life inside the Hollywood bubble, and sharing in often darkly comic detail the extent of her addictions. One of her books, 'Postcards From The Edge' dealt with her relationship with her mother, and was made into a film starring Meryl Streep and Shirley MacLaine.
Popular in the Community