Oxford University's chancellor has attempted to dismiss the renewed controversy over a scholarship programme that bears the name of a 19th century imperialist by saying: "If it was alright for Mandela, then I have to say it's pretty well alright with me."
Speaking to the Today programme, Lord Chris Patten there should be a "proper and engaged argument" over the legacy of Cecil Rhodes, who also has a statue in his honour at Oriel College.
The Black Lives Matter protests held in the wake of the death of George Floyd have once again shone a spotlight on historical British figures who made their fortunes from slavery and imperialist and colonialist expansion.
Lord Patten told BBC Radio 4's Today programme: "It should be taken seriously and there should be a proper and engaged argument.
"I hope it isn't an argument about symbols and so on, which doesn't avoid an argument about far more fundamental issues which touch on Black Lives Matter, like education, like public housing, like public health."
Lord Patten, who was the last British governor of Hong Kong, said the fate of the statue was a matter for Oriel College, and claimed there was "hypocrisy" among its critics who had also benefited from Rhodes scholarships.
"For me there is a bit of hypocrisy […] in Oxford taking money for 100 scholars a year, about a fifth of them from Africa, to come to Oxford, and then saying we want to throw the Rhodes statue […] in the Thames.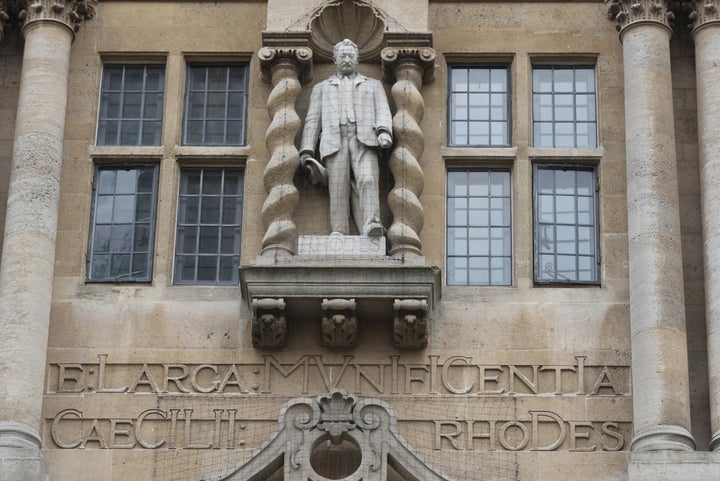 "I stood along Nelson Mandela at a conference in Westminster Hall with Tony Blair and Bill Clinton in 2003 at which he said how strongly he supported the trust.
"He set up [...] something called the Mandela-Rhodes Trust to help heal the divisions.
"For all the problems associated with Cecil Rhodes' history, if it was alright for Mandela, then I have to say it's pretty well alright with me."
Lord Patten's use of Mandela's name raised a few eyebrows on social media.
A council leader has invited Oxford University's Oriel College to make a planning request to remove the statue of Rhodes. Susan Brown, leader of Oxford City Council, has expressed her support for the Black Lives Matter movement, stating she has a "great deal of sympathy" for the newly-revived Rhodes Must Fall campaign.
A protest last night in the city saw students and neighbours chant "take it down" while there were speeches and an eight-minute-46-second silence in memory of George Floyd.
Floyd was killed by a police officer who knelt on his neck for nearly nine minutes even as he pleaded: "Please – I can't breathe." His death in Minneapolis has sparked weeks of international outcry.