The oldest cub of Zimbabwe's beloved Cecil the lion has reportedly been shot dead by a big game hunter.
The post added Xanda, who was killed just outside the Hwange National Park in north west Zimbabwe not far from where his father was killed in 2015, had several young cubs.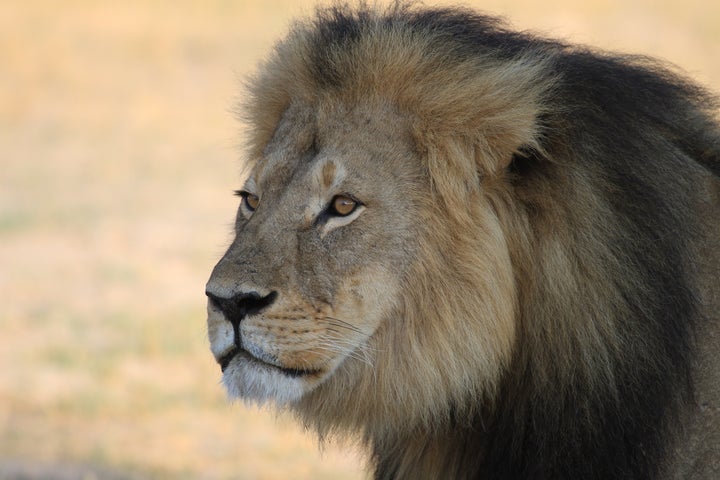 It asked: "When will the Lions of Hwange National Park be left to live out their years as wild, born free lions should?"
Andrew Loveridge from the Department of Zoology at Oxford University, which has a team supplying and fixing collars which monitor the lions in the Hwange National Park, told The Telegraph the death was discovered because Xanda had been wearing an electronic collar, which Cooke handed back to researchers.
He said: "I fitted it last October. It was monitored almost daily and we were aware that Xanda and his pride was spending a lot of time out of the park in the last six months, but there is not much we can do about that.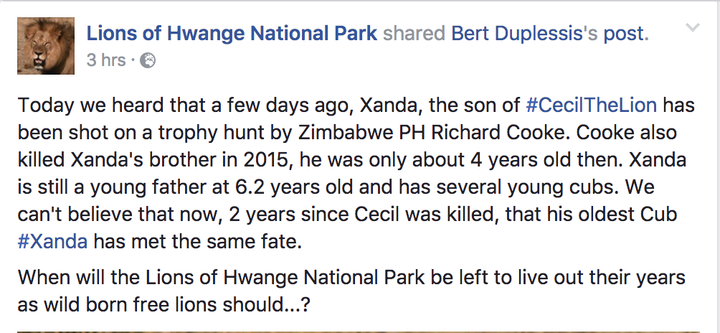 "Richard Cooke is one of the 'good' guys. He is ethical and he returned the collar and communicated what had happened. His hunt was legal and Xanda was over 6 years old so it is all within the stipulated regulations."
According to the newspaper, Cooke has not revealed the name of his client.
The death of Xanda's father Cecil caused world outrage after it emerged the 13-year-old protected male had been destroyed for sport by an American dentist on a hunting trip to Zimbabwe.
Walter Palmer allegedly paid 50,000 dollars (£31,900) to track and shoot the animal, but claimed he was unaware the lion was protected and had relied on his local guide to ensure the hunt was legal.
Cecil was decapitated, skinned and his body was found about half a mile outside his national park, after reportedly being lured out at night with bait. Animals are only allowed to be killed within the park during the day - and with a permit.
His guide Theo Bronkhorst said he realised Cecil was protected only after the lion's death. He then hid its collar before taking its head and skin for Palmer's "trophy".
He later reported the killing to the Zimbabwe Parks and Wildlife Management Authority. Neither Palmer nor Bronkhorst were charged.