The "vast majority" of people granted injunctions preventing media from revealing details of their private life are men, lawyers who deal with the issue have claimed, as one said they could count the number of women who have taken out gagging orders "on my fingers".
Both join a list of men including Jeremy Clarkson, Ryan Giggs, John Terry and Andrew Marr who have tried to stop their alleged adultery being reported, which one expert said paints a "depressing" picture of men as "faithless, feckless and liable to spend thousands trying to cover up their failings".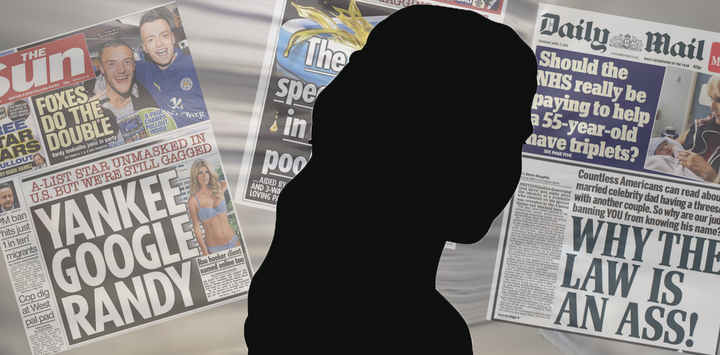 "The vast majority of them, in terms of ones that we are aware of, certainly do tend to be men," says Elizabeth Morley, a senior associate at law firm Howard Kennedy.
"I can't immediately think of any females at all," she admits, though she adds that because injunctions are so 'hush-hush", even among lawyers, there could be cases of female claimants that are not widely known.
It is "unquestionably so," that men are behind most privacy injunctions, says Gavin Millar QC at Matrix Chambers, who claims "99%" of such cases are brought to cover up infidelity by the man.
"A privacy injunction of this sort taken out by a woman is a rarity," he adds. "A rarity is perhaps an understatement - I could count on the fingers of my hands how many of these have been taken out by women."
"It has a tendency to be rich and powerful men who have the resources to muzzle the media"
Millar, who represents media organisations that try to overturn injunctions, says it is "not for me to say" why women don't take them out as frequently, but "as a man I suspect it's because men are more inclined to [have affairs], and want to keep it a secret when they do it."
Morley says it can't be simply explained through the commonly-held belief that men have more affairs than women: "It's hard to know whether it's the men that tend to get themselves into these situations, more, say, than the women."
One fact that can't be disputed is that injunctions are eye-wateringly expensive to take out. "It really does vary from case to case, but you can be looking at hundreds of thousands of pounds, depending on how far they go," says Morley.
"Injunctions are ridiculously expensive. I mean, they are about £75,000 a throw," says Mark Stephens CBE, also of Howard Kennedy.
He adds: "Women tend not to be quite as financially independent and also tend not to indulge in the behaviour which warrants that kind of activity, so there's a sort of social element to it which is that they tend not to be as sluttish as men."
"So it has a tendency to be rich and powerful men who have the resources to muzzle the media and to try and cover up their infidelity.
Fees in a case like the PJS injunction will be "hugely significant" because it went all the way to the Supreme Court, meaning increased hearings and more work for the lawyers, Morley explains.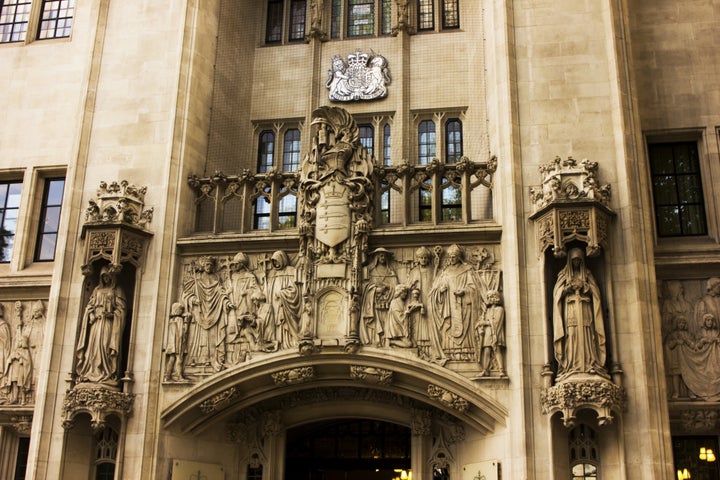 The fact that more men take out injunctions also reflects the gender imbalance in the UK's positions of power, says Gavin Millar.
"The rich and powerful society tend to be men rather than women. Though you can't generalise, if you're looking at footballers for example, sports stars, they are all men. Football managers – men. Politicians – more men. Actors – equally split."
This means there is only "small group of very wealthy celebrities, sports players, politicians, whatever they are, who have the resources and the inclination," he says, "who are newsworthy and who have become the subject of interest by the media."
"This is the moral abuse of the court system"
Quite often, Stephens explains, the woman who is the partner or wife of the man taking out the injunction doesn't even know about the alleged affair. The legal action can be as much about hiding the information from a man's family as from the public.
He claims one unreported injunction case involves a famous man who had unprotected sex with a prostitute, and got an gagging order that stopped the media reporting it, so that his pregnant wife wouldn't find out.
"This is the moral abuse of the court system," Stephens says, "in the sense that if I was a judge I think you would say 'Well, I'm happy to give you an injunction, but if there's a sexual health risk then clearly your partner is entitled to know.'
"Otherwise you're condoning the most appalling behavior. Very often wives and partners – let's not just assume that they are all heterosexual – are unaware of the sexual health risk that they suffer as a result.
"There may be no need for anyone including the partner to know the detail of what went on within the bedroom, and who did what to whom, but what I think they are entitled to know was there a sexual health risk."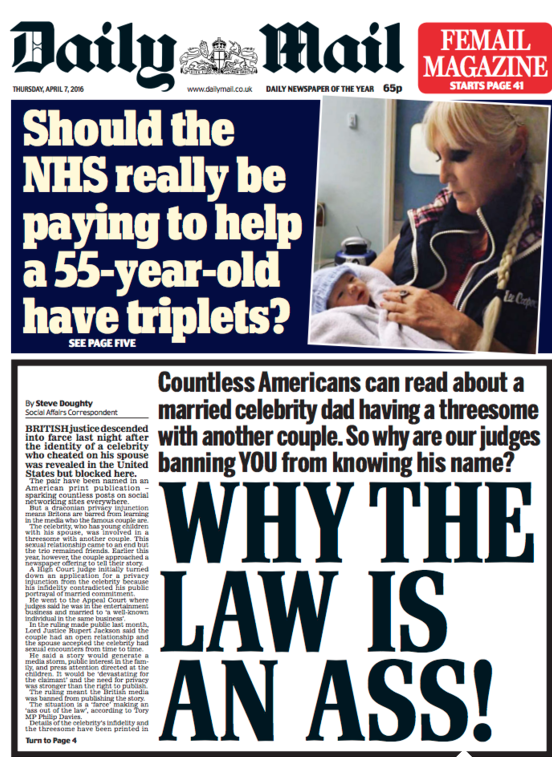 Yet there is no provision for a judge to tell a claimant to inform their family of the infidelity, he complains.
In fact, a man telling his family about his adultery can boost his case for an injunction, letting him to claim that they also do not want their privacy rights violated, Millar explains. "If you're going to say that you need to decide if you're going to 'fess up first. Judges need to see evidence that she's taking that position."
Media law consultant David Banks says: "It's an interesting issue, and all the reasons cited by the lawyers could all contribute to why men end up going to law more than women.
"Perhaps women are just better at covering their tracks than reckless men? Either way, it paints a rather depressing picture of manhood today: faithless, feckless and liable to spend thousands trying to cover up their failings."
"The precedent for injunction law was set by a case brought by Naomi Campbell"
But Stephens cautions that it is "sexist assumption" to believe every kind of injunction is brought only by men.
"There are quite a number - even of super injunctions [which prevent the media even reporting that an injunction exists] which I'm aware of which relate to women that are still valid and have not been broken or come out.
"There were some women who got them for all sorts of other good and decent reasons. But interestingly most of them were not sex-related."
One woman is at the centre of a "very unusual" new case first reported this week, according to Millar.
The well-known woman has imposed a privacy injunction on The Sun, to stop it reporting her name in a story about her being sued by her wealthy former partner. The woman, identified in court as DMK, claims her ex-partner subjected her to domestic abuse. The court gave her temporary injunction, saying that The Sun's plan to write about her could risk her health and her "fair trial rights".
Millar points out that the precedent for injunction law was set by a case brought by a woman - Naomi Campbell - ten years ago.
After the Daily Mirror published pictures of the supermodel visiting a rehab clinic, she sued them for breaching her right to privacy and won, effectively introducing the concept of privacy into UK media law.
Stopping the media publishing medical information is one area women could be more likely to act on, experts suggest. Another lawyer who declined to be named pointed out that "it may well be the case that more women than men obtain anti-harassment or stalking injunctions" under a different form of injunction law.
But women are often 'embroiled' on the opposite side of injunctions. In cases where a woman goes to the media with a 'kiss and tell' story about a celebrity man, that man might also sue the woman - the source - rather than a media organisation.
"You don't sue The Sun, you sue the girl, who doesn't have that much money," says Stephens. "And she folds, because you say we won't sue you for costs if you agree."
There has been academic research into the trend of a woman being "gagged by the man, where there is a direct issue of sexual power and money power of the women by the man," he says.
Injunctions were "in vogue" in 2011 and 2012, when many celebrities took them out including footballer Ryan Giggs who wanted to conceal an alleged affair with big Brother star and model Imogen Thomas, Millar says.
There are around 25 or 30 injunctions from that era still in place, he believes, meaning "they continue to operate as a prohibition on the media running the story."
There has been less inclination on the part of the tabloids to run the stories since the Leveson inquiry into press standards published its first report in 2012, but "they are resurfacing a bit now," claims Millar. "There were a couple of years where there were none at all."
Over the last decade, since privacy law has existed in its current form, Stephens estimates his firm has handled between 100 and 150 cases, "ten or 15 a year".
Yet it is actually impossible to calculate the total number in place, he says: "If you're not the lawyer involved, unless someone is gossiping and shouldn't be, you don't know."