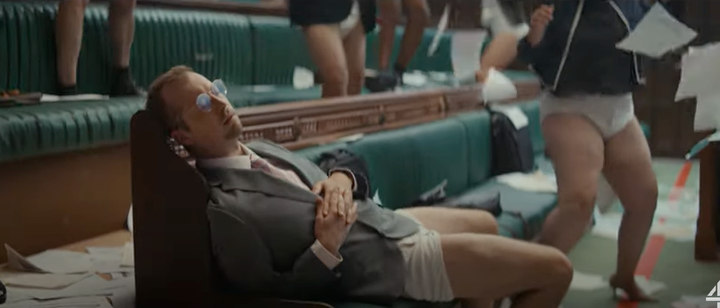 Channel 4 has done it again, and shared its no-holds-barred opinion about how governments and businesses are handling the climate crisis right now.
In a one-minute advert for its "Change Climate season", anyone who uses private jets, champions oil or operates in the Palace of Westminster is in the firing line.
It kicks off with a group of suited-up business people hopping onto their luxury plane and exploding into an energetic dance as soon as they find out their flight is going to take a whopping... 14 minutes.
This involves stripping off their trousers, revealing rather unflattering giant pants, and violently twerking.
Champagne glasses go everywhere in seconds – and then we see the, er, skid marks right down the centre of their pants.
It's soon clear this is no ordinary skid mark, but a carbon mark.
A boardroom meeting then follows, showing yet more business people discussing their sky-high oil profits before celebrating by, again, stripping off their trousers and twerking – showing off their carbon marks.
A similar scenario then unfolds in what appears to be a political debate chamber, as politicians start violently twerking, throwing papers around and messing with some apparently stately equipment. Carbon marks appear on their backsides, too.
As everyone with soiled pants then receives a simultaneous wedgie, a voiceover explains: "We're worried about our carbon footprint. Are those in power doing enough about their carbon skid mark?"
It's worth noting that Channel 4 leaves the casual office worker who tries to recycle and the air steward just trying to do her job out of the bizarre skit.
Nic Moran, head of brand campaigns at Channel 4, explained in the news release: "When it comes to climate change the focus is often put on individuals to try harder which can lead to feelings of guilt, anxiety and helplessness, especially amongst younger generations.
"At Channel 4 we believe in our mission to challenge with purpose as we ask our audience 'are those with power doing enough to combat the climate crisis?'"
Creative directors from the channel's in-house agency, 4-creative, said it was an "unignorable visual for an unignorable subject" – and that they wanted to create "a planet-sized debate".
The clip is meant to advertise four upcoming programmes: The Big Climate Fight with Mary Portas, Chicken vs Beef: The Big Switch, The Great Climate Scandal and Chris Packham: Is it Time to Break the Law?
The advert is set to hit screens on November 13, but is available on YouTube now.