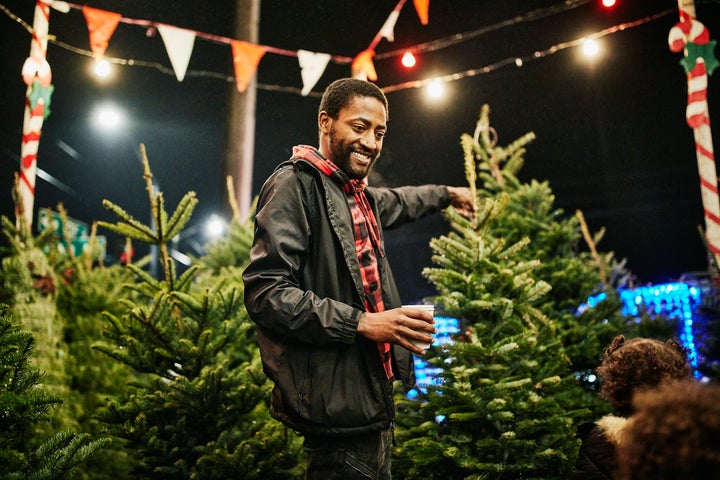 If you're looking to brighten up your home with a real Christmas tree this year, but don't want to fork out all your savings, it might be worth a trip to Aldi.
The retailer came up trumps in consumer champion Which's analysis of the cheapest real Christmas trees on the high street, with prices starting at £14.99 for a 1.5-1.75m cut Nordmann tree.
Nordmann's are considered the most popular tree in the UK as they last longer before shedding their needles, which also means less cleaning up throughout the festive period.
They are unscented; have thick, soft glossy needles that are dark green on the top and blue-green on the underside; and are child and pet friendly, according to Jacksons Nurseries.
Coming in second place for its bargain Nordmann is Morrisons, with a 1.5-1.75m tree costing £18.
Ikea also has a pretty exciting deal on, where you buy a cut Nordmann (1.7m) for £29 and it comes with a £20 voucher to spend in store.
Tesco is selling cut Nordmann's (1.6-1.9m) for £20, while Asda is selling one (1.5-1.8m) for £25 and B&Q's (1.5-1.75m) is £29, Which? found.
If Nordmann's aren't your thing, you can get cut Norway spruce trees for cheaper still.
Asda is selling a small pot-grown Norway spruce (0.8-1m) for £10, while Homebase is selling a cut Norway spruce (1.5-1.8m) for £19.
Once you've got your tree home, there are a few important things to remember. Christmas trees do not like heat, so keep away from fireplaces and radiators, if possible. You'll need to situate it near to a plug socket if you want to have fairy lights.
Cut trees also need to be kept in water – and regularly topped up too, as being all festive and sparkly can be thirsty business.
People buying real Christmas trees are advised against buying them before the start of December, as the trees tend to look their best for about four weeks.