Queer Eye's Tan France is one of many who've already got their Christmas trees up – and aren't afraid to show them, despite the fact we're not even halfway through November. But perhaps the TV presenter is on to something.
With not much to look forward to and most of the world unable to make plans for the foreseeable, surely focusing on our home and how we can make it (quite literally) sparkle is the perfect antidote to the pandemic right now?
We're probably spending enough time in it, after all.
Bestselling author and HuffPost UK podcast guest, Candice Brathwaite has already put her tree up, too – with the help of her husband and two children.
They've gone for a traditional red and gold theme, with a star on top.
Braithwaite shared a time lapse video of her family decorating the tree over the weekend, with the caption: "If I had it my way the tree would've been up October 31st."
Judging by the responses to the post, plenty of her followers have already got theirs up too. "I'm with you Candice!" one person wrote. "I'm putting mine up today too!"
It certainly feels like there's appetite for an earlier Christmas this year, with more people confined to their homes, and in desperate need of a happiness boost.
Suzy Hainsworth, 58, from Southampton, put up her tree on November 6 – and has gone for a silver and gold theme this year.
"I am disabled and live alone, so this year my tree has gone up earlier than normal," she tells HuffPost UK "With Covid-19, I thought it would brighten the lockdown up more and spread some cheer."
She's already feeling the joyful effects in her living room. "I turned the lights on and sat back and smiled," she says. "Despite what we are going through, there is always a smile to be had."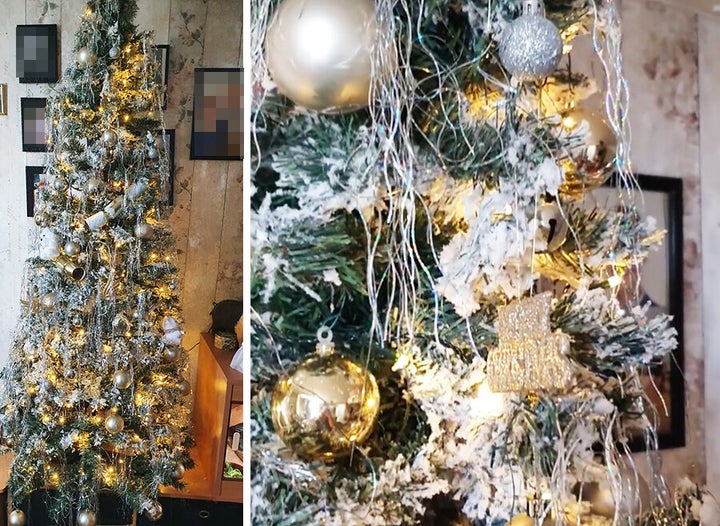 Mum-of-two Laura Whalebone, 37, from London, doesn't usually put her tree up until December – but this year felt different. Her place is full of eye-catching decorations, including a bright and colourful rainbow tree.
"I only got this tree last year. It may seem like just a rainbow tree but it's much more," says Whalebone, who left a 16-year relationship in 2019. "Christmas was a time I dreaded, as it meant more time together, and I could never do Christmas how I wanted."
She says it "felt great" putting her tree up and placing a crown at the top. "It was exactly what I wanted, picked and paid for. Having that freedom is something many take for granted."
When the UK went into lockdown, the 37-year-old struggled mentally – "I had only just started to enjoy going out and seeing friends and family," she says – so she started making changes to brighten up her home.
"In summer I put up rainbow balloon garlands," she explains. "So I thought let's put the tree up early. It makes us so so happy, and it's my choice. I can't see my family for now, but it's a reminder that I will."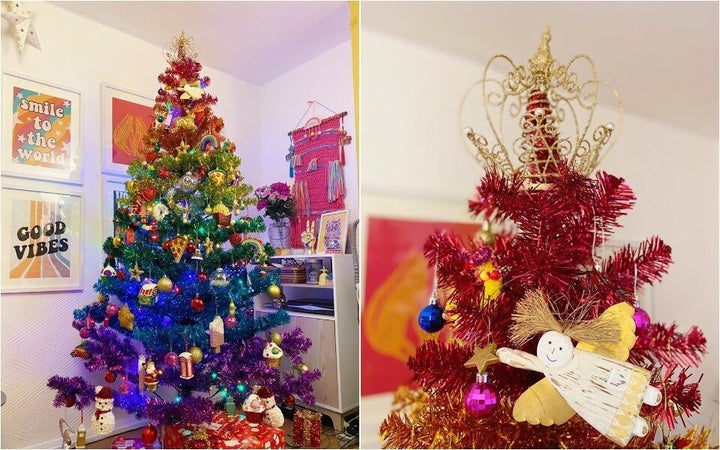 Mum-of-eight Sally Porter put her tree up with the help of her kids on November 3, as she wanted them to have something to look forward to "after missing out on so much this year".
"I'm determined this virus will not take away Christmas," says the 44-year-old, from north Yorkshire.
So far she has festooned her front room with festive decorations, and there are even wrapped presents underneath the tree – surely the height of organisation.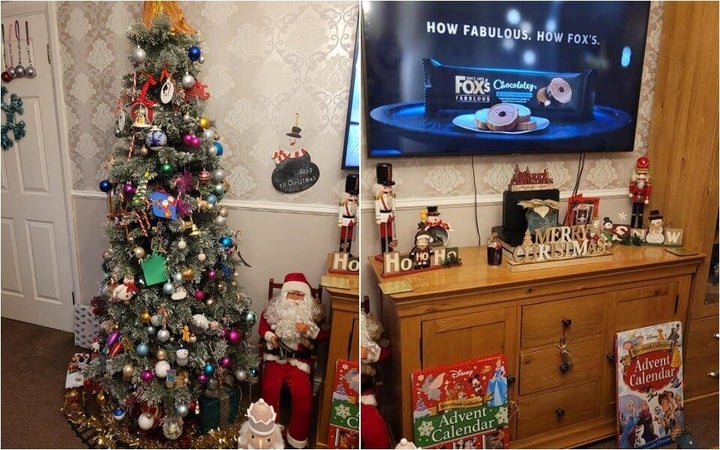 Tom Campbell, 36, from Newcastle-Upon-Tyne, has also given into the festive fun. "The tree normally goes up at the end of November but this year has been such a raging Hellscape it made sense to bring in the festive cheer earlier," he says, adding that it was a treat for his partner.
"I put it up as a surprise for when my good lady got home from work – I'll admit she's much better at decorating the tree than I am!
"Christmas doesn't make the problems of 2020 go away but it allows a bit of bright and fun normality. People have kicked off about it, but people are kicking off about EVERYTHING this year so whatever – Merry Christmas!"