Listen Caerphilly, if you're not a big fan of chocolate: Sainsbury's will be stocking an Easter treat with a difference – a giant egg made from creamy cheddar cheese. You'd feta believe it.
From 10 April, the supermarket will be selling its 'Cheesalicious' Easter egg for a fiver in stores and online.
The cheddar egg is made using milk from Lancashire farms and is described by the retailer as "a show-stopping cheeseboard centre piece for the family to enjoy following Easter lunch" – although, let's face it, we're not going to be sharing.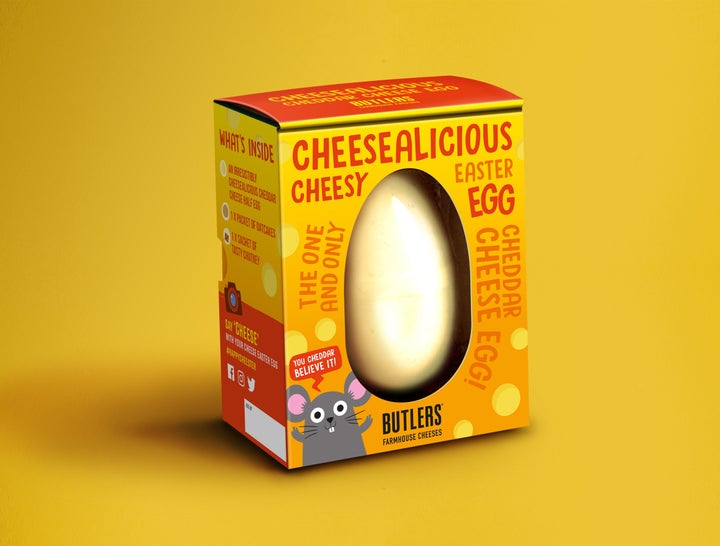 The egg is said to have a "smooth, soft texture" and can be paired with an oatcake or delicious chutney – both of which come included in the egg's brightly-coloured box.
Alternatively, those with fewer inhibitions can simply slice away pieces of the egg, made up of 120g of cheese, and tuck straight in.
Emma Garvey, who has the marvellous job of being a cheese buyer for Sainsbury's, said she's always on the lookout for unique products.
"The Cheesalicious egg seemed like an obvious and exciting choice to expand our Easter egg offering and cater to cheese aficionados nationwide," she said. "The egg is truly delicious and we can't wait to see the response from our customers."
Hobson first thought of the glorious idea in 2015, and teamed up with Tottenham-based cheesemakers Wildes Cheese to make her dream a reality. Her egg was made using Napier cheese and cost £14.95 for approximately 260g.
Now that cheese Easter eggs have hit the mainstream, it's only a matter of time until they infiltrate homes everywhere – and we don't know about you, but it's an invasion we're ready for.