A campaign that encourages children to make their own decisions about whether they hug or kiss others has sparked a debate online.
New Zealand-based agency, CAPS Hauraki, which prevents child abuse by supporting families, shared the meme below on their Facebook page: 'Safe Kids, Thriving Families'
"I am five. My body is my body," the meme reads. "Don't force me to kiss or hug.
"I am learning about consent and your support on this will help me keep safe for the rest of my life."
The photo, which was initially shared in October but has been recirculated online in December, was uploaded with the caption: "Let's do all we can to normalise a child's right to do what they want with their own bodies."
Since the photo was uploaded, many have commented with different opinions on the campaign.
Agreeing with the meme, one person wrote: "Teaching our little ones boundaries and respect for their own bodies and that of others is vital.
"If an adult is making a child feel uncomfortable in any way 'they' are in the wrong. Not the child. Back off. Love and respect are earned, not forced or taken."
Another agreed, adding that this is preparing children for when they are older.
"This is about preparing your child for managing their own sexual relationships in the future," they wrote.
"If you have always told them: 'Don't be rude, you have to kiss grandma hello or she'll be sad', this will become their internal self talk."
However other parents disagreed with the message the campaign was giving out.
"So, we are going to make something innocent and used as a show of affection and turn it into something perverted?" one person wrote.
"Human beings scientifically need touch for survival. It releases much needed endorphins which produce positive feelings in human beings."
Another wrote: "Ok so at Christmas should my child be told not to kiss her aunt, uncle and grandparents hello? That sounds ridiculous."
The photo has been shared more than 50,000 in the past two months and had nearly 500 comments.
Other photos with similar messages have also been shared, featuring grandparents and Father Christmas saying they wouldn't "force" kids to show them affection.
Sarah Ockwell-Smith, a parenting author and HuffPost UK blogger addressed this issue in a blog titled: "Don't Make Your Child Kiss or Hug Relatives".
"A child who feels confident to say 'no' in the early years may in turn feel more confident to tell somebody to "stop" when they get older," she wrote.
"Body autonomy matters at every age, not just the teens onwards. If you want your child to be able to say 'no' when they are older, start by respecting their wishes now."
What do you think? Let us know in the comments below.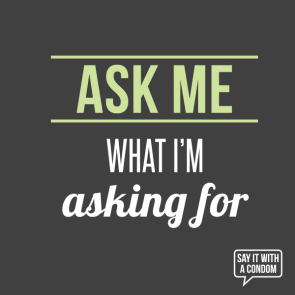 The Consent Project