"You're only staying inside because of me. If I threw myself headfirst out of a window, this would all be over wouldn't it?" As a mother, Jenny Hobbs felt her heart plummet when she heard her older son Stanley's words. She desperately tried to reassure him and calm him down – knowing how hard he has found the coronavirus pandemic and all the ways it has changed his life.
The 36-year-old mum from Bristol has two sons – Stanley, 15, who has a heart condition and asthma and Nathan, 12, who has ADHD and autism. Both have been struggling to cope mentally and emotionally over the past few months. Nathan has been too frightened to go outside, even to the garden, while Stanley has had the opposite worry that his family have been isolating only for him.
Hobbs tells HuffPost UK she has tried to remain strong and upbeat in front of her boys – but secretly cries in the shower as "no one can hear you in there."
However, while she has felt desperately alone, Hobbs sadly isn't. New research from Action for Children reveals one in three parents feel out of their depth as their children struggle to cope with the fallout of the coronavirus pandemic.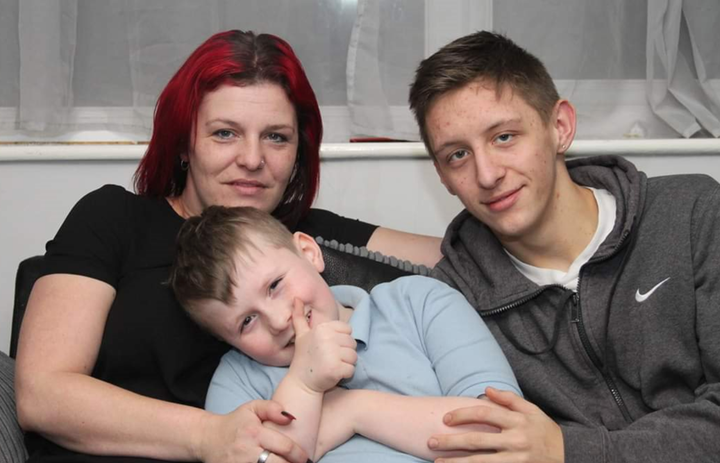 The charity carried out a YouGov survey of more than 2,000 parents, laying bare the devastating impact the crisis has had on millions of families across the UK. Children have felt isolated and lonely, many struggling to sleep or suffering night terrors when they do, and some children are displaying unusually aggressive behaviour during lockdown, parents revealed.
Families also shared their experiences of children bedwetting, becoming debilitatingly clingy, and not wanting to go outside. These behaviours have left parents reeling in turn – with four in 10 feeling more anxious than usual.
These findings ring for Jenny Hobbs. Stanley, 15, was among the first children to be sent home from his school, before lockdown was introduced, as he has a condition which leads to an abnormal increase in his heart rate and requires a heart monitor in his chest. He also has asthma and his teacher told Hobbs that she did not feel it was safe for him to be at school with his respiratory issues.
Shortly afterwards, Nathan's school said the same of his situation – Hobbs' younger son has Neuro Developmental Delay, Hobbs explains, so even though he is 12, he has significant emotional and behavioural immaturity.
"Nathan heard one of his teachers say that each and every one of us would be affected by this pandemic and lose someone we love or know someone who is going to be affected," says his mum. "He cried all the way home and when he got home, he grabbed hold of Stanley and said: 'I don't want you to die.'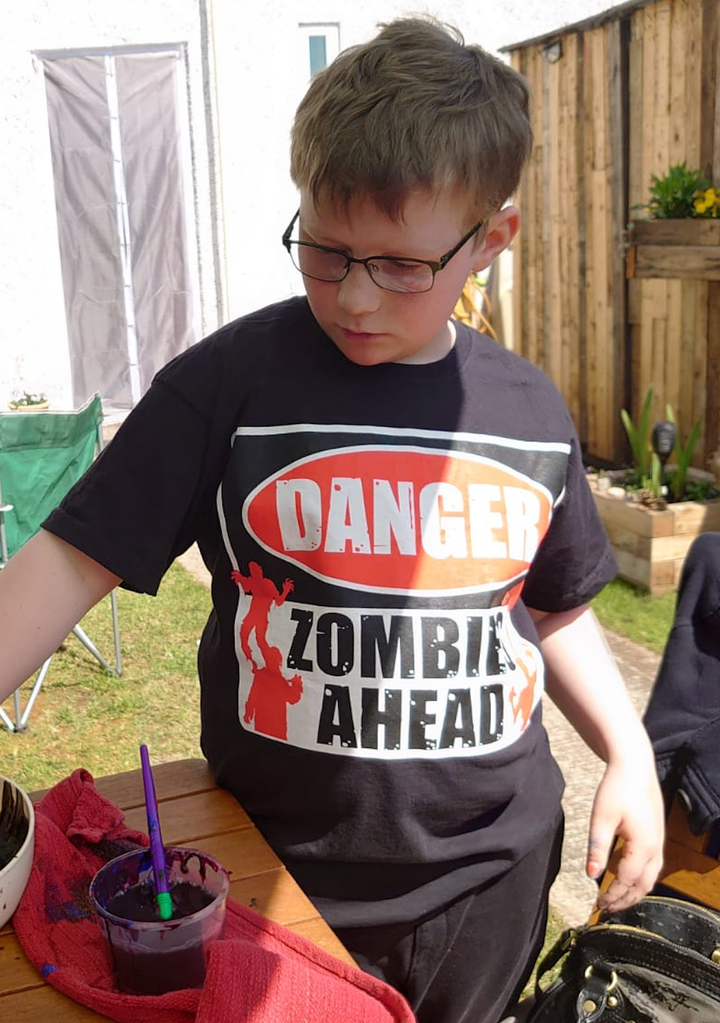 Hobbs says watching her boys struggle with their mental health has been the most painful thing she has ever witnessed and suspects thousands of parents will be feeling the same way as her, as they recognise the long-lasting impact of the pandemic on the "Covid children" whose lives have been upturned.
"In the beginning of lockdown, Nathan was having terrible night terrors and in his head, he convinced himself we were all going to die," says Hobbs. "Every time anyone coughed or spluttered or if there was the slightest thing, he would say: 'You've got it.'
"It is heartbreaking to see in their eyes they are so scared by all this. But you hold your own emotions in as you don't want to break down in front of them."
The situation was complicated by the practical challenges of lockdown. Even though Hobbs had foodbank vouchers, she couldn't leave the house – or her boys – to pick up supplies. "I was muddling through like a robot, too frightened to leave the house in case I brought something back and made the kids ill," she says. "I'd never forgive myself if something happened to them."
Hobbs has received help from Action for Children's emergency coronavirus appeal fund – and the charity also supplied a trampoline for Nathan, who gradually began going outside into the garden, if only for short bursts.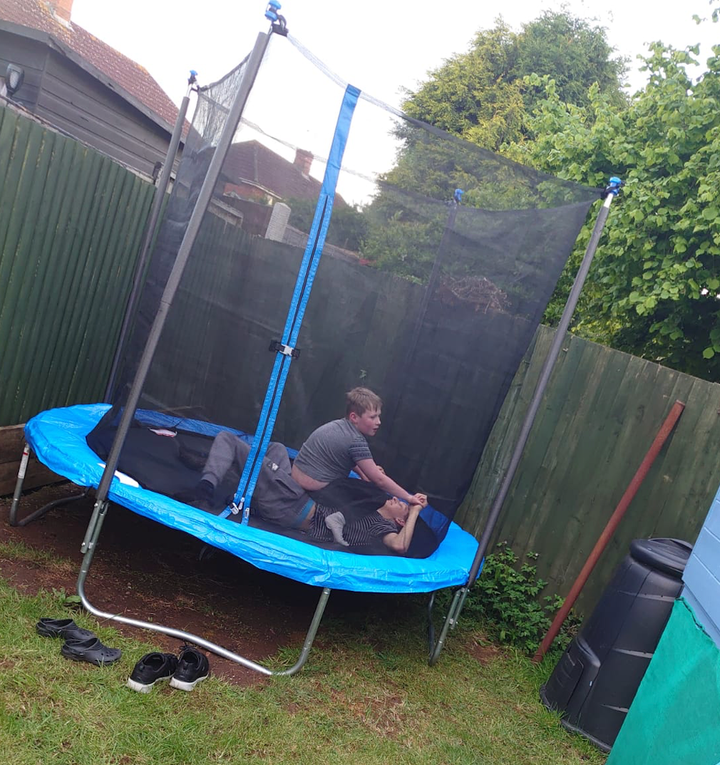 As a Year 10 pupil, Stanley was in the first year of his GCSEs when the crisis began, while his younger brother is in Year 6, preparing to begin secondary school in September (at a year's delay). With both sons at major milestones in their education, Hobbs has been concerned about the impact that missing months of school will have on them.
"Their normal lives have been disrupted and all their routines have changed," she says. "It is hard to watch them struggle and I worry about how all this is going to affect their emotional and physical health and their mental wellbeing.
"There is also the concern about how these poor children and thousands like them might have to live with this for the rest of their lives and might not be able to sit their GCSEs and struggle to get employment after leaving school."
Stanley was already facing the pressures of catching up on his studies when he started showing the strain of staying inside and shielding against the virus.
"It was very frightening when Stanley had his meltdown and threatened to throw himself out of the window," Hobbs says. "Normally, 15-year-olds have lots of things to look forward to but he felt uncertain about not knowing what was going to happen. Stan is a very intelligent lad and I want the best for him. Before all this happened, we were talking about colleges. But now he can't get the headspace to think beyond what is going to happen tomorrow."
Since lockdown has eased, he has returned to school for just two hours, one day a week, but Nathan has been back in school four days a week. However, it hasn't been easy for either of the boys – or their mother.
""He keeps asking me: 'Has Covid gone away yet?' I have to tell him the truth and say it hasn't."
"Nathan's first day back at school was horrific," says Hobbs. "He is coping better with it now but he is massively obsessed with washing his hands and is getting through four large family sized bottles of hand soap a week."
His anxiety shows whenever they leave the house. "Even now, when we are out walking, if Nathan feels I am getting too close to anyone, he pulls me back. He has convinced himself he is going to die of it. He also has the uncertainty of starting a new school soon amid all this."
Even as restrictions ease, parents remain fearful of weeks and months of uncertainty ahead. More than one in three (37%) surveyed by Action for Children say they are worried their children will struggle to socialise and will want to remain at home. And the charity is warning that things are likely to get worse as the long-term impacts of the pandemic become clearer.
It has experienced a surge in demand of 415% for parenting advice in the first three months of lockdown compared with the same time last year. As a result, it has launched Parent Talk, a new national online service which connects mums, dads and carers with trained parenting coaches. The confidential one-to-one online service offers parents free, practical advice and emotional support.
Lynn Giles, Parent Talk manager at Action for Children, says: "The pandemic has triggered a crisis for mums, dads and children on an unprecedented scale with parents feeling overwhelmed without their usual support from friends and family or any certainty for the future."
With parents desperate for guidance, services like Parent Talk are needed more than ever, she says. "Our parent coaches are there for any questions parents have – big or small. Anyone who needs a bit of support in these tough times can access it."
The charity is also urging the government to prioritise children's mental health in its Covid-19 recovery planning and provide adequate funding to meet the surge in need feared in the months ahead.
"Huge numbers of children will need extra support over the coming months and parents are telling us they don't know where to turn," Giles says.
"As the immediate health crisis passes, we now need to turn our attention to the scars coronavirus has left on families struggling with a whole new reality – with many grieving from having lost loved ones and others worrying about their jobs and futures."
For her part, Hobbs tells HuffPost UK she puts on a brave face for her sons but that seeing them struggle with their mental health makes her feel like a failure.
"As a parent, you feel hopeless as what can you do apart from support them." she says. "I feel I have to hide how I'm feeling as my boys have already gone through so much change in their lives and don't need to see their mum who is supposed to be strong breaking down in front of them," she says.
"They look at you for answers so you have to try and be a pillar for them and be supportive and understanding and reassure them. But if your children see you are not coping, how can you expect them to cope?"