No one loves having an injection, but vaccinations are a crucially important part of maintaining your child's health.
If you are anxious about taking your child to the doctors, experts have shared some parent-friendly tips for making those jabs less traumatic for your baby or child (and you).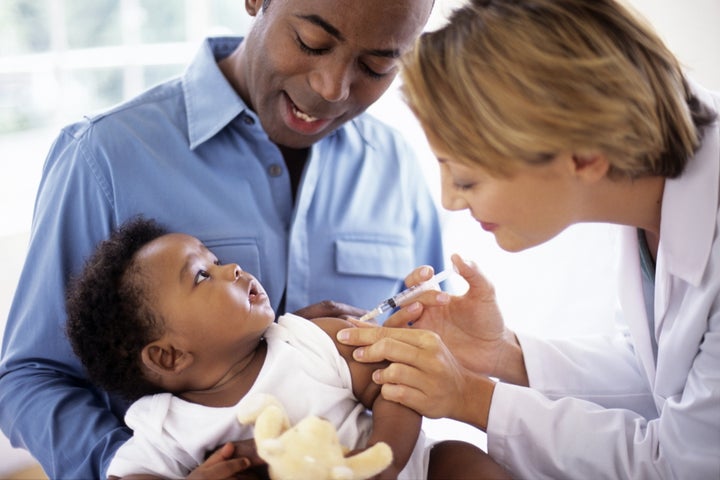 Babies
Routine childhood vaccinations on the NHS, start for your baby at eight weeks old, even if they are born prematurely.
They will need different sets of injections at eight weeks, 12 weeks, 16 weeks, and one year. For a full vaccination schedule, consult the NHS timetable.
Remember you are anxious, not your baby.
Mumsnet CEO Justine Roberts told The Huffington Post UK: "When it comes to giving jabs to very small children, parents probably experience a lot more distress than their offspring. Babies are usually fine so long as they have got something to suck on, and they'll forget about it quickly once they've had a cuddle."
A new study published in The Nursing Times has shown that breastfeeding during injections reduces pain for babies aged between one month and a year. So if you feel comfortable breastfeeding during the appointment, this might be a good idea.
Do try to conceal your nerves.
Jo Wheatley, Netmums Associate Editor says: "Although you may be horrified by the thought of your baby being given a needle, don't show it. Babies pick up on your mood and can become anxious if you're showing signs of stress."
Wheatley says: "Taking along a new toy for them to examine will keep babies focused and less likely to wriggle when the vaccine is being done. It'll all be over quickly and lots of hugs and kisses from you after the vaccine will help your baby forget all about it."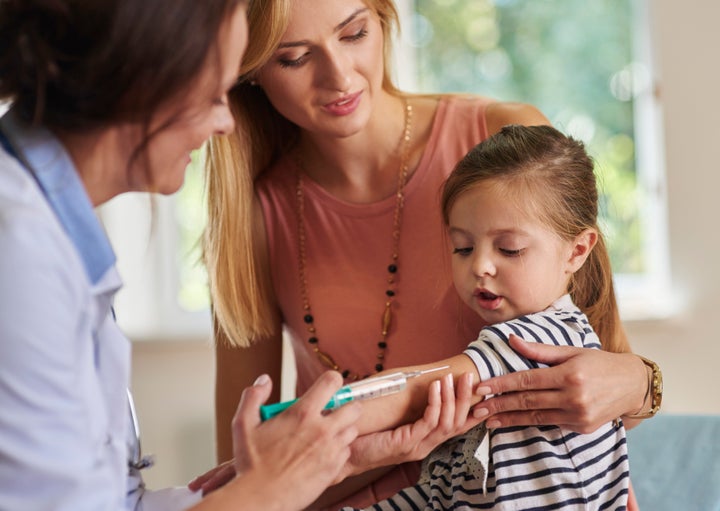 Children Under 12
At three years and four months children will need the MMR and a pre-school booster before they start in reception. For a full vaccination schedule, consult the NHS timetable.
Stuart Gale, Chief Pharmacist at Frosts Pharmacy Group, says: "The number one piece of advice I would give to any parent of a child under 12 is to talk to them beforehand.
"As always with parenting, simple honesty is the best thing. Never just spring the injection on them."
Gale recommends demonstrating what is going to happen: "With very small children, you may want to practice on teddy bears and make it a game so that when the actual moment for the vaccination comes around they know what to expect.
"Children are clever though, so don't go overboard or they may well question what you are trying to hide."
Don't make a big deal of going to the doctors on the day.
Amanda Gummer, child psychologist at Fundamentally Children, says: "Tell them you're going to town, you'll have some lunch, but we have to pop to the doctors first". Be pragmatic and don't make a big deal of the situation.
Give your child something to suck on.
Just as with breastfeeding, giving your child something to suck on is a useful tip.
"Sucking is calming," explains Gummer. "So give your child a lollipop beforehand [in the waiting room] and then they are already relaxed."
Don't tell them it won't hurt.
If you lie to them, then they are more likely to feel upset when they find out it does actually scratch: "Be honest. If your child asks whether it will hurt, tell them yes, but only for a second," says Wheatley.
Amanda Gummer recommends focusing on the 'ouch' and telling your child that it's okay to say 'ouch' as the needle goes in, and by focusing on that, they're less likely to notice what is actually happening to their arm.
If your child is resisting the injection, Gummer says many doctors will happily pretend to give you (or an older sibling) the injection first, so your child can watch what happens. You might want to practice your poker face beforehand though.
If your child has a real phobia, Gale advises you might want to buy some cream to reduce the pain: "For children with a needle phobia, applying a local anesthetic cream, such as Emla a few hours before can really help."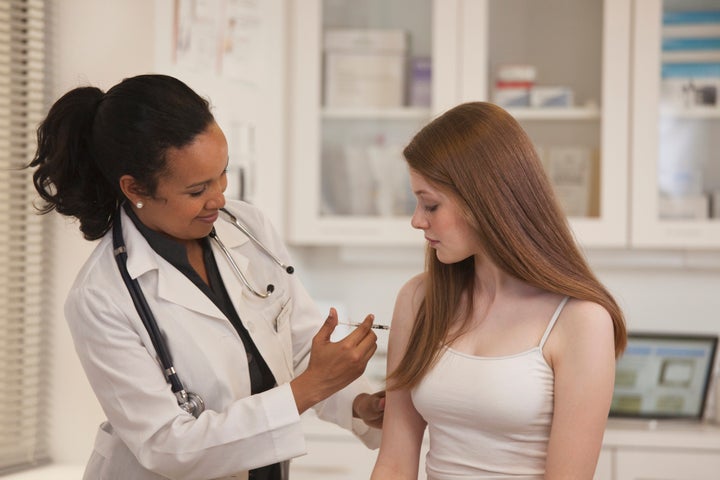 Teenagers
Teenager girls will be offered the HPV vaccine, which protects against cervical cancer, between the ages of twelve and thirteen. This consists of two injections given six to twelve months apart.
At fourteen, both boys and girls need the 3-in-1 teenage booster, given as a single jab, which contains vaccines against diphtheria, tetanus and polio. Then the Men ACWY vaccine, given as a single jab , which contains vaccines against meningitis A, C, W and Y.
Talk with your child and practice breathing techniques.
Roberts says: "Older children suffer more because they can understand what's coming and may spend days worrying about it beforehand, especially if everyone at school is talking about it endlessly.
"Talking your child through some breathing techniques may help, as well as gently explaining that tensing up will make it worse."
Remind them of why they are having it.
Gummer sayst eenagers will respond best if they know the longer term effects of not having the injection are far less favourable - 'Remember when you feel poorly you can't go out and have fun with your friends'.
Related